Efficient logistics are essential for smooth supply chain management. For most logistics providers and retailers, logistics operations can be divided into two separate processes – inbound and outbound logistics. When optimized and coordinated in sync, these complementary pieces of the logistics puzzle can boost the strength of a business' shipping relationships, cost-effectiveness, and profitability along the supply chain.
But attention to these shipping processes doesn't just clear pathways to upward growth. With well-oiled inbound and outbound logistics models, it's also easier for companies to respond to changes quickly and overcome obstacles — like those experienced industry-wide during COVID-19. 
This article explores the trends creating new challenges for retailers and logistics providers, and how to update your inbound and outbound logistics processes for more efficient and customer-centric logistics. 
What is inbound logistics?
Inbound logistics is a term referring to each stage of the process involved in the transfer of supplies and materials to a business, ahead of being processed and sent to customers. A classic example of inbound logistics is when raw materials or finished items are transported from a fulfillment center or a warehouse.
Why should you optimize your inbound and outbound logistics operations?
Outbound logistics play a notable role in a company's relationships with its customers. With consumer expectations and delivery volumes continually on the rise, this side of the shipping cycle is gaining more and more attention as businesses aim to boost customer satisfaction and loyalty rates.
However, inbound logistics contribute to the success of these outbound goals as well. For example, a business can spend upwards of 40 percent of its annual freight budget on inbound shipping alone. While companies may rush to focus on outbound logistics processes, they must take a look within to make sure that the inbound logistics process is optimized and efficient. This should be part of every company's supply chain management strategy.
Understanding the connection between inbound and outbound logistics is what helps ensure smooth operations throughout this network. That's because inefficiencies on one end of the supply chain can easily trickle into other aspects of your shipping ecosystem — therefore it's important to recognize how and where these optimization strategies intersect. 
With a more strategic approach to inbound and outbound logistics, a business can reduce delays, introduce greater efficiency, and build a better experience for customers.
Research from Deloitte illustrates this competitive advantage. The firm found that 79 percent of organizations experienced above-average revenue growth when optimizing elements in their delivery lifecycle.
In order to understand how and where to optimize your logistics operations, it's important to first understand the strategic difference between your inbound logistics and outbound logistics processes:
Inbound logistics
Any business selling goods to customers relies on a network to source those items from suppliers — whether they're raw materials or finished products. While inbound logistics can refer to any inbound truckload, general inbound logistics covers this network and its flow.
Inbound logistics is not just about getting an item from point A to point B. All aspects of this inbound movement need to work in concert to ensure efficient inbound operations.
Top challenges for effective inbound logistics processes:
Hidden costs, lack of visibility and acquiring the best rate per shipment
Shipment tracking and status notifications
A lack of data analysis to inform more efficient processes
Responding to surges in demand
Strategies for optimizing your inbound logistics
Improving your business's inbound logistics helps to increase cost savings while streamlining your supply chain. Efficiency in these processes also drives easier scalability — whether you're ramping up production in the short term or looking to permanently expand operations.
Good supplier relationships form the bedrock of optimized inbound logistics. This starts with identifying those partners that can offer the most competitive pricing and quality. You'll also want to check for things like quality certifications, lead time and on time delivery rates, and a supplier's capacity to support your business's growth.
Prioritizing these relationships helps you understand your business and its needs better — while ensuring that the supply chain partners you work with are able to help facilitate your goals. From there, you can integrate inbound logistics processes that leverage these relationships and enhance their value to your operations.
Inbound freight delivery consolidation
Less-than-truckload (LTL) freight combines shipments from multiple businesses into one truckload. As you only pay for the space you use, this approach is cheaper if you're handling small, infrequent shipments.
But as you transport a greater volume of products, unloading multiple LTL shipments grows far less cost efficient than managing a single truckload. Consolidating inbound shipments also improves efficiency at distribution centers by reducing delivery congestion and forming more reliable, predictable timetables.
Of course, there's a range of logistical considerations at play for effective freight consolidation. Anyone working in supply chain management will need to consider factors like shipment weight, transport timetables, fuel costs, and the availability of trucks and drivers for their supply chain management strategy.
For many businesses, partnering with third party carriers or a 3pl logistics provider makes this process easier and more cost-effective.
Increase Automation
Efficient supply chain logistics relies on a range of variables working in harmony. Transportation management systems (TMS) bring all of these pieces together digitally to manage the needs of every stakeholder in the shipping ecosystem — from the suppliers and carriers to warehouse employees and the customer.
For inbound logistics, TMS empowers automated routing guides, shipping processes and reporting. By standardizing these practices, TMS helps to close the door to inefficiencies, keeping operations as smooth as possible throughout the supply chain.
But this technology can also inform better relationship-building. It can provide data-rich insights into details like your suppliers' cost-effectiveness, inventory carrying costs and storage fees, for example.
What is outbound logistics?
Outbound logistics refers to outgoing products that leave a warehouse, distribution center, or store for the next location in the supply chain. Outbound processes are often outsourced to a third party delivery provider, whose outbound logistics often includes inventory management, warehouse operations, managing a freight service to deliver the goods, and other logistics processes.
Outbound logistics can include elements such as:
order processing
product picking and packing
Shipping out finished goods
An outbound logistics example would be an order that comes into a retailer and is fulfilled from a distribution center or wherever the relevant inventory sits. Delivery drivers pick up the order from the distribution center, store, or other location, and deliver it to the end customer.
Customer-centric outbound logistics focuses on making sure that the customer has the ultimate delivery experience – from the moment the order is out for delivery until the moment customers receive their order. This includes inventory management, smart route planning, and more. The end goal is efficiency and customer satisfaction.
What is the outbound logistics process?
Outbound processes are often outsourced to a third party delivery provider, whose outbound logistics often includes inventory management, warehouse operations, managing a freight service to deliver the goods, and other logistics processes.
Outbound logistics is pretty straightforward; however, recent supply chain trends have made the traditional outbound logistics order process redundant.
Online sales and, subsequently, delivery volumes are increasing every year — and customer expectations are growing right alongside them. These primary challenges relate to some key trends happening in outbound logistics:
Top 4 trends affecting outbound logistics:
Increased Need for Visibility
Crowdsourced Delivery
Direct to consumer sales
Customer experience
1. Increased need for visibility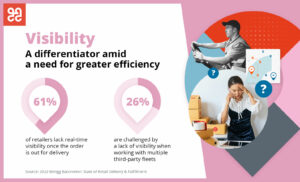 In a recent survey, more than 1 in 4 shippers found themselves challenged by lack of visibility when working with multiple fleets and last mile carriers.
Managing even one freight service without knowing where the truck is, or where the orders are, is hard enough; having visibility and control over logistics services through multiple delivery providers is almost impossible using traditional logistics management systems.
Besides internal visibility for efficiency and managing performance, there's also the visibility that consumers now expect. Online retailers and logistics providers interested in providing exceptional delivery experiences have to provide an exceptional level of visibility across every stage of the last mile delivery.
2. Crowdsourced Delivery
Traditional freight companies and post and parcel services are either overwhelmed beyond their capacity right now, or are simply not set up for meeting customer expectations today.
Crowdsourced delivery provides a relatively fast solution to better delivery experiences and can provide much-needed support to an overburdened distribution network.
A crowdsourced fleet can send delivery drivers to fulfill orders from the relevant distribution centers or other locations on demand, which is both cost-effective and ensures coverage during peak seasons. They will usually offer same day delivery, enabling an online retailer or brand to promise fast delivery to consumers and make good on that promise.
However, a crowdsourced delivery fleet brings with it the same problems of fleet management as a traditional third party logistics provider: visibility into performance. Without that visibility, you will not know the reasons for a failed delivery, or whether the delivery experience meets your standards.
These trends are putting a strain on both the inbound and outbound logistics supply chain, and increasing issues around multiple processes:
Accessing delivery networks
One cost-effective way to increase your delivery resources is to use a delivery hub that allows you to identify which fleets or carriers match your business needs, and flexibly engage them as needed.
3. Direct to Consumer Sales
Increasingly, brands that sell consumer products through eCommerce platforms, distributors, or retail chains are looking to increase direct to consumer sales in order to own the customer relationship and customer data. For brands, this isn't a simple business decision, but a move that demands a restructuring of their entire outbound logistics process.
Brands that choose to move into the D2C space suddenly need a distribution network that can deliver goods all the way to the end customer – which means that suddenly, their outbound logistics process has a direct impact on the customer experience. In many cases this means bringing in additional systems, or working with supply chain partners who already have a transportation management system and other systems in place to ensure that the entire supply chain flows as needed.
4. The customer experience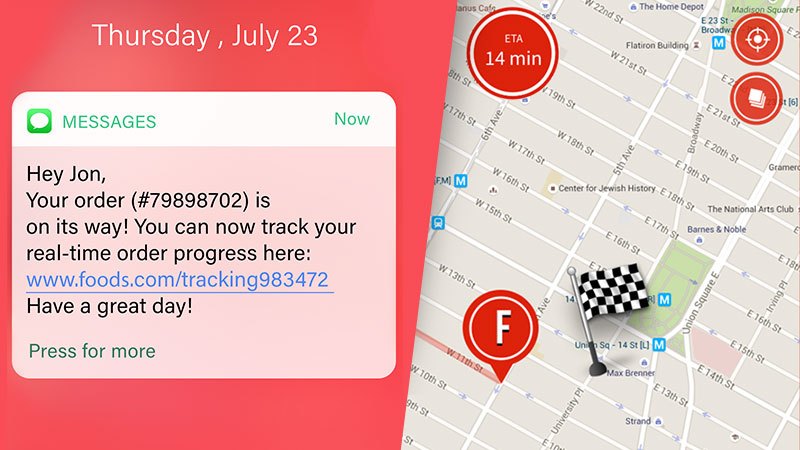 The last leg of a delivery's journey contributes to a large part
of a business' shipping costs making efficiency paramount to staying competitive. When it comes to outbound logistics, it's this last mile that most significantly influences customer satisfaction. That's because today's consumers are after fast, free, and flexible delivery options. And thanks to customer demand for increased visibility — 90 percent expect real-time tracking capability — there's also little room for error.
Businesses must place emphasis on supply chain management as part of the last mile process in order to ensure that their customers are receiving the ultimate experience, boosting brand loyalty and giving them a reason to come back again in the future.
New challenges for outdated inbound and outbound processes
Processing, planning and routing orders along multiple delivery models
Keeping track of freight across an increasingly large outbound logistics network
Capacity issues that result in delayed delivery and missed deliveries
Stakeholder communication throughout the broadening supply chain
A surge in returns and delivery rejections (necessitating reverse logistics)
How can you improve the outbound logistics process?
The best way to improve outbound logistics processes is to focus on delivery optimization processes that drive both greater efficiency and stronger relationships with the other stakeholders in the outbound logistics supply chain.
Strong partner relationships
Strong relationships with supply chain partners are as crucial for efficient outbound logistics as they are for inbound logistics. Reliable partnerships help to keep workflows running smoothly and communication transparent.
This leads not only to better cost-effectiveness in your outbound logistics but it improves customer satisfaction in your brand. If there's a hiccup in their order, customers more often hold your business accountable — not your contractors or delivery partners.
Inbound logistics focuses on getting raw materials (or finished products) to your business in order to be able to supply them to the end customer. Making sure that your relationships are strong within inbound logistics processes, allows you to have the confidence to know that inventory and costs will remain predictable and consistent.
Strengthen delivery systems with data
Transportation management systems (TMS) don't just help automate and streamline delivery processes. The technology collects data over time that can inform ways to improve operational efficiency, cost-effectiveness, and scalability.
Today's technology offers businesses insights specific to their workflow. These patterns can reveal opportunities to streamline operations within inbound logistics as well as outbound logistics such as:
Anticipating shipping patterns

Ensuring optimal inventory levels at specific warehouses or distribution centers

Identifying the most efficient delivery routes and shipping carrier or carriers.
This data also feeds into better customer service. By helping your business build more predictable, efficient models, you pass that accuracy onto the end recipient. This means more precise delivery times, fewer failures, and more satisfied customers. 
Negotiate carrier rates
Prioritizing better partner relationships also opens up opportunities for more flexibility and lower transportation costs.
Reviewing your business' shipping data helps you to understand the cost breakdowns for deliveries. That way, you can consider where there may be room for cost negotiation. For example, if your business has grown since you last reviewed your carrier contract, you may be able to negotiate volume rates.
Carrier rates are amongst the most important aspects for keeping customer satisfaction high. With free shipping becoming a must in the eCommerce world, you'll be able to generate a higher bottom line when you lower outbound logistics costs.
Lower inventory costs
Warehousing accounts for about 13 percent
of supply chain costs, on average. While you need enough stock to satisfy demand, outbound logistics costs start to easily creep up if inventory management slacks.
That's because the cost of warehouse space itself is just the beginning. Businesses also need to consider cost requirements like staff to inspect and manage inventory and product insurance — and for any time-sensitive goods, over-stocking runs the risk of diminishing product quality.
Inventory management systems help to overcome these obstacles. They work to streamline your warehouse organization and storage for the most optimal, cost-effective capacity. But it does so by taking into account goods across your business's entire supply chain, mapping the entire journey of a product whether it's coming from your supplier, on its way to a customer, or returning to a warehouse. 
Build strong customer relationships through last mile delivery
and logistics, relationships usually develop over years of working together. But whether you're using a courier, contractor, crowdsourced fleet, or your own fleet in your outbound logistics network, there's far less direct communication with the end customer — and therefore, less opportunity to establish trust.
Technological solutions help bridge this gap, however. Businesses can now connect with their customers across multiple touchpoints after they've placed an order. Features like automated notifications, real-time alerts, ratings and feedback systems, and order tracking boost a business' accountability in the eyes of its customers. This connection drives longer-term relationships that strengthen a brand's reputation — and ultimately, customer loyalty rates.
Integrate same day delivery options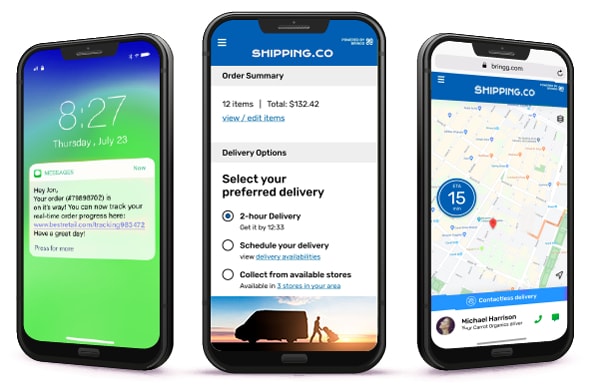 Same day delivery doesn't just offer companies a competitive advantage — it's becoming an industry standard. One survey found that 80 percent of consumers want their products delivered within 24 hours of placing an order.  
While this service offers a new, valuable revenue stream for businesses, its success relies on smooth logistics throughout the delivery infrastructure. The stakes are high, too. Even one failed delivery can jeopardize a relationship with a customer.
A centralized order management system can help businesses manage multiple delivery models, including same-day shipping. This requires logistics software that connects multiple systems for full inventory and order visibility from production to delivery — while optimizing the best routes and distribution channels to expedite the outbound logistics process while mitigating extra costs.
Use technology for better outbound logistics processes
From relationship-building to rate negotiation and inventory management, leveraging transportation technology solutions is what greases the wheels toward better supply chain management. Today's delivery management platforms help to:
Increase automation across every step of the delivery process, from inbound freight consolidation and routing to outbound customer delivery notifications

Improve inventory and warehouse management, keeping costs low while ensuring there is enough inventory to meet demand

Use route optimization software to support route planning for different delivery models

Future-proof your operations through data insights that help predict inventory needs,

 and customer feedback 

Provide transparency and visibility across all stakeholders involved in your supply chain, strengthening relationships between your business and its suppliers, carriers and customers alike

Simplify reverse logistics like processing returns, reloading rejected items, reselling restocked products and managing recycling or reclaiming raw materials 
How to improve your inbound and outbound logistics
The best way to optimize your inbound and outbound logistics is by creating smarter, more efficient supply chain logistics that manage the process across every step of a product's journey, including both inbound and outbound logistics. 
Bringg's delivery and logistics cloud platform offers customized solutions to help businesses rapidly scale up and optimize their last mile logistics operations. Get in touch with our team to see how you can better manage your inbound and outbound logistics operations for your business's omnichannel needs today — while adapting to new challenges as it grows.
Inbound and Outbound Logistics FAQs:
What are inbound logistics?
Inbound logistics refers to the process of transporting raw materials, supplies, and finished goods from a manufacturer to a warehouse, fulfillment centers, or retail stores. Inbound logistics directly affect outbound logistics processes by making sure that raw materials and goods are always available when necessary.
What are outbound logistics?
Outbound logistics refers to outgoing end products that leave a warehouse, distribution center, or store to the next location in the supply chain. Efficient outbound logistics is critical for ensuring that products make it to the final destination as planned together with satisfied customers.
What is the difference between inbound and outbound logistics processes?
While inbound and outbound logistics both involve the transportation of goods; the main difference is the direction in which goods flow. For a manufacturer, outbound logistics would be sending truckloads to warehouses or distribution centers. For a retailer, that same freight load is inbound logistics, which must then be split up per store in a cross-dock operation, and sent out on numerous truckloads to stores, an outbound logistics operation.
What are some examples of outbound logistics?
Outbound logistics include:
– Packing the order at the warehouse
– Third-party logistics company picking up the order to deliver to the end customer
– Delivering the package to the customer
What are examples of inbound logistics?
Inbound logistics include:
– Sourcing and purchasing raw materials or finished products
– Receiving goods at a warehouse or distribution center
– Managing incoming materials or products and preparing for outbound logistics processes