Reliable Shipping services with high first-delivery attempt performance rates are critical for any business with products to ship. Thanks to the growing importance of ecommerce business, and the spike in online orders, most shippers now use multiple carriers to manage capacity. This, coupled with a growing number of competitors to choose from, means that selecting a shipping provider is something shippers have to do more and more often just as it becomes harder to choose between them. What should you consider when you choose a shipping carrier?
To help you decide, we've put together this guide to how to pick the best shipping carrier for your needs.
We'll start by looking at just what these carriers do and how the role of carriers relates to that of shippers. Then we'll compare the big names in U.S. shipping and offer criteria to help you choose the right shipping solutions for your shipping needs.
What is a shipping carrier?
A shipping carrier is a company that provides a service to deliver goods on behalf of another company to customers. The party which owns the goods is known as the shipper, while the party to whom the goods are being sent is known as the consignee. Shipping carriers, also known as delivery carriers, are legally authorized to deliver goods from shippers to consignees.
Shipping carriers may transport goods through a variety of transportation methods, including:
Trucks
Vans
Cars
Railroads
Airplanes
Ships
Eco-friendly shipping
Given both the demand from consumers and the regulatory push for sustainable delivery, the largest carriers today are prioritizing sustainable shipping and green logistics, often through EV vehicles.
As of today, only the largest of carriers have announced net-zero emission initiatives. However, As more shippers look to reduce carbon emissions, the focus on sustainable shipping methods is spreading to smaller, regional carriers as well.
Carriers also can be distinguished based on the size of the packages they carry, with numerous differences between LTL vs FTL (full truckload vs less than truckload):
Some carriers specialize in delivering full truck loads, which are dedicated deliveries carrying enough items to fill a complete shipping container and transporting the cargo directly to its destination without multiple pick-ups or drop-offs in-between. This can be faster than other methods, but the shipping cost is usually higher, although expenses may be less if you ship packages frequently, and in large volumes.
Other carriers specialize in delivering less than a truckload, with multiple shippers often sharing the same shipping container space and multiple pick-ups and drop-offs along the carrier's route. This method usually is slower than FTL, but shipping costs are less expensive, and is often used for large package shipping. 
A shipping carrier that specializes in smaller packages may be referred to as a courier. Couriers typically offer a variety of speeds ranging from overnight to two-day to over a week. A courier usually has a limit on how much weight can be shipped, and costs for shipping rise rapidly as package weight goes up.
Different carriers may further be distinguished in terms of which types of destinations they deliver to (local, domestic, international, etc.)
What is the difference between the shipper and the carrier?
The shipper is the company that owns the goods being shipped. The carrier is the company that transports the goods on behalf of the shipper.
Shipping carriers transport packages on behalf of senders, known as shippers, to recipients, known as consignees. Shipping services may be distinguished based on the method of transportation used, the size of packages delivered and whether the shipper specializes in shipping internationally or domestically.
Who are the major shipping carriers?
Major carriers operating in the United States include the United States Postal Service, three major carriers – UPS, FedEx and DHL – and other well-known private companies with shipping services. 
To help you choose the best carrier for your needs, let's take a closer look at these companies and the shipping solutions they offer.
United States Postal Service (USPS)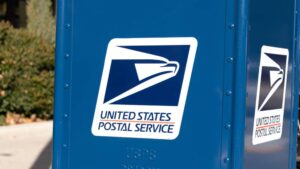 Our list of traditional carriers starts with the United States Postal Service, the agency of the executive branch of the U.S. federal government responsible for providing postal service throughout the United States. They are the only carrier which reaches every address in the U.S., including 160 million residential addresses, businesses and Post Office Boxes.
While USPS specializes in domestic shipping, they also offer international shipping services to about 180 countries. Their domestic shipping services include:
Priority Mail Express with a next-day to two-day guarantee by 6 p.m., including weekend delivery and holiday delivery in some major markets for an additional fee

Priority Mail Shipping in one to three business days

First-Class Mail in one to five business days or one to three business days for small packages

Media Mail in two to eight business days for items such as books, videos and computer-readable media

USPS Retail Ground in two to eight business days for less-than-urgent deliveries and oversized packages
USPS offers downloadable desktop shipping software for businesses.
A unique advantage of USPS is its ability to deliver to mailboxes and P.O. Boxes at the local post office, whereas other carriers often need to use alternative means to drop off packages. Pickup is free. USPS shipping costs tend to be lowest among the major shipping providers for orders with low package weight (up to 13 ounces), making them a good option for parcels this size. They can be a good choice as well if you need Saturday deliveries or Priority Mail shipping speed.
United Parcel Service (UPS)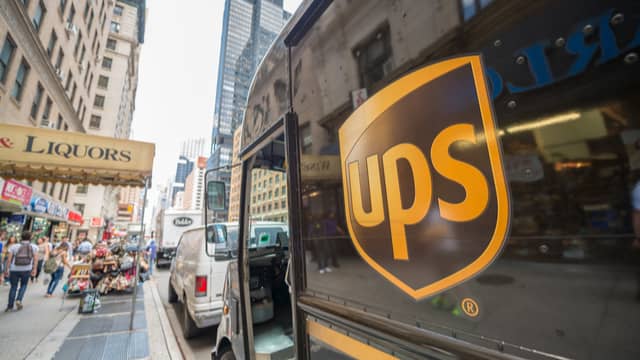 Among private carriers, United Parcel Service holds a leading place among shipping services. They deliver domestically, as well as providing shipping services to over 220 countries and territories.
UPS domestic shipping options include:
Fast shipping to all 50 states and Puerto Rico with a delivery date of one to five business days for routine shipments

Faster shipping to all 50 states and Puerto Rico by the second business day with time-definite morning delivery or the third business day for less urgent shipments, comparable to USPS Priority Mail speed

Fastest shipping with next-day or

same day delivery

options

Value-added services with add-ons such as collect on delivery, Saturday delivery, on-call pickup, declared value and hazardous materials
Additionally, UPS provides international shipping and freight service for packages over 150 pounds.
UPS offers competitive prices for heavy packages, and their shipping software offers exceptional tracking. These factors often make them a good choice for urgent packages.
FedEx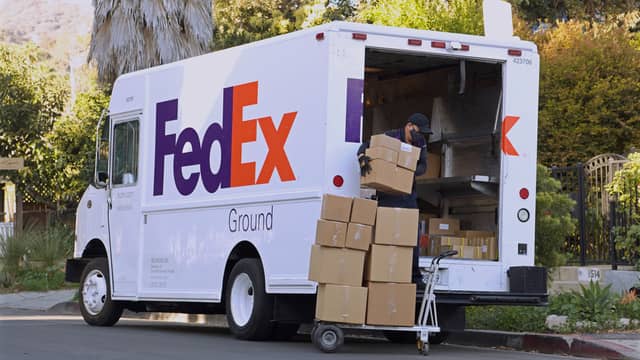 FedEx joins USPS and UPS among the top carriers operating in the U.S. They offer both domestic and international shipping. Their most popular services include:
Overnight shipping

Ground shipping within one to three business days, comparable to USPS Priority Mail

Freight shipping for items over 150 pounds, including LTL shipping and air shipping

Flat rate express services for shipping packages under 50 pounds

Same-day delivery

International shipping
FedEx shipping services include Saturday delivery options. FedEx shipping software provides excellent tracking.
FedEx has long distinguished itself for its fast delivery, and was one of the first to offer overnight delivery. Like UPS, FedEx is also noted for its exceptional tracking, supported by its shipping software. They offer Saturday delivery. 
DHL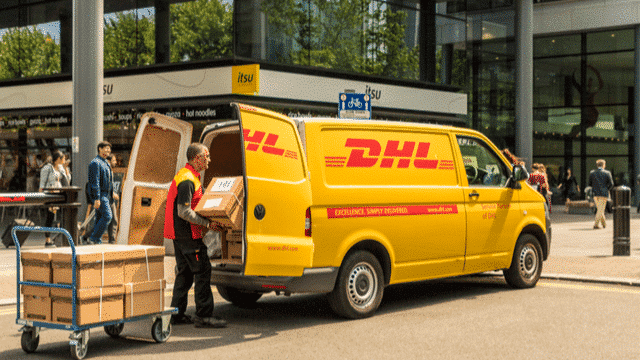 DHL is distinctive among the traditional U.S. carriers in that it was founded in the United States but was later acquired by the German-based shipping company Deutsche Post. While it now has its international headquarters in Germany, it has a partnership with USPS allowing it to deliver small packages through the USPS network. Its foreign ownership allows it to deliver internationally to certain countries which may be challenges for other U.S. carriers, such as Iraq and Cuba. However, because it is German-owned, DHL is restricted from using U.S. domestic flights, and outsources these to other providers.
DHL shipping services include:
Express services delivered the next possible business day for packages up to 154 pounds

Parcel shipping services delivered two to eight days domestically with up to 14 days for international shipments for items up to 25 pounds domestically, 66 pounds in Canada and 44 pounds to the rest of the world

International shipping between four and eight days for small packages up to 4.4 pounds
Delivery speed and cost with DHL tend to be comparable with other major carriers, and they are a good shipping carrier for international shipments.
Regional shipping providers
Regional shipping providers differ from some of the larger names because it is typically a lower-cost solution. These providers often have more capacity on a regional level than national carriers. In certain circumstances, they can offer flexibility or advantages in specific geographic locations such as a faster delivery time. 
International shipping providers
Along with the shipping providers covered above, which have U.S. origins, the ranks of the traditional carriers include a number of companies of foreign origin or control which specialize in international shipping. This article touches on these international carriers more briefly than the leading domestic shipping providers mentioned above, but if you require shipping to a specific country, one of the options mentioned here may well be the right shipping carrier for your needs. If you do ship packages internationally, you may wish to include these carriers as options when considering different shipping providers.
Hyperlocal delivery providers
As ecommerce fulfillment and delivery becomes commoditized, shippers are looking to differentiate themselves through fast, convenient delivery options. Some traditional carriers now provide local delivery services in certain areas. However, both retailers and logistics providers are increasingly looking to crowdsourced delivery fleets to add fast local delivery to their offerings. Crowdsourced delivery providers differ from traditional shipping carriers in several ways, but the most important is that they are usually utilized for on demand delivery, rather than scheduled delivery.
If using both crowdsourced delivery fleets as well as traditional shipping carriers, it is recommended to use third party delivery management software that can prioritize dispatching per carrier or fleet based on your business requirements.
___________________________________________
Looking to manage third party delivery?
_________________________________________________
Which is the best shipping carrier?
Which shipping carrier is best? The short answer is that the right shipping resources depend on your needs. 
Factors which come into play when you compare different carriers include:
What products are you shipping?

Do you need domestic shipping or international shipping?

Which specific shipping services do you need?

How fast do you need your package to arrive?

Does the carrier offer detailed tracking for shipments?

What cost per shipment can you afford on your budget?
Let's look at how to apply these considerations when choosing carriers for your logistics operations.
How to choose a shipping carrier
The best way to choose a shipping carrier is to use a checklist of discovery questions to help you identify your needs. You can then use your answers to evaluate different carriers. Here is a list of major items to consider to help you choose the right shipping carrier. Use our list as a starting point, and add any customized criteria which are specific to your industry or situation.
What types of products are you shipping?
A fundamental consideration when you choose a shipping carrier is what type of product you're shipping. The weight of your packages largely determines your shipping costs. The size and shape of your packages can also influence your selection of carrier. For example, if you're sending smaller packages, you can use carriers who specialize in courier deliveries.
For some types of products, you may need shipping carriers who use special handling procedures. For example, some shipping carriers offer shipping services for hazardous materials. 
Where will you be shipping your products from and to?
Another important consideration when selecting a shipping carrier is where you and your recipients are located. This helps determine whether you need to consider international carriers. If you're shipping domestically to certain markets, regional carriers may offer viable options.
When do you want orders to arrive?
Not all carriers provide weekend delivery services. If Saturday delivery or sunday shipping is important to your customers, then look for carriers that provide this option. 
Hyperlocal delivery
Many of the prominent carriers do not have a strong enough urban presence in specific regions, making them face competition from regional shipping carriers. If you're looking to offer local next-day or even on demand delivery, look for local carriers per area.
Which carriers provide the shipping services you need?
Another key criteria to choose a shipping carrier is which carriers provide the shipping services you need. For example, for last mile delivery, do you need a shipping carrier with two-week, five-day, next-day or same-day delivery? Do you need a carrier service that does Saturday delivery or holiday delivery? Do you need a shipping carrier who does collect on delivery? The right shipping carrier needs to fit your service needs.
White glove delivery
Many consumers today want flexibility with delivery options, including where packages are delivered to. Not all carriers offer alternatives to curbside delivery, such as over-the-threshold or parcel box delivery.
If this is something important to your business, make sure to reference this point when researching carriers.
Does the shipping carrier you're considering offer insurance?
If you're shipping expensive items, one service you may need from your shipping carrier is insurance. If this applies to you, check whether your prospective shipping carrier offers insurance and how much this will affect your shipping costs.
How fast will they ship your products?
The right shipping carrier needs to provide the speed you need. For example, is your package urgent enough to require overnight or weekend delivery? Or if you run an online retail business, does your online store offer a monthly subscription service with free delivery for fast shipping options? If so, this may narrow down your list of possible shipping carriers. In some cases, more than one carrier may offer the speed you require. In this case, the best thing to do is to compare shipping and delivery costs.
Do they provide self scheduling?
According to recent surveys, 46% of retailers rank scheduling delivery with customers as a top challenge to scaling delivery – yet only 1 in 5 carriers and logistics providers currently offer automated scheduling options.
Many carriers still schedule deliveries for anything larger than parcel via telephone. It can often take multiple calls to schedule delivery, which is inefficient and can result in dissatisfied recipients.
Some carriers work with automated scheduling technology that lets recipients schedule delivery times themselves. This can be a strong differentiator between carriers.
Do they provide you and your customers with real-time tracking?
Perhaps the biggest downside of otherwise good carriers is when their shipping software offers limited tracking options. Real time tracking is important for a good customer experience; when the recipient can't see where their package is, it can destabilize their confidence in the shipper even more than in the delivery provider.
Tracking is also critical for handling delivery exceptions; without visibility into the order or package location, missing packages may be hard to track down.
Being able to track shipments, and provide tracking data to customers, should always be a priority for shippers.
The right shipping carrier needs to have a strong, real time tracking system. This is largely a function of the shipping and logistics software they use.
How to evaluate tracking capabilities: Use shipping carrier websites and customer reviews to evaluate carriers' shipping software tracking quality. The most competitive shipping carrier services will usually have invested in competitive logistics software that includes last mile tracking.
Does the shipping carrier focus on the last mile?
The last mile carries the highest percentage of shipping costs while also having the most engagement with customers. A brand's reputation may be on the line if the last mile does not match customers' delivery expectations. It's vital to examine a carrier's last mile offering, and particularly if they can help you support hyperlocal delivery.
Besides smart scheduling and real-time tracking discussed above, other things to consider include automated delivery confirmations and updates, and the option for services such as white glove delivery.
How easily can you integrate your logistics process with a potential carrier?
When choosing a specific shipping carrier, another consideration is how well their logistics procedures and software would integrate with your own internal processes. For example, a shipping carrier that uses a tracking system that integrates with your own inventory software will be easier for you to work with.
If you plan to use multiple shipping providers and carriers for last mile logistics, look for a delivery hub that will help you manage different companies per region and optimize selection based on your business considerations.
What is the reputation of the major carriers you're considering?
All shipping carriers claim to be the best shipping carrier in their promotional material, so when you identify a relevant shipping carrier, it's important to research third party opinions for objectivity. Use resources such as peer referrals, industry reviews, customer reviews and social media profiles to evaluate the reputation of the carriers you're considering.
Remember, these companies are your brand representatives. Consignees will attribute a bad delivery experience to you, and not to the carrier. So choose carefully and have your brand reputation in mind!
What are the costs of shipping with each carrier?
After all other factors are weighed in, the bottom line when comparing different shipping carriers often comes down to the shipping cost.
Cost considerations include:
Cost for pickup

How cost is calculated

Fuel surcharges

Add-on costs for specialized services and premium plans
When multiple carriers offer comparable services, choosing the right carrier may boil down to who offers the most affordable shipping. In some cases, regional shipping carriers may offer lower prices than shipping carriers who cover a wider range. Make sure to compare shipping rates based on your shipping process, based on your average order value .
Free shipping
Thanks to new standards, most consumers expect free shipping on multi-day orders – and often on fast delivery, too.
The only way to provide this is to work with shipping companies that offer free shipping. This is a key differentiator if free shipping is frequently requested by customers.
Choose the right shipping solutions for your needs
The best way to choose a carrier is to look at the available options as shipping solutions, rather than shipping companies. Compare the available solutions to your checklist of operational and business requirements.
Consider what type of product you're shipping, your location and destination, required services and speed, tracking and shipping cost. Use these criteria and your own customized requirements to help you compare shipping solutions and choose the right carrier for your needs.
---