Today's online shoppers expect different fulfillment options to be instantly available to them. To meet this expectation, retailers and logistics providers need to rapidly access and manage the right selection of third party delivery providers. But 3rd party provider management comes with its own headaches: incomplete or changing integrations, inconsistent visibility and branding, as well as lack of quality control and direct relationships with customers.
To get this right, you need to tap into next-gen delivery and fulfillment tech to build your own personalized network of the right third party providers to match your unique order requirements. And that's not where it ends. It's imperative to also remain in full control of your delivery operations and branded customer experiences.
To deliver more and maintain control of the customer relationship, companies are turning to flexible, integrated delivery networks, with smart delivery provider management functionality.
This post explores the different challenges of working with multiple third party delivery providers, and how businesses can use Bringg's Delivery Hub and last mile fulfillment platform to quickly and flexibly integrate with, manage, and optimize each delivery provider for branded customer experiences and a higher bottom line.
WATCH : Bringg's delivery hub in action
5 reasons to use a delivery hub with next-gen management functionality to manage multiple third-party delivery providers
Select and work with the right providers and services to support your unique order requirements. This means that you are also offering your consumers different delivery options, which is proven to increase cart value and customer life-time value.

Optimize your delivery operations to support your complex fulfillment needs. You can easily evaluate your delivery provider performance based on your unique business needs and parameters, such as cost, quality and availability.

Synchronize inventory/pick and pack, staging and delivery operations.

Offer a consistently branded customer delivery experience.

No need to build and maintain integrations yourself.
When is third party delivery not enough?
Retailers and logistics providers need to be able to quickly and easily scale deliveries while remaining in full control of their delivery operations and branded customer experiences. And that requires advanced and specialized delivery and fulfillment tech.
If you're already using third party delivery providers, you've likely stumbled on these issues that need tackling:
Brand awareness and customer relationship
When a third party provider knocks on a customer's door, who does the customer attribute the delivery experience to – your brand, or the provider's brand? When customers aren't satisfied with the quality of the goods when delivered, or when a package arrives late, who do they blame?
You should offer a clear channel of communication – and not through the third party. You cannot outsource your customer relationships and interactions.
You also want to deliver with the delivery partner that provides the best fulfillment experience. However, most companies struggle to gain real-time visibility over third party delivery providers to understand their performance and ensure the customer experience meets their brand's expectations.
To improve risk management, you need real-time visibility. This will enable you to catch when something goes wrong with an order, so you can proactively reach out to the customer and minimize the negative impact on your relationship.
Managing integrations
Relying solely on third party marketplaces is a double-edged sword. On the one hand, they are a significant growth engine, allowing for fast delivery activation and room for future expansion, with minimal operational investment.
On the other hand, this reliance comes at the cost of customer data and ownership, revenue lost through commissions paid to marketplaces, and loss of cross-sell/upsell opportunities.
If you're planning on your own digital channels, you'll need not only third party delivery providers, but all of the operations built around connecting your eCommerce, POS and other systems to fleet operations: ensuring that the correct packages are dispatched to the right fleet, and delivered to the correct person and location.
Building and maintaining these integrations takes resources that many brands don't have, or would rather not use up.
Fleet Optimization
Choosing the 'optimal' delivery provider can mean different things not only for each business, but for different orders, package sizes, or fulfillment within the same business.
For on-demand orders, you may want to dispatch orders based on availability first, and price second.
A company using both internal and external fleets may want to look at their internal capacity for deliveries before deciding whether to dispatch to an external delivery provider.
Local neighborhood deliveries can prioritize dispatch to a green logistics option, such as a fleet with electric cargo bikes, cars or trucks – and define specific partner fleets per neighborhood.
In order to address these issues, businesses will need more than just a delivery app.
The value of a smart, integrated third party delivery hub
The Bringg Delivery Hub is an aggregation of third party delivery providers which companies can use to form their own delivery network and dispatch deliveries based on their own custom business logic and operational considerations.
This rapid access to leading providers allows brands to expand their last mile delivery operations quickly. More than that, the Hub is a centralized tool for seamlessly and flexibly deploying, scaling, managing, and optimizing multiple fleets to address diverse business needs, while retaining a consistently excellent customer experience.
Our platform can integrate with any provider, equipping you with in-depth data exchange needed for true visibility and orchestration. This helps you effectively utilize external delivery providers as if they were internal resources, either exclusively or in combination with an internal provider.
Benefits of using Bringg
Built-in integrations, allowing you to test and scale with any provider with minimal effort
More fulfillment options with instant access to greater / diversified geo and peak coverage with differing delivery models and SLAs when and where you need it
Faster, better quality delivery by syncing between retail, kitchen or warehouse operations and drivers
Easy selection, management and optimization of providers and services from a single screen
Consistent, branded fulfillment experiences across your network of delivery providers
Customer data ownership, regardless of who's delivering for you
Real time visibility and control over the delivery experience, allowing you to optimize for cost, quality and availability
How the delivery hub works: centralized management, flexible flows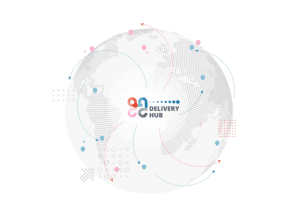 Integrating with a delivery provider
A business can search for and select a third party delivery partner in Bringg's Delivery Hub of integrated providers. This levels the technological playing field by offering brands a unified customer experience with all of the different providers they use.
Companies can alternatively bring their own external fleets and have them integrate with Bringg's Delivery Hub.
You can contract with your providers directly (on your terms), or have Bringg fully manage it for you. You can also manage provider payments and disputes with our billing services.
Food delivery providers now provide Retail DaaS
Crowdsourced providers which used to provide delivery to restaurants, meal kit providers and other food retailers are increasingly diversifying to non-food retail delivery. Bringg's delivery hub supports delivery through Uber, Postmates, and other popular crowdsourced delivery services, making it easier to offer same day fulfillment services to your customers.
Setting up business logic behind provider selection
Companies can choose which delivery providers they want to utilize per use case, city, neighborhood, region, day of week, or other criteria. Then, they set up the operational logic behind Bringg's fleet routing engine, based on their business logic. This is a great way to ensure excellent customer experiences; for example, orders can be dispatched to providers with the best feedback ratings, or the fastest average delivery times.
A retailer may utilize the lowest cost providers for same day or on demand delivery, but utilize the highest rated white glove delivery provider for transportation and installation of appliances.
Once the business logic is set up, all fleets integrated with Bringg – whether from our Delivery Hub or not – can be dispatched using different flows with customized levels of automation. Bringg's Fleet Router takes multiple constraints into consideration – including cost, distance, speed, and your unique business needs – to automatically dispatch orders between the right providers.
Syncing operations across the delivery flow
When your entire logistics chain, from your retail systems (e.g. POS, picking, order prep), to your inventory management system (IMS), warehouses, and drivers are all linked to the same system, it's easy to ensure a fast, seamless handoff and consistent customer experiences.
Offering a consistent, branded customer experience
Working with an integrated delivery network means that your customers will experience your brand at every delivery touchpoint, from checkout right through to receiving their deliveries.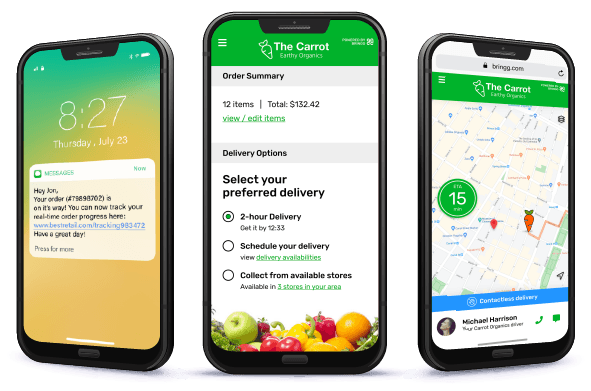 Centralizing visibility and technology
The delivery providers in Bringg's hub provide real-time data to Bringg that captures progress through order fulfillment, either via API integration or by using the Bringg Driver App. At the same time, Bringg's platform tracks and measures high-level delivery provider performance KPIs.
Leaders can view order value per region and per fleet, as well as provider performance. These and other metrics can be used to make better choices about where and how you use each external provider. This is true whether you work with fleets from our network, or other fleets of your choice, once they integrate with Bringg.
Building a network to support your future growth
Having a robust network of multiple last mile delivery providers is the first step in expanding your delivery and fulfillment revenue. The next step is to select, manage and optimize the right delivery providers in the optimal way to continue growing and ensure coverage for the future.
The Bringg Third Party Delivery Hub provides you with the functionality to seamlessly connect to the world's leading delivery providers while maintaining full visibility and control of your delivery operations and customer experience. 
To learn more, you can schedule a demo here.