There's never been a more critical time to implement the right dispatch software. The demands on delivery operations have never been greater: and online retail sales are up for home improvement and home furnishings – categories which require speciality dispatch operations. Additionally, there is a cross-vertical increase in demand for same day delivery with over 50% of retailers and shippers already offering same-day delivery to their customers. 
To meet these new challenges in delivery volume and service type as well as to maintain customer satisfaction, businesses can hire more drivers or engage more contracted fleets. But to fulfill efficiently, taking into consideration jumps in demand, costs to deliver, and driver efficiency, businesses also need to be smarter about how they dispatch and use these fleets. This is where service dispatch software comes into play. 
The right dispatch software will free your team to focus on delivery performance, improving resource management, service speed and fuel costs, and ultimately the customer experience. This post covers the primary features to look for in dispatch software.
What is dispatch software?
Dispatch software utilizes automation to select the driver or fleet which will deliver an order. This technology can be anything from simple apps to 'digitized' pen and paper spreadsheets, to platforms which connect the entire supply chain, including integrations with external fleets, retail systems, and other logistics systems.
Why do you need dispatch software?
Today, customer experience is everything. When ordering delivery, customers expect transparency, efficiency and in many cases, speed. With mobile device orders and tracking becoming increasingly popular, service dispatch software is necessary to improve customer service. Utilizing the technology available today, businesses and logistics providers can boost service management to a new level and make sure their dispatch operations support a great customer experience.
It's not just about customer satisfaction, however. Two-day shipping costs almost twice as much operationally as five-day shipping, yet it has become a standard in today's market, as have on demand services. Optimizing dispatch operations can help businesses save time and money while meeting these competitive standards.
For example, optimized dispatch can cut down on some of the costs of faster delivery by reducing fuel costs. Estimated costs for a truck roll start at $150 and go as high as $500; reducing even one truck roll per day can add up to significant monthly and quarterly savings.
The problem with dispatching software today
Too many tech stacks used today for on demand and scheduled delivery are outdated and inefficient. If the software can't be accessed by a mobile device, for example, it simply isn't suited for the needs of a modern mobile workforce. 
Efficient job scheduling, route planning and trucking dispatch planning can be difficult if not impossible for logistics companies to handle without updated technology. Intelligent dispatch software can provide the enhanced flexibility companies need to enable the customer experience that brands and end customers expect, while remaining cost-effective. 
9 key dispatching features to look for:
Smart scheduling
Customized dispatching per operational logic and business priorities
Route optimization and order batching
Real time integrations
Automated dispatch and manual dispatch
fulfillment flexibility and automation
Visibility and coordination across the delivery flow
Real time data and alerts
Robustness and agility
1. 'Smart' automated scheduling software
Both large and small businesses today know they have to prioritize reducing customer calls if they want to improve overall customer satisfaction. One way to do this is to offer automated appointment scheduling. 
With white glove delivery as well as many types of services, the end customer or consignee is required to be home for the delivery. Scheduling and dispatching go hand in hand in this process, since delivery windows, dates and pricing vary based on a fleet's real-time capacity and availability. 
How does this work?
When someone places an order online and pays for 48-hour delivery, the retailer and logistics provider know where the inventory is, and that it must reach the customer within two days. Once the order is ready, either the brand or the logistics provider can send an automated message to the customer, directing them to schedule their exact delivery window online. This job scheduling software can save thousands of hours each month for service providers who would otherwise deal with many more customer calls. 
To be accurate and efficient, as well as saving time and resources, job scheduling should be part of a dispatching solution that bases scheduling on the availability of inventory and fleets.
Scheduling for Logistics Providers
Logistics providers need the ability to send quotes to shippers' sites. This requires integration not only with the relevant eCommerce providers, but with all and any contracted last mile carrier. The right dispatch software will be able to serve the needs of both shippers and consignees by identifying the shipper (including shipper-specific service level agreements) and use this to determine the optimal scheduling options and windows.
2. Customized dispatching according to operational logic and business priorities
Different businesses have different KPIs and need dispatch solutions that suit their specific business goals. 
For businesses quickly ramping up capacity by engaging new fleets, dispatch limitations will hold back their ability to scale. It's also unrealistic to expect dispatchers to take every factor into consideration. You need a 'smart' operating system that can make decisions for you, based on your unique considerations.
These considerations can include:
Vehicle volume and weight capacity
Driver costs
Vehicle and fleet regional suitability (e.g. bike in cities)
Time-to-delivery
Advanced delivery requirements – Contactless, returns and rejections, age and regulatory restricted deliveries
Estimated time on site, time to warehouse or dark kitchen and time-to-deliver to ensure on time deliveries
Driver and technician skills
To dispatch technicians for a white glove delivery or field service, you will need software that takes into consideration both the specific skills required for the delivery, and the availability of both the relevant drivers, and any special tools or vehicle that they may need to perform the service.
Field service management software
Field service management aims to meet the needs of today's customer by providing shorter service windows, faster services, and tools to help field technicians with task management. This change is new for many field service companies who are used to relying on phone calls for scheduling and reminding customers of their scheduled service. Now, customers want the ability to make changes, have real time access to their orders and expect a digitized experience from field service businesses. 
To answer these demands, field service management must go beyond standard job management software or dispatching solutions. It must include additional capabilities such as identifying unique skill sets required for specific services. For example, if a service requires a specific set of skills, the field service management software can match an order requiring a specific set of skills with the relevant field technician, or identify when a service requires multiple technicians, and dispatches them accordingly. 
Giving field service technicians a mobile app for task management – such as digital proof of delivery, waste management, and editing job details on demand at the job site – will make it easier for them to perform more jobs and lead to better field service in general.
A mobile, all in one app can provide all the tools drivers and technicians need for on-site job management. Mobile apps can be used to
Edit job details and schedule jobs ad hoc
Assign jobs to others
Digitally sign forms
Edit the job location in case of a mistaken address
Record job progress in real time
By embracing field service management software and putting an emphasis on customer management, a field service business can improve its delivery services while reducing service time and costs.
3. Route optimization and order batching
A simple way to fulfill more orders is to deliver more on a single run. Intelligent service dispatch software should therefore sync with or include route optimization software with automated order batching and drop density optimization.
Route planning and optimization – takes multiple variables into account – such as distance, estimated timing for all delivery stages, and custom business considerations – to calculate the optimal route.
Batching – Identify orders in the same delivery windows which are located near one another, and can be batched to reduce the cost of delivery.
Trucking dispatch software, route planning and optimization
For oversized deliveries and some services, dispatching trucks and timing delivery routes must take loading and unloading time into consideration. Dispatchers often want to know whether or not the consignee or recipient has a dedicated space for loading and unloading. Typically, dispatchers prefer to use smaller delivery vehicles for recipients that do not have a dedicated loading / unloading area, as these vehicles are easier to park closer to the recipient. However, if a larger vehicle is used for these deliveries, the time on site will often need to be adjusted for parking and unloading time.
The best trucking dispatch software will be able to optimize trucking dispatch and even truck loading on the vehicle level. These capabilities will both save time and ensure you are utilizing the optimal vehicle for each delivery or service.
4. Real time integrations
No logistics software exists in a vacuum, and your dispatch software should be no exception. Dispatching solutions exist within an ecosystem of highly specific variables – from inventory to orders, as well as driver, fleet and vehicle availability – so it's worthwhile to check potential systems for how the software integrates with the relevant OMS (Order Management System), TMS and other operational systems.
When logistics providers were asked which technology would help them differentiate the most and win new last mile business, the top answer (43%) was easy integration to enable multiple delivery models. This means that shippers want the ability to be able to work with both owned fleets as well as contracted carriers (depending on demand and scheduled dispatching) with ease. The best way to facilitate this is a successful integration in order to connect data, resources and operations in real time, a feature that many are currently lacking. When checking new carriers, make sure to take into account which integrations are offered and what dispatch software is used for this. 
5. Automated dispatch and manual dispatch
Your dispatch solution must meet your business goals, even as those goals change according to market needs. For active routes and same-day delivery, make sure that the dispatch solution you choose can support real-time, automated dispatching. For planned routes and deliveries that are next day or later, ensure that the dispatch tool allows dispatchers to intervene manually, (e.g. to support a customer with an urgent need). Strong dispatch solutions will allow you to use the same delivery resources for static, dynamic and real-time dispatch and deliveries.
6. Fulfillment Flexibility and automation
Flexible dispatch allows businesses to create different delivery logic and flows for every use case. This can mean using different fleet models in tandem, with a fleet tethered to a store, or pooled within a region. It also means automatically allocating orders to the optimal fulfillment location (e.g. an MFC, dark kitchen, or one of several local retail locations), and then dispatching deliveries as needed. This way, different delivery or service providers can be used for local deliveries in different geographies.
Automation via a mobile app
Automation tools are not only for dispatch. In order to create a fully effective tool, dispatch software should be synced with a mobile app for drivers that creates streamlined communication between dispatchers and drivers or technicians. Mobile apps also help mobile workers manage customer delivery expectations, an important part of customer management. 
7. Visibility, communication and coordination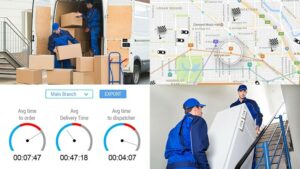 Intelligent service dispatch software works as part of an integrated, intelligent ecosystem, ensuring that every team works in sync. Each team in a delivery flow needs to know when and where they should be in order to hand off a delivery to the next team. This means drivers need to be told which location they should pick up from, which loading bay they should go to, and when they are needed. Similarly, retail staff need to know which orders need to be prepared, where they should be staged and when. Customers also want to have access to information to know where their driver or technician is, especially when it comes to emergency services. 
All of this must be fully automated and coordinated, in order to minimize expenses, while meeting the customer's delivery windows. And in today's market, all of this must be supported equally for multiple fulfillment models: delivery from store or MFC, curbside pickup, click and collect, reverse logistics, and more.
Mobile inventory and asset management should also be a part of your dispatching solution, whether as a separate integrated management system or as part of your dispatch technology.
Built-in GPS tracking
Look for dispatching solutions with in-app and mobile app communication and gps tracking, so that each team can coordinate deliveries seamlessly. Customers can also use GPS tracking via their mobile app to see where the driver or field service technician is.
Centralize dispatch operations with contractors and master contractors
In many cases, shippers need the ability to dispatch across internal and external drivers, as if they were a single team. Others want to dispatch on the fleet level, then delegate the final optimization of outsourced drivers and vehicles to the master contractors.
This calls for trucking dispatch software solutions with customized permissions that give the contractor customized visibility over their drivers and those orders which are assigned to them, as well as access to dispatching tools for both planned and active routes.
You will also need a dashboard which displays upcoming deliveries and those in progress. Ideally, this dashboard will have different views, so that dispatchers of contracted fleets can view only their drivers, while still keeping all of the data in one centralized location. This way, both contractor and provider can be alerted if a driver is running late, or if anything goes wrong.
Centralizing dispatch of both internal and external fleets will enable you to handle greater delivery volumes, while using contracted fleets more cost-effectively.
8. Real time data and alerts
Customers want GPS tracking for their deliveries. They want to know exactly where their order is and when they will receive it.
Not only do the customers look for real-time data and alerts through mobile apps and other methods, so do the dispatchers. Dispatchers need visibility into their resources, from driver and fleet availability to understanding where trucks are when requests on existing routes come in.
A dispatch platform that is synced with inventory as well as fleet availability can create more efficient and cost-effective routes that ensure on-time deliveries, as well as potentially creating room for more orders per route. All of that can only be accomplished only through a tight loop of accurate real-time data, live alerts, and the resulting decisions made by dispatchers.
'Smart' dispatch software should contain automated delivery exception flows which trigger relevant processes and alert the right people when something unexpected happens.
Live alerts must be extremely rapid, accurate, and sent to the right people over the correct channels. These alerts act as a 'decision hub' for zero-hour delivery facts on the ground, and should include automatic sms notifications on delivery status, driver ratings, average time-to-delivery, missed deliveries, and everything else relevant to crucial dispatcher decision making. Software that include predictive capabilities on top of dispatching can even prevent or at least mitigate critical incidents – for example, alerting drivers and customers when a delay in delivery or service is predicted.
9. Robustness and Agility
Choose a modular platform with capabilities that can expand with your needs.
As your delivery services expand, so will your dispatching needs. You may engage additional contractors or external fleets, expand to crowdsourced delivery, or even use more internal drivers; you may work with trucks but then expand to other vehicles. The same goes for geographic reach, and dozens of variables.
The best service dispatch software platforms will  include dispatching alongside other tools for fast, efficient delivery. Choose a leading solution with modular capabilities that can expand with your needs, whether you work with a fleet of 50 vehicles or 5,000. For enterprises or businesses supporting multiple delivery and fulfillment models at scale, managing your different flows from a single, centralized platform is the best way to ensure optimal resource utilization.
Cloud based service dispatch software
Using top service dispatch software including fleet management solutions is critical in today's delivery market. With demands rising and customers expecting easy and quick deliveries, companies looking to keep up with market standards must adapt new technologies. This includes using cloud based software for easy access to data by multiple teams across different geographic regions.
Look for a cloud based solution with all of the features discussed above to increase your efficiency and capacity for rapidly changing markets, and improve your service speed and costs.
Dispatch technology is just a small piece in the puzzle. Connecting, digitizing, automating and optimizing the entire delivery process will set market leaders apart from market donors in the era where, to shippers, customer experience is king.
---
Frequently asked questions:
How does dispatch software work?
Dispatch software works by optimizing dispatching for both scheduled and on demand delivery. This can include choosing the fleet, dealing with returns and redirect deliveries, optimizing routes with advanced route planning, restricts drivers from traveling in unsafe areas and automates logistics scheduling based on real-world availability. 
Who should be using dispatch software? 
Dispatch software should be used by dispatchers as well as businesses who need a comprehensive solution to manage dispatch activities involving multiple vehicles servicing many job locations within a single time frame. This software is especially useful for people managing field services, waste management, as well as specialty delivery services of all kinds.
What is the best dispatching software?
The best dispatching software or service dispatch software can schedule jobs based on customized requirements, such as different service levels, and then track fleet operations. Look for an easy to use system that provides end to end asset tracking as well as dispatch management capabilities.
What is the best trucking software?
The best trucking software provides digitized solutions for trucking companies that improve efficiency in day to day tasks and reduce fuel costs. To identify the best software, compare product reviews and look at the overall star rating per solution.