Despite the increased importance of eCommerce for retail sales, most sales are still locked in brick and mortar for traditional retailers. Purely eCommerce players like Amazon, on the other hand, have been making moves to offer same day delivery, in order to gain more ecommerce business. As a result, new standards for same day delivery are set as everyone tries to keep up with the fulfillment leaders.
There are many challenges entailed in offering a same day service, including how costly it is to manage. Many companies, from giant brands to small retailers, are turning to online platforms that also offer a same day service to increase delivery speed. However, this doesn't provide an answer to high same day operational expenses. Businesses need to look for further solutions in order to offer same day shipping services, and make it profitable.
What is same day delivery?
Same day delivery is when an item is delivered on the same day that the customer ordered it. To deliver orders quickly, the inventory has to be fulfilled locally from distribution centers, MFCs or stores that are relatively close to the customer.
Why the growing demand for same day deliveries?
Same day and next day delivery, along with in store and curbside pickup, are ways for businesses to get more money from eCommerce sales by using up local inventory. In an era where more people are shopping online and fewer go into stores, this omnichannel approach is especially critical. 
Consumer demand for same day shipping is skyrocketing. Many retailers and their delivery logistics providers will need to find technology solutions that reduce their cost to deliver, without inflicting additional costs onto the end customers.
To understand the push for same day shipping services, look at these statistics:
Fast shipping is driving conversion
Paid search ads featuring 'same day' have grown, increasing conversion online by 5x conversion for home and furniture retailers, and 2x for apparel retailers.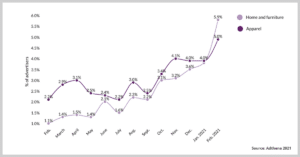 45% of consumers expect a maximum delivery window of 2 days 
In an era of instant gratification, two day delivery does not meet customer expectations for fast retail fulfillment.
Furthermore, according to the same GreyOrange Survey, 57% of consumers would not use a retailer again after three late orders.  The market for local last mile in the US is growing 32% per year according to Grand View Research – twice faster than eCommerce projections – as same day deliveries are becoming standard faster than expected.
Consumers are abandoning shopping carts when fulfillment is not fast enough
27% of consumers said they abandoned an online purchase while shopping during COVID-19 because their order would not be delivered quickly enough. Fast shipping is about instant gratification, and every business that sells online needs to provide online order fulfillment that is also an instant gratification service. Offering better delivery options can prevent shopping cart abandonment.
99% of retailers will offer same day delivery within the next three years
35% of retailers had same day delivery by the end of 2021 – but another 64% plan to add this service within the next three years. Even thirty-minute delivery is a mid-term goal, with more than 4 in 5 retailers planning to reach this delivery model as well.  Fast delivery is quickly becoming a strategic necessity for every company that wants to grab – or even hold on to – online market share.
The biggest challenges of same day delivery
Despite the opportunities to capture market share and increase customer satisfaction, brands and retail logistics providers are struggling to offer their customers competitive delivery and fulfillment options. 
In order to understand why same day delivery is so challenging from a business and operational perspective, it's important to review how it works:
How same day delivery works:
When customers shop online and select items for checkout, backend systems check inventory availability within close proximity to the customer. After checkout, the order is dispatched to a driver, based on pre-set rules. The delivery driver picks up the order from the fulfillment location, and it is delivered to the customer that day. 
Here are biggest same day delivery challenges that can turn this process into a bad experience for customers:
5 same day delivery challenges:
Limited staff – including delivery drivers and vehicles
Inefficient or manual dispatching and routing
Travel distance from customers
Order visibility and tracking across many drivers and multiple carriers
Cost to deliver
Not enough drivers or the right delivery vehicles
The shortage of delivery drivers continues, putting pressure on last mile delivery providers to pay extra and offer more benefits in an attempt to attract and retain drivers.
Inefficient dispatching and routing
Most companies use dispatchers for scheduled delivery. Even next day deliveries can be scheduled, assuming they arrive before the cutoff.
However, outdated dispatching software or manual dispatching doesn't work with same-day, as there is no time to check fleet availability for on demand delivery orders. There is no time to check which driver is closest to the delivery location, or which fleet will be able to deliver the order most cost-effectively.
Without automation, it is virtually impossible to manage same day dispatching at all, let alone cost effectively.
Fulfillment locations and travel distance
eCommerce is proliferating at a faster pace than companies can match with their supply chain – in particular, local inventory. eCommerce has even entered into suburban and rural areas, where few retailers have local fulfillment centers or retail footprints near enough to customers to perform same day delivery.
Moreover, inventory management systems are not built around shipping from stores, and many a business struggles with inaccurate inventory on the store level. Without accurate inventory management and a supply chain built around local fulfillment, it's impossible to guarantee inventory availability on demand, in real time.
Same day vs. next day delivery
Next day delivery is a process where a consumer orders online from a retailer and receives their package on the following day. For same day deliveries, customers receive the package on the same day on which they ordered it from the retailer.
Until recently, next day delivery was the premium service, with most logistics operations set up to provide two day delivery to customers as the fastest option – and this still applies for many businesses.
Fast shipping relies on inventory located near the customer. If next day delivery was possible with a distribution center located outside an urban area, for example, that same distribution center may be too far for delivery drivers to perform multiple urban same day deliveries.
Order visibility and tracking
Customers now expect to be provided with last mile tracking while their order is on its way. On top of this, if you work with third parties for delivery, that can further reduce visibility into both order location and performance.
If there is a missed delivery, or if a delivery attempt fails, do you know why? Too often, the answer is no. And that's is a big problem, both in terms of operational costs, and the customer experience.
Is your supply chain up to the challenge?
If your data and resources are not connected, then on demand deliveries can be a logistical nightmare. Delivering orders on time, within a single day requires real time integrations between multiple systems (for example, POS, order management systems, inventory management systems, warehouse management systems, and in some cases the logistics providers' TMS). Is there enough driver availability? If the order requires special skills or specialized delivery vehicles (e.g. oversized items, or food delivery requiring cold storage), how is that selected for dispatching?
Operating same day delivery at all – let alone making it profitable – requires digitized operations using automated dispatch software and route optimization software. It also relies on numerous resources that have to be coordinated to work together in real time.
How to reduce same day delivery costs
Offering a same day delivery service is an opportunity to increase revenue from local inventory, but only once the many challenges around cost to deliver is tackled.
The good news is that there are strategies and tools which can help any company overcome their same day delivery challenges.
Increase average order size
Retail delivery typically starts being profitable when orders are over $50. Since people select more items when shopping online than when they shop in person, delivery is built for increasing order sizes! Find technology that suggests 'you might also buy' as customers shop, including during checkout.
Optimize efficiency across the entire process
From pick and pack, to loading, to managing delivery exceptions – Putting processes in place to boost efficiency will reduce same day delivery costs along the way. That's one reason for the growth of automation early into the ecommerce fulfillment process, with automated warehouses, and tools to increase efficiency of picking and packing. You may need new picking technology that syncs with your delivery management system (the system with visibility into when delivery drivers are coming for pickup). This will result in a just in time delivery pickup process that increases delivery capacity while speeding up time to fulfillment.
Putting processes in place to boost efficiency will reduce same day delivery costs to deliver along the way.
Batch orders
Using an automated dispatch and routing system, orders going out to the same geographic area in the same time window can be batched together to prevent loading half-empty trucks.
Work with multiple crowdsourced providers
Compare performance, and automatically select fleets for coverage where and when it's needed via a third party delivery management solution (also known as a delivery hub) to reduce operational costs and increase coverage.
Use micro fulfillment centers (MFCs) or local stores to fulfill orders with existing inventory
Delivering locally reduces miles on the road and reduces operational costs. Fulfilling orders from stores or local inventory has the added benefit of reducing product shelf life and ensuring it gets sold before it loses its value to consumers.
Retailers today have clearly gotten the message, with more than two-thirds using department and mall stores as local fulfillment centers or dark stores. 58% are also using ship-from-store to get closer to their customers.
Look to the future
It's one thing to offer same day delivery services in a few locations with your own fleet or drivers. However, too many businesses forget to take future customers into consideration when launching a same day service. Delivery volumes and geography increases, and most companies need to expand their resources and technology solutions to handle the load. The best way a business can quickly expand services is to work with third party fleets using fleet and driver management technology.
How to overcome same day delivery challenges
If you haven't yet implemented same day shipping, or are overwhelmed by same day delivery challenges, these tips should help. Just remember that speed is only one aspect of fulfillment that customers value. It's about a larger last mile delivery experience that starts online and ends with a successful delivery.
By applying the right technology solutions and connecting your supply chain systems into a single coordinated engine, you can provide the omnichannel experiences and fast delivery with the end-to-end visibility, control, and various channels of ecommerce fulfillment customers are looking for.