Consumers have caught on to delivery, and they're not going back.
Once, it was once enough for brands to offer five-day delivery or in-store pickup for orders purchased over the phone. Today's customers expect fast, convenient, and seamless omnichannel experiences, whether same-day or next day delivery, curbside pickup, BOPIS, or other fulfillment service. And these expectations are spreading across industries, jumping from restaurants and the online retail giants to traditionally brick-and-mortar retailers, logistics providers, healthcare companies, field service, and more.
To stand out in a digital market flooded with competitors, brands must focus on delivering the best customer experience.
This post explores what customer experience means in an age of omnichannel fulfillment, the major hurdles to meeting customer expectations, and how technology can help bridge the gap and create efficient, profitable delivery and fulfillment experiences that keep customers coming back.
What is customer experience in delivery and fulfillment?
In eCommerce fulfillment, the customer experience is the customer's overall impression of the fulfillment process, and everything that impacts how the customer interacts with, and reacts to, the fulfillment of their order.
This process starts on the website, and continues through every step of order fulfillment, including feedback. The customer experience affects both the business from whom an item is ordered, as well as the logistics providers (if it's a delivery).
The customer experience is integral to each of these steps in the fulfillment flow:
✓ Browsing
✓ Checkout
✓ Confirmation
✓ Scheduling and Routing
✓ Delivery or Pickup Experience
✓ Feedback
✓ Returns and Recycling
Using data to evaluate and improve your customer experience
Because the customer experience is affected by so many different systems, players and flows across the supply chain, it can be difficult for businesses to effectively analyze and rate their customer experiences.
To accurately evaluate how successful the fulfillment experience is (or isn't) for customers – and improve it accordingly – businesses must collect two types of data:
Collecting customer feedback – Customer feedback can be collected through a business's customer experience application, push notifications, or email, to name a few ways. The best way to increase positive customer feedback is to have good relationships with your customers, reaching out to them throughout the entire fulfillment process so that they feel their experience matters to you.
Collect real-time customer and performance data – what is your rate of return customers? What percent of customers leave during the checkout process? What is your rate of missed or failed deliveries? Businesses that prioritize customer experience track, and analyze this data to determine where the customer's pain points are along the buying and fulfillment journey, and understand how best to make the flow more convenient and effortless for customers.
While many businesses have some level of performance data, little of it is sent in real time. Real-time data, however, is essential to meeting and exceeding expectations around the delivery and fulfillment experiences. This is because it allows you to know exactly where an order is at any given moment, then alert customers and resolve any issues as they happen.
Why customer experience matters
Customer Experience must be at the heart of any delivery or fulfillment strategy.
It's not easy to set your delivery or fulfillment experience apart in an age where good fulfillment has become a commodity. While in the past we may have settled for lengthy waiting times with no visibility into order status, today we all expect convenience, timeliness, transparency and direct communication.
With deliveries increasingly becoming the only offline touch point customers have with brands, a stellar delivery experience is now just as important as having a standout product. Brands and providers which provide competitive customer experiences will capture market share and retain more customers. 87% of shoppers stated that they'd be highly more likely to shop again with an online merchant following a positive delivery experience, and 76% view the end delivery experience as the true test of how much a company values them.
All of this makes clear how crucial delivery and fulfillment experiences are to customer satisfaction, and that companies in all industries must adapt to this new customer-centric reality if they want to remain viable in the long-term.
CX must be at the heart of any delivery or fulfillment strategy. There is no point in scaling up a strategy or channel that doesn't resonate with what customers want.
So why do so many companies – whether retailers, logistics or service providers, restaurants or other businesses – struggle to implement better customer experience capabilities and practices?
The challenge: creating exceptional delivery and fulfillment experiences
Across industries, businesses face three primary hurdles when implementing better fulfillment experiences:
1. Real-Time Visibility – Visibility is a double-edged challenge. Customers want to see prices for various fulfillment options at checkout, and view order progress in real time. Logistics providers need visibility into contracted fleets in order to understand how shipper and consignee SLAs are being met. Retailers and other businesses need visibility into inventory, resources (for example, available delivery from, or pickup at, a specific location), third party and internal fleets, and of course, the customer experience itself. And all of this data must be captured in real time.
This instant, granular level of visibility across multiple stakeholders requires reliable integrations between systems, including TMS, WMS, POS and others. It requires technology to power communications between customers, drivers, stores and other points across the fulfillment flow. It also requires a real-time information sync, and a way to easily digest and analyze the different data points.
This is not as impossible as it may seem. The major names in ecommerce fulfillment and logistics have this level of visibility – think of Amazon, FedEx, and Walmart. It's the macro and micro level of visibility into every resource across the supply chain that allows them to offer such competitive services to customers.
2. Speed of Implementation – As eCommerce adoption speeds up, the window for launching customer-centric fulfillment experiences is closing fast. Businesses that experiment with launching in-house CX solutions, or purchasing solutions with six-month-long implementation and onboarding will find that they have already lost critical market share. When it comes to CX tools, the speed of implementation has become as important as the tools themselves.
3. Cost – It's not hard to find elements of the fulfillment flow that can use improvement. But launching and scaling new delivery models, service plans, and other competitive offerings is beyond most budgets. Choosing which fulfillment models, delivery options, and CX technologies will provide the best or fastest ROI is a major challenge.
The good news is, there are technologies which provide solutions to all of these issues, enabling companies with vastly different resources to create seamless customer experiences on par with industry giants. Here are 10 ways that technology can improve the customer experience:
10 Types of Technology that Improve the Customer Experience:
1.  Flexible delivery and fulfillment options and service plans
2.  Unified fulfillment options across all digital channels
3.  Convenient communication options for customers
4.  Order tracking for customers
5.  Branded messaging and tracking
6.  Seamless, convenient on-site fulfillment
7.  Safe, contactless delivery and fulfillment solutions
8.  Fleet management technology to optimize efficiency and costs
9.  Automated dispatch and routing
10. Logistics BI and Reporting for performance insights
1. Offer convenient delivery & fulfillment options and service plans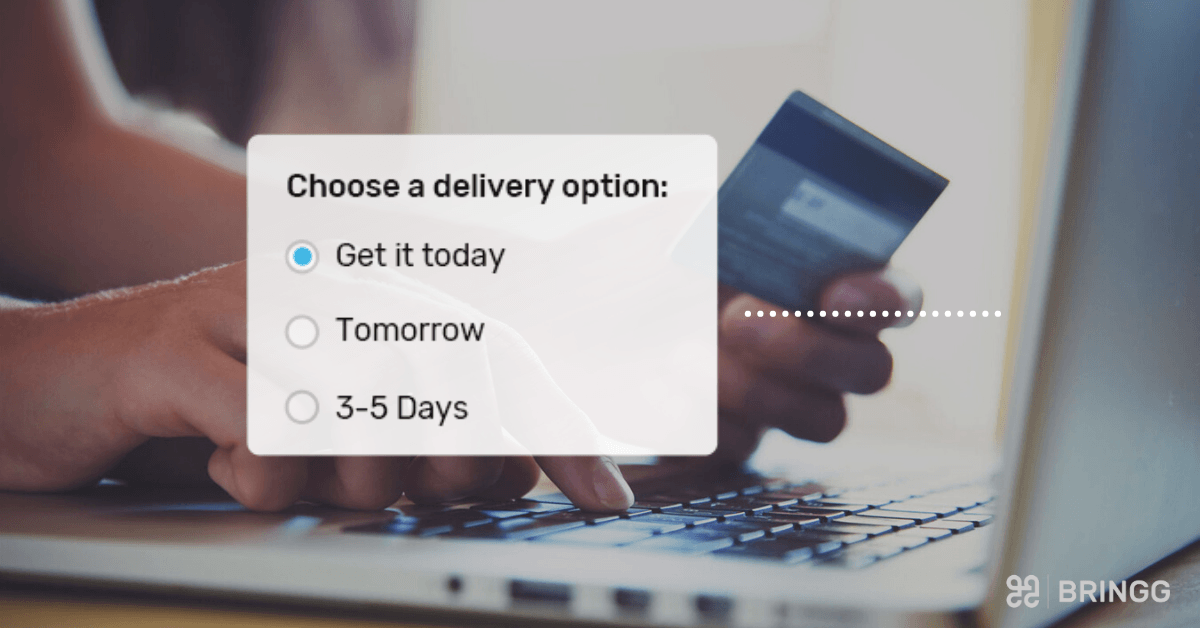 57% say same-day delivery would make them more loyal to a brand.
Consumers want options. Some may prefer faster fulfillment, even if it comes at a cost; others may prefer slower, free delivery with assembly or installation included; others, the flexibility to pick up an order locally themselves. Last mile delivery software allows shippers and logistics providers to set up multiple fulfillment options, giving each end customer the fulfillment experience of their preference.
CX in Logistics – Logistics providers have two challenges: satisfying shippers, and keeping end customers happy. Last mile tech technology which integrates with shippers' tech stacks will allow you to offer unique custom service plans to each shipper, based on their business needs. For example, some retailers will want assembly or other white glove services as part of a premium package; others may prefer to monetize next-day delivery by charging more for it. Last mile orchestration platforms provide the visibility and integrations you need to offer competitive services, and meet your SLAs for those services.
Food Delivery Marketplaces
Marketplaces are a valuable tool for advertising and reaching new audiences, but never underestimate the power of your own branded eCommerce site. Besides tracking customer behavior and spending patterns for upselling and profitability, a brand website lets you offer flexible delivery and fulfillment options, based on your availability. Customers are more likely to order from your site if they see delivery, drive thru and on-premise pickup options.
2. Ensure reliable, unified fulfillment options across all locations or regions
There is no faster way of losing business than by deflating customer expectations you've already set. If a retailer or restaurant offers curbside pickup from one location, it should be available across all locations. The same goes for white glove services, short delivery or service windows, and other SLAs. Any promises that are set for consumers at checkout must be met across the fulfillment flow.
If you want to offer fast, reliable delivery experiences (and keep overhead low), use fleet management and 3rd party delivery technology that lets you track, manage, and optimize the delivery experience. These technologies should allow you to sync data coming from both internal and third party fleets, so that you can ensure the optimal fleet, driver or vehicle is used for each order. For example, when dispatching fleets for an order, you may want to prioritize distance more than price to ensure delivery times will be met.
For click & collect and other types of in-store fulfillment, use pickup technology that allows customers to choose their preferred pickup time and location, while accurately reflecting availability at each location.
Your menus should be up-to-date and accurate wherever your customers meet them. Use menu management software that lets you easily edit and publish up-to-date menus to both internal eCommerce platforms and all partner marketplaces.
Additionally, menu catalogs should be synced with your retail systems to reflect local inventory availability, as well as any individual retail promotions. For example, if a particular region is out of the breakfast special, all menus for that region should reflect it. Otherwise, customers may order something, only to find out afterwards that it's not available.
Similarly, if a certain local branch has a discounted item, then all customers of that specific branch should see that discount when they order the specific item online.
3. Customer communication
Let your customer feel their voice is heard. It's not enough to include a place to add notes on the order form; you must coordinate orders so these instructions reach the driver or fulfillment staff. If customers want to make last-minute changes to their order, or to their delivery or pickup time, they should have a way of contacting their driver – irregardless of whether they are part of an internal or third party fleet – while the delivery is in progress.
Good On demand delivery technology will include communication tools, such as a customer experience app that lets customers reach out to their driver, or contact the store.
4. Accurate, real-time order tracking
Give customers visibility throughout the entire fulfillment flow to reassure them that their order will be ready when planned. In-app and branded SMS notifications can update customers when their order is in staging, when it's ready for pickup, or once it has been handed off to a driver.
To prevent additional workload, these messages should be automated. For example, delivery recipients should be notified when their driver has left the fulfillment center/store/restaurant, when they are a few minutes from arrival, and upon arrival.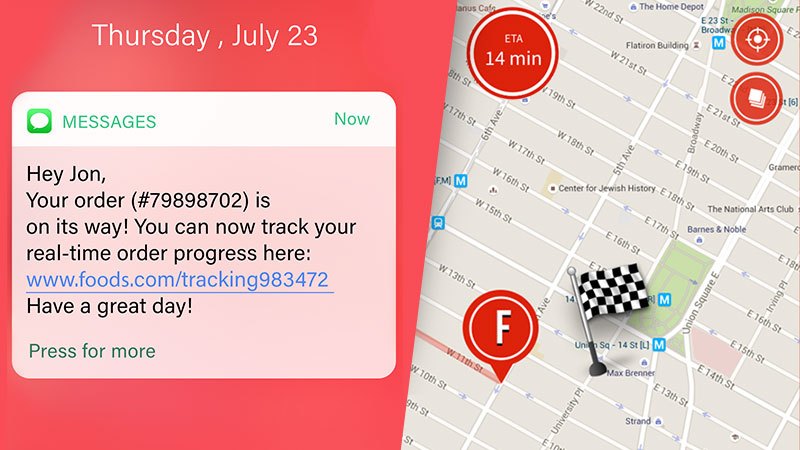 Don't be deceived by the surplus of tracking apps out there. To be accurate, tracking across the entire fulfillment flow depends on total coordination and a complete data sync between all systems and resources. 
5. Own your branding
Strong customer relationships rely on customers attributing their fulfillment experience. Ensure that customers see your brand from the moment they place the order, to the moment it's in their hands..
Branded order updates and order tracking help keep your brand foremost in the customer's mind. Moreover, use the same notification and tracking software to collect customer feedback. This not only provides information that can help you improve the fulfillment experience, but shows customers their purchase is not a transaction – it's a relationship in which your brand has an investment.
6. Convenient pickup experiences
Customers for curbside pickup, click & collect and drive thru should receive information which directs them to wait at the right curbside or parking spot, or drive thru lane, for their order. Ensure that they won't have to wait long by tracking incoming customers and providing unique order identifiers (whether a color, number, ID, or a combination of the three) for both retail staff and customers. Direct nearby customers to alternative locations if your curbside pickup are is filled to capacity.
Pickup is not limited to retail and restaurant brands; logistics providers can dispatch orders to alternative pickup and dropoff locations for shippers and consignees to expand the breadth of fulfillment options and give consignees convenient options.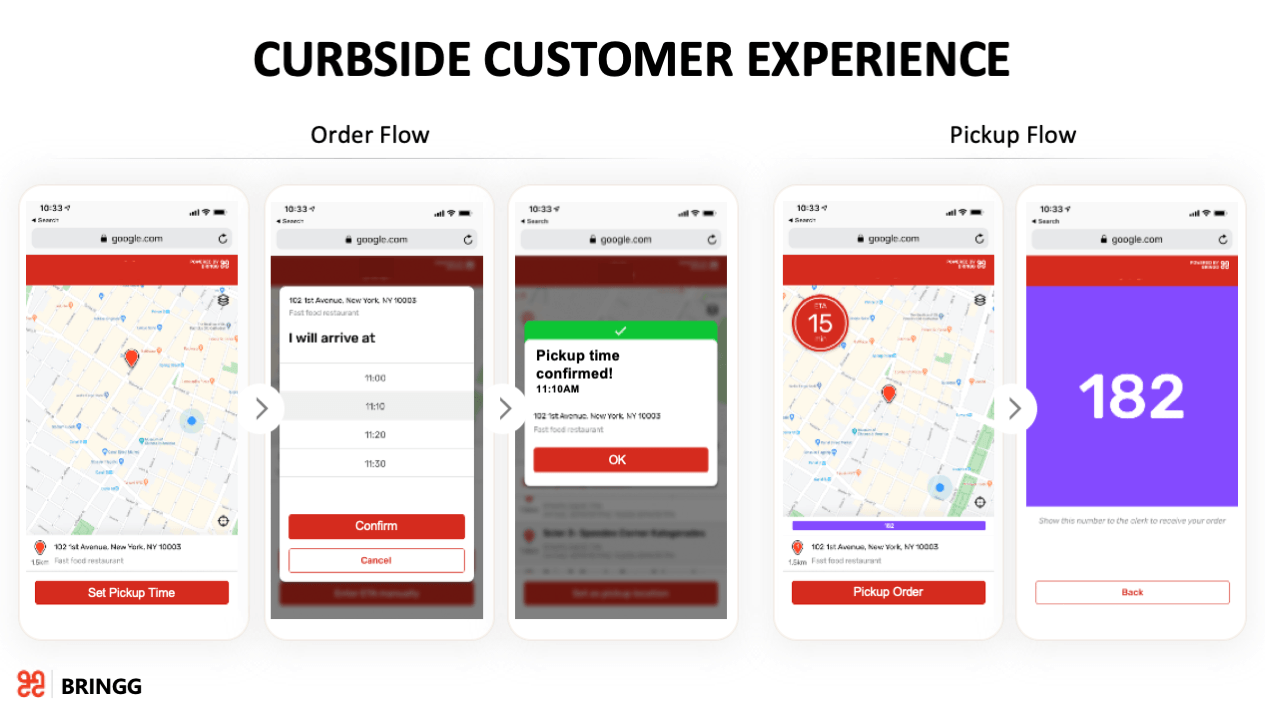 7. Safe, Contactless Delivery & Fulfillment
Contactless delivery is the new norm. Software for contactless handovers, whether at curbside or at the customer's door, will cement your company's image as a safety-conscious, customer-first organization. To learn more about implementing no-contact fulfillment, see Contactless Delivery in 2020: Ensuring Safety Through Technology.
8. Use Fleet management technology to lower delivery prices, expand services
If you do not have the capacity to meet order volumes, deliver on time, or offer premium services to all shippers or consumers, now is the time to connect with a delivery network and the fleets that meet your business and operational needs. This ensures you have enough drivers at the right time and places, in order to deliver in short time frames at any volume.
Adding more delivery partners is the first step; the next is using software to manage order dispatch and routing, and manage all of these fleets from a single source. Having this centralized management means a single source of data and a simplified way of verifying which fleets – both internal and external – are performing up to your brand standard.
See: Third Party Delivery Done Right
9. Automate dispatch and routing to ensure fast delivery and at the right price
If the order is damaged, or delivery is priced too high, then the most convenient delivery options in the world won't help you land a good review or repeat customers.
The right delivery and fulfillment technology will help ensure that your offerings match up with – and even surpass – your customers' expectations for speed, cost, and convenience.
Automated Dispatch and Fleet Routing software both speed up the delivery process and help lower costs to both business and customers. Automated Dispatching can assign orders based on your business logic and operational processes, whether it's dispatching to the most readily available or nearest fleet and driver, or to the one which will cost you the least per delivery.
The same applies for routing. Use route optimization tools that not only finds the optimal route, but can batch orders to get more orders out faster using fewer drivers. This not only speeds up the delivery, but helps reduce the cost to deliver to your business and, subsequently, to your customer.
10. Logistics BI: Understand and improve performance
When working with external fleets, use data tracking and measuring software to check KPIs and make sure they are providing the experience your customers expect. The same applies for internal teams as well.
Use logistics reporting to centralize data across all providers. This will give you a more complete view of fleet performance, fleet order value and other criteria that explain the impact each fleet has on your business. This data should be customized to your KPIs, and per role (e.g. for store managers, operational leaders, and business executives).
Logistics BI also applies to order preparation in the warehouse, MFC or retail location. Whether it's a delivery or pickup flow, optimizing efficiency will translate to reliable, seamless experiences on the other side.
It's all about convenience and trust
Now more than ever, the success of your delivery and fulfillment will define the value of your brand. Consumers don't care about the fault lines in your operations – they care about getting their orders fast, and at reasonable prices. Personalization, convenience, and good performance – all mixed with a dash of strong branding – will win you repeat customers. Investing in scaling up your delivery and fulfillment models, engaging with the right partners, and implementing the technology that meets your business needs is the best way to increase your sales in today's competitive market.
We've worked with the world's leading enterprises to scale up profitable eCommerce delivery and fulfillment solutions. To learn more about Bringg's data-led orchestration platform, visit Bringg.com or get in touch with a representative here.