Just what does 'out for delivery' mean? This phrase appears routinely on shipping status updates, but what exactly are its implications for retail fulfillment? What does it mean in the context of the delivery process? What can cause delivery date to be delayed after a package is out for delivery? And what can shippers and recipients do to ensure a smooth delivery?
This post will answer these and other key issues around 'out for delivery' in the last mile, including:
Examining the role of the 'out for delivery' step in the last mile logistics process

Understand what out for delivery means for the scheduled delivery time and date

Tips on how shippers can optimize delivery during the out for delivery phase to enjoy greater efficiency and cheap delivery costs

What recipients can do to help their shipping company ensure smooth delivery

What to do if packages with an 'out for delivery' status miss their expected delivery date
What does out for delivery mean?
"Out for delivery" is a delivery status update used on tracking information by postal carriers and private delivery companies to indicate that a shipment arrived at the local post office, fulfillment center, or other pickup point and has been placed on a delivery vehicle for transport to its final destination.
A package out for delivery is in the last phase of the delivery process and nearing the end of its journey to its recipient. In logistics, this is also known as part of the last mile delivery or final mile delivery phase.
How it works
Normally, a package reaches the out for delivery stage on or near its expected delivery date. Usually, this status means the package will be delivered that day. However, depending on factors such as the hours of the local warehouse or fulfillment center, the workload of the driver, whether a signature is required and other variables, the scheduled delivery date may be changed to the next day or another available day.
While packages are in this stage of their journey, the tracking information from the retailer or logistics provider will indicate that they are out for delivery.
Shippers use tracking status updates to keep both the delivery agent and the recipient advised of a package's status in case there are any changes which affect the expected delivery date.
For example, if a recipient cannot be available to sign for a delivery, the delivery man may leave a note with an option to request a different scheduled delivery date or pick the package up at the closest pickup location, whether a post office, locker or (in the case of a BOPIS option ) retail store.
Now that we've answered the basic question, "What does out for delivery mean?," we can take a deeper look at how this phase fits into the overall shipping process, and what it implies for the delivery time and date.
What does out for delivery mean within the delivery process?
For eCommerce fulfillment providers or retailers using a postal service or a private shipping company, the delivery process breaks down into three major stages:
Receiving an order

Processing the order

Order fulfillment
Packages that are out for delivery occur within the last of these three stages. Let's look at what's involved in each stage and especially in the last mile for a better understanding of the answer to the question, "What does out for delivery mean?"
1. Receiving an order
When a customer places an order for a physical product, the first thing the seller needs to do upon receiving the order request is check whether the item is available in stock.
Verifying that an item is available in inventory may involve checking a warehouse, contacting a manufacturer or supplier or coordinating with a third-party logistics provider who coordinates orders shipped direct to consumer, to list a few possibilities.
Ideally, this step is automated using logistics management software for maximum speed and efficiency, which can help companies save money on shipping and enable them to offer cheaper delivery options to customers.
2. Processing an order
Once an order has been received and the seller has verified that the item is in stock and available for purchase, the seller can begin processing the order. This involves verifying information such as buyer contact information. At this point, the tracking information will indicate that the order is being processed.
3. Order fulfillment
After an order has been processed, it needs to be packed by the sender, shipped by the shipping company and delivered by a driver. The order fulfillment process can be broken down into smaller steps within these stages. Depending on where a shipment is in the order fulfillment process, the tracking info will indicate different status updates.
Terminology may vary somewhat from one shipping company to another, but the following illustrates the general sequence:
Shipped
Initially, tracking info usually will show a package as "shipped." This means that a shipping company has picked up the package and loaded it onto a delivery vehicle. It may now be at any point between the original shipment point and the final destination.
In transit
Once an item has been shipped, it normally is listed as in transit. This means that it is going from one shipment point to another along its delivery route. The tracking information updates may include multiple updates marking different stops along the package's route. These updates may include arrival and departure scan updates as packages enter and leave facilities.
Out for delivery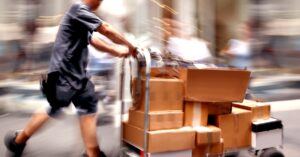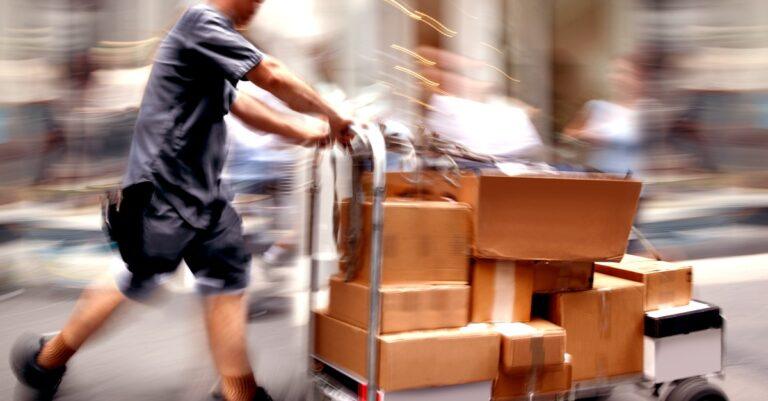 After a package in transit reaches the local warehouse, fulfillment center or store nearest to the recipient, it gets placed in a bin of items to be shipped by a particular delivery person. The items in the bin get scanned in as 'out for delivery' and loaded on a vehicle to be dropped off at their final destinations.
When a package reaches this point, it's considered out for delivery. How this phase unfolds from here depends on what happens during the last mile.
Last mile order fulfillment
Once a package goes out for delivery, several things may happen, some of which may result in an adjustment to the original date of delivery. Typical scenarios include:
The delivery agent or driver unloads the package from the delivery truck and drops it off successfully on the first attempt. At this point, the driver will often scan the package to automatically let the delivery provider, shipper and recipient know that the item has been delivered successfully and is no longer on their vehicle.
Note that in some cases the package may be left with a neighbor or receptionist rather than the designated recipient, which may or may not be reflected on the tracking information.
The carrier driver also may forget to scan the package and update its status, in which case the tracking status will continue to show 'out for delivery' even though the package has been delivered.
The driver fails to complete the first delivery attempt for some reason, such as weather conditions blocking access to a location, inability to access a commercial residence on a non-business day or inability to obtain a signature or collect-on-delivery fee.
Depending on the policy of the shipping company and the specifics of the situation, the driver may make an automatic second delivery attempt, or leave a note giving the recipient the option of rescheduling a delivery, offering to let the recipient pick up their package from the nearest pickup location. Policy varies by shipping company and other variables.
For example, if the US postal service (USPS) fails a delivery attempt, the driver normally provides the option to attempt another delivery or pick up the package from a nearby fulfillment location. The tracking information will then be updated to reflect this change.
If no successful delivery attempt is made after a specified number of attempts, the driver typically will reload the item onto the truck or other vehicle to return to the shipping company and ultimately to the sender. How many attempts are made or how long the driver waits before reloading the item into the delivery vehicle varies by shipping company.

In some cases, a package is marked as 'as out for delivery' but it gets loaded onto the wrong delivery truck and the mistake doesn't get noticed immediately, or the status is not updated immediately, so the tracking information continues to show the original ETA even though the package may arrive the next day or later.
Most of these scenarios other than a successful first delivery attempt may result in tracking info being updated.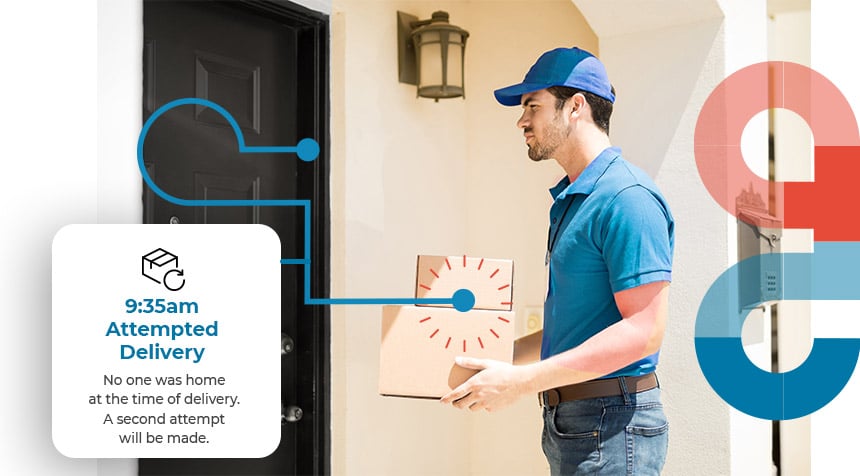 Does out for delivery mean I get the package today?
Usually, yes, out for delivery means the last mile carrier or delivery provider will arrive with the package that day. Normally, because the term implies that a package has left the final pickup point headed to the recipient, out for delivery means it will be delivered on the same day.
However, as noted above, a number of events can occur which can result in a delay in the delivery day. In most cases when this happens, the driver will arrive with the package the next day. However, in some cases, the delivery agent may try another day, take the package back to the local post office or delivery office, or after multiple failed delivery attempts, load it back on the truck to take back to the last facility in the fulfillment chain.
Because of these variables, seeing that a package is 'out for delivery' is not an absolute guarantee that it will be delivered on the planned day. But if the customer has to wait a few more days, then this points to major fracture points in supply chain efficiency, visibility and overall order fulfillment management.
What can delay delivery after a package reaches 'out for delivery' status?
Multiple factors can keep a package from arriving on the delivery truck the same day its status changes to 'out for delivery'. For example, a package can get held up by the delivery provider.
How does this happen?
No proof of delivery
A delivery service often needs a signature, digital proof of delivery or collect on delivery fee. If no one is available, the delivery agent may leave a note and the delivery truck returns the package to the local distribution center or warehouse to either make a second attempt later or leaves the package for the recipient to pick up
A delivery exception occurs
A delivery exception event such as bad weather prevented the delivery provider – a 3PL logistics company, postal service, or other fleet – from making a delivery, so the delivery van or truck will attempt a delivery another day
Driver couldn't access the destination address
The carrier or delivery provider could not access the destination address because of factors such as a business being closed on a weekend, a gate being locked or a growling dog, so the delivery vehicle will make another attempt or leave the package.
Miscommunication
The package was marked out for delivery but loaded onto the wrong truck, and the carrier did not update the package status.

The delivery management system could be sending customers the wrong tracking number.

The driver delivers the package but forgets to scan it as delivered, or leaves it with a neighbor. It also may have been delivered to the wrong address.
How can customs clearance delay the delivery process?
If you're using an international shipping method, packages need to go through customers before it can enter the country. Subsequent customs clearance problems such as paying a clearance fee can slow or prevent your package from being 'out for delivery'.
The customs clearance process applies to all packages entering a country from a foreign country. This is to ensure that all items arriving on the bulk freight carrier are charged proper duties and taxes and that they comply with all applicable legal restrictions.
During customs clearance, a customs agent inspects the customs paperwork accompanying a package, assesses imports duties and taxes and requests a customs clearance fee to cover these expenses. Paying this fee doesn't necessarily make for cheap delivery, but it's necessary for international shipments.
Tracking a shipment that is out for delivery
To track a shipment that's out for delivery, you need to work with a shipping carrier or third-party logistics provider who provides an online portal or app you can use to see status updates.
If you're a retailer, a best practice is to work with your carrier or logistics provider to give your customers the ability to see status updates for their packages.
Unfortunately, many retailers fail to follow this practice. A survey of 500 retailers found that 61% of retailers fail to provide visibility for packages which are out for delivery. This problem can be compounded for retailers who work with third-party fleets.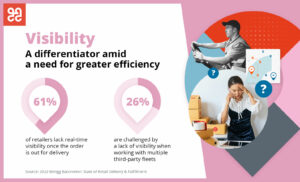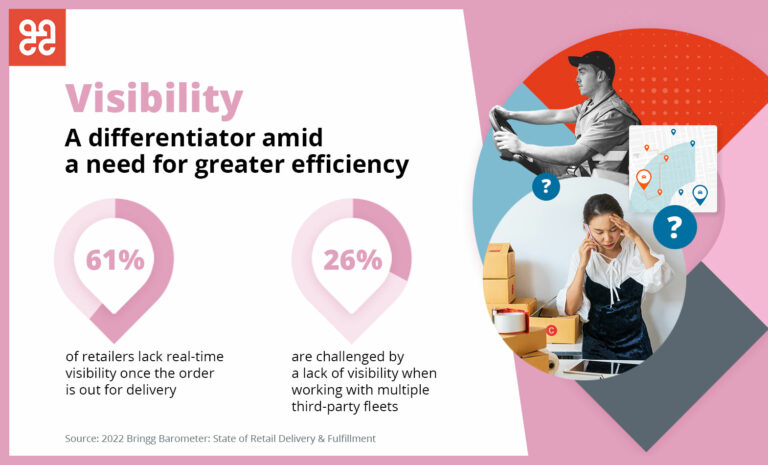 Not only does this lower customer satisfaction, it can also raise delivery costs because you have to pay extra for each extra delivery resulting from poor communication with customers during the out for delivery phase. Moreover, the higher the delivery charges for the shipper or logistics provider, the more often some of that cost will fall on the end customer and prevent shippers from offering a free or affordable shipping option.
To deliver customer satisfaction and offer shipping options that aren't cost restrictive, retailers should strive to provide transparency to recipients at every stage of the shipping process.
How can shippers optimize the delivery process in the 'out for delivery' phase?
To promote efficient, cost-effective, on-time delivery and make sure that delivery meets customer expectations, retail shippers can follow a number of best practices. These include:
Using cloud-based

delivery and fulfillment

software to optimize logistics efficiency and provide customers with visibility into status updates

Sending frequent updates and delivery notifications to pre-empt customer service requests and reduce your support burden

Offering multiple delivery options to match customer preferences and availability and increase first-time delivery success rates

Tracking delivery performance and adjusting procedures based on customer feedback
Following these procedures can help maintain efficiency in last mile deliveries to allow you to enjoy cheap delivery costs and offer cheap delivery options to customers.
How recipients can expedite the delivery process
Package recipients also can take steps to improve delivery efficiency and ensure on-time delivery of their orders. These measures include:
Using software provided by shippers to check last mile status updates

Planning to be available to provide any required signatures or pay any necessary fees

Proactively making arrangements for second delivery attempts or pick ups at a nearby pick up point

Allowing up to 48 hours after a package's status changes to 'out for delivery' to accommodate exception events
These guidelines can help package recipients work more smoothly with carriers to promote efficient shipping.
What should recipients do when packages out for delivery miss their scheduled delivery date?
When a package is listed as 'out for delivery' for a while, or it says it was delivered – but the package doesn't seem to have actually been delivered – here are some things you can do:
Double-check your order to make sure the shipping address was entered correctly

Look to see if the tracking status indicates a failed delivery attempt

Check if the package was delivered with your regular mail or to an alternate pick up box, as some shippers work with multiple carriers

Check to see if the package was delivered to a nearby location such as a neighbor (for residential deliveries) or an office manager (in the case of a B2B delivery)
Following these procedures will allow for exceptions which can delay shipments. If your package still hasn't arrived after following these guidelines, check with customer service.
TIP
Using automated customer notifications and an automated delivery management software system for drivers and dispatchers will help drivers more accurately log a failed attempt, provide better visibility for customers, and prevent 'where is my order' calls to service centers.
The bottom line
So what does out for delivery mean? It means that a package has reached a shipping transit point near the recipient and been loaded on a truck headed toward its final delivery destination. In most cases, once a package is marked as 'out for delivery', it will arrive later that day. 
However, in some cases, it may be delayed by factors such as weather, lack of access, inability to obtain a signature or collect-on-delivery fees or truck loading errors. When a first delivery attempt fails, carriers will often give recipients the option of rescheduling another attempt or picking up the package at a local store, post office or other alternative PUDO (pickup, drop off) point. 
One key takeaway: Just as the last mile is a critical part of the supply chain, connecting drivers, dispatchers, shippers and customers for complete visibility across each stage of shipping – including when a package is 'out for delivery' should be an integral part of your supply chain optimization strategy. This can be done in part with a platform that provides multiple views for different stakeholders, from dashboards for logistics teams to a driver app and delivery messages for the end customer.
Real-time notifications serve a critical role to good fulfillment experiences by providing transparency into the orders' whereabouts at every stage, which reduces anxiety when a package is en route, as well as increasing efficiency and cutting costs.  Providing customers with a real-time delivery message at every change of status can help make adjustments to increase first delivery attempt success rates and minimize follow-up delivery attempts.
Connect with a last mile delivery and fulfillment platform that uses automation to optimize out for delivery shipments, reduce delivery exceptions, and maximize customer satisfaction across the last mile experience.