Consumers are pivoting when it comes to where they purchase products and how quickly they want to receive them. Speed and convenience now dictate a majority of the online purchases and consumers prefer to move on to another retailer if the delivery isn't fast enough.. These expectations are one of the numerous reasons why the direct to consumer business model is increasing in popularity.
In recent years, online-only brands such as StitchFix and the Honest Company were the most obvious examples of D2C. Companies representing categories from eyewear to footwear were born from the idea of someone purchasing online, bypassing the middleman and receiving products, all without the customer entering onto a retail floor.
However, it's not just online-only companies that are moving to sell direct to consumer. As consumer's needs and delivery expectations continue to evolve, Businesses which traditionally made use of third party retailers – are turning to selling products directly to their target audience. Not only is this a focus on the brand's own profitability, but it could be an answer for traditional brands to attract — and retain — new loyal customers.
Why are brands cutting out the middleman?
Most products are not sold directly from brands to consumers. Products in the supply chain often pass through dozens of hands: the manufacturing factories, shipping vehicles and pallets, distributor and retail warehouses, shop floors, and delivery fleets.
Packages can travel thousands of miles and go through multiple hands in the chains of custody. This not only affects profit margins, but also has an impact on the brand's ability to connect and communicate with their customer.
The link between direct to consumer and traditional retail stores
The traditional B2C model presents significant challenges for brands. There are challenges of creating the right in-store experience – which includes customer service – for each shopper. Coupled with inventory management issues where a retail store might not display an accurate product count while the customer is physically in the store.
Because of these challenges and others, it opened the door for the direct to consumer model to grow.
D2C provided a way to get a product into the consumer's hands without dealing with the challenges of a traditional retailer. Traditional brands and retailers who have always relied on the B2C model now have compelling reasons to incorporate the D2C model into their business practices. So much so, according to the BDO survey, 30% of manufacturers plan to pivot to a D2C eCommerce model in 2021, making this one of the fastest growing supply chain trends.
Take Nike, for example.
In the last few years, leading names like Nike which used to rely on the traditional business model of using partners for product distribution, have moved to direct to consumer sales. As a distribution channel, it has the added benefit of full control over the supply chain, and therefore also in full control of the overall brand experience.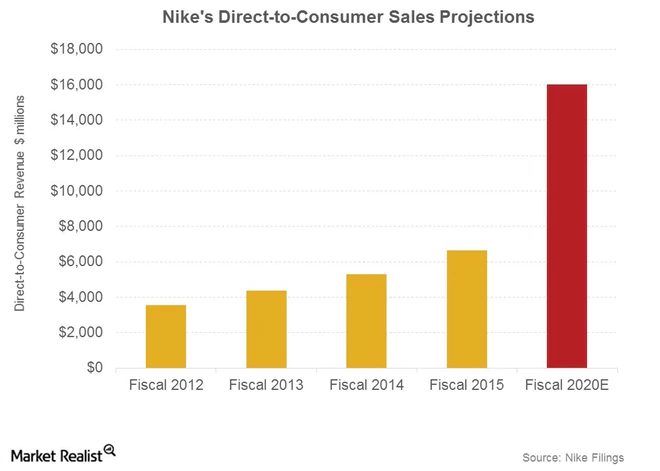 It's important to note as a few companies have more loyal customers than Nike. The brand could confidently assume that end customers would buy directly from the brand if other options weren't available.
For other companies, the success or failure of DTC may come down to marketing strategies and how well they use digital channels to get direct access to their target audience.
New technology helps consumer brands deliver and sell directly to consumers
Thanks to the evolution of digital technologies, particularly the boom of eCommerce, it is relatively easy for brands today to launch an online store.
It's also easier than ever for digitally native brands to work with delivery partners if they don't have their own delivery fleet, or if they need to supplement it during peak demand. That's in part due to the growing gig economy and the emergence of crowdsourced delivery companies, with 7 million gig workers in the U.S. alone (J.P. Morgan), and Daas (delivery as a service) companies broadening their target audience from restaurant delivery to grocery delivery and other on-demand retail segments.
Thanks to new last mile delivery and fulfillment solutions , brands which once sold primarily through other channels are rapidly embracing D2C (direct to consumer) sales and deliveries and discovering the advantages of owning the end-to-end experience.
As manufacturers and brands get more comfortable with the process of selling directly to customers, this trend will only grow. One reason is that customers also often prefer to buy directly from the source when possible, believing that they will get the best brand experience (and possibly easier returns) by ordering directly from the brand itself.
Over a third of consumers report that they bought directly from a brand manufacturer's web site last year. And the number of manufacturers selling directly to consumers is expected to grow.
What are the benefits of direct to consumer?
Moving to consumer-direct delivery doesn't apply exclusively to B2C brands or CPG products. B2B manufacturers, service providers and startups are all reaping the benefits of a digital era which enables industries to optimize their supply chains and get much closer to their customers.
Top benefits of the DTC model:
Efficient on-demand and local delivery from dark stores and MFCs
Integrated buying experiences
Increasing product availability
Decreased time to market for products
Greater insights into consumers
Control over the fulfillment experience and brand relationship
Potential for greater profitability
Dark stores can provide efficient on-demand and local delivery services
One option available to both traditional consumer brands and eCommerce retailers is the use of dark stores for eCommerce fulfillment. This is essentially a retail space where online retail orders are fulfilled, but it does not allow for an in-store shopping experience for the consumer. It's simply a place where the products are housed. This is a less expensive alternative to staffing traditional retail stores, since staffing needs aren't as complex and warehouse space can be rented in cheaper areas that are not as commercial. . 
Dark stores are one answer to a brand's quest for on demand delivery, and is one example of the benefit of the direct to consumer model. Online shoppers could have their product fulfilled within the hour. 
Integrated buying experiences
When a traditional retailer offers an omnichannel approach — where consumers can have a buying experience across multiple sales channels, not only one —  then it may  offer an advantage to the customer. 
For example, many consumers online search for a product but prefer to examine it in store before making a purchase. The omnichannel approach allows the messaging and brand experience to remain consistent, no matter where customers ultimately make their purchase. 
Direct to consumer provides an important marketing strategy: branded messages and a branded fulfillment experience. No matter what touchpoint customers have with the product, the messaging can remain consistent across all channels and optimized to encourage additional sales. 
Increasing product availability
One advantage the traditional retail model has often served is solving for the need when a consumer needs a product right away. The first reason why a shopper goes to a store is to purchase an item quickly (51%). 
However, this only works if the relevant product is in stock at that store. When retail partners do not have the right product available right away, then in-store or online shoppers of that retailer may choose to buy an alternative product from another brand. Even if they do purchase the original product later, or elsewhere, the consumer experience suffers. 
For these reasons, successful DTC brands use the D2C model as one channel alongside using their retail partners.
Decreased time to market for a product
A brand would normally rely on months, possibly years, of product testing and understanding the demographics behind a potential purchase. The market research and testing required not only takes time, but then the logistics of launching a product in a retail store is another add to the product timeline. 
Selling directly to consumers provides a shorter time period where a brand must wait for consumer feedback. The product is tested sooner, which results in more timely results. Plus it takes less time to get products into the hands of a consumer, since there is less time involved in adding products into inventory, training store associates, stocking shelves and complete inventory management. 
Greater consumer insight
When a company or brand has control over both the marketing, inventory, sales and delivery of a product, it gains greater insight into what the customer wants and needs. When selling directly to a consumer, a company has visibility to a larger amount of data and a deeper level of understanding of why a consumer needs a particular product.
When a brand is involved with a customer during every step of the buying process, then the brand is able to garner more relevant information about the customer, which in turn could lead to a stronger product lineup, more efficient product launches, etc. 
Conversely, when part of the process is outsourced, that customer data and opportunities to upsell are lost.
For example, when a customer purchases a brand's product on an eCommerce platform, they may see advertisements for similar products, but not necessarily products from the same brand. 
Similarly, if a brand has no data on the delivery process, it's impossible to see when a delivery goes wrong, or understand when a delivery attempt fails and items are returned. 
Control over customer experience and the brand relationship
In addition to winning the loyalty of your customers, taking responsibility for delivery management gives brands control over the customer experience. 
Successful DTC brands understand how important it is to control brand image and messaging across the entire customer journey, from order through delivery and all the way to returns. If a 3PL delivery provider shows up at your door with bad body odor or, worse yet, a rude attitude, chances are you'll blame the brand – even if it was not their driver. 
Orchestrating delivery fulfillment directly, rather than outsourcing it, can ensure that customer experience reflects the brand's values. This gives brands the power to tell their story, and only their story, to the customer. 
That way, customers will connect their terrific branded delivery fulfillment to the brand, and not to the reseller.
Potential for greater profitability
When a brand or company relies on a wholesaler for product warehousing and distribution, then it means more money is spent on a segment of business with which the customers never interact.
By selling direct to consumer and partnering with the right last mile fulfillment center, the brand can allot either more money, or target spending, to create a better customer experience.  Instead of revenue going towards the wholesalers, the revenue can be maximized in other areas, which may lead to greater profit.
New white glove services
Since brand loyalty starts and ends with great customer service, it makes sense that brands are moving toward utilizing direct-to-customer sales as an opportunity to create new business through services.
For example: It's seven in the morning, you're half awake, and you open the kitchen cupboard to discover you ran out of coffee. Chaos ensues.
Fast-forward to 2019, when coffee junkies now avoid this nightmare scenario through coffee subscription services.
Or take the example of Microsoft, which used its direct-to-customer expansion to provide white glove delivery and installation services in addition to sales of consumer electronics.
Every one of these companies found ways of increasing revenue from branded D2C deliveries.
7 DTC trends to watch
As retail continues to evolve, these seven DTC trends are worth noting.
1. Continued increase of retailers relying on DTC
Traditional retailers and legacy brands have a large number of options for competing with other DTC brands. One option is to mirror what the competition in D2C is doing. As foot traffic in brick and mortar stores continues to shrink, retailers must use inspiration from other direct to consumer brands to appeal to their tech-savvy customers.
For example,Nike has been closing down wholesale accounts to accelerate their direct to consumer strategy. The same approach was used by Under Armor.
It's likely that we will see big-box stores continuing to form partnerships with DTC brands. Target and Nordstrom are just two examples of a retailer partnering with brands and providing them a platform, while increasing their own retail exposure.
2. Digital brands will turn to physical stores
Although many direct to consumer sales are deeply rooted in a digital and online presence, many companies have realized that to grow their business more effectively, they need the power of a brick-and-mortar stores.
However, this may look a little different for each business. They could partner with traditional retailers for both an online and physical presence.
For instance, over the years Target has brought in numerous "online-only" brands, such as Casper mattresses. Nordstrom followed the same path by forming partnerships with Bonobos and other online brands as well.
Another option is for a direct to consumer brand to use a pop-up or permanent location to promote their brand. Many famous brands, including Levi's, have taken the route of opening a popup in retail outlets to increase brand awareness with the store's customer base .
This pop-up location provides the option to either have physical products for sale in the space, or for more of a "touch and feel" concept. This is where shoppers can physically review the product, but then go online to make the purchase.
3. D2C brands will expand into new categories
To reach revenue or growth targets, some D2C have had to expand into other sales categories, typically ones that are a natural extension of their brand. D2C brands such as Thinx, Ipsy, and Bombas all expanded into new categories after the pandemic made it difficult for these companies to maintain share in certain categories. As a result, D2C brands are trying out new ways to retain and attract new customers by reaching into new categories.
4. Digitally savvy shoppers continue to rely on D2C
The pandemic required many businesses and retailers to pivot to an efficient eCommerce platform to maintain sales. However, direct to consumer brands had an advantage in this case since they were already relying on marketplaces for eCommerce platform.
Consumers continue to shop less often in physical retail stores and, instead, spend more time browsing on their smartphones. With this, the D2C brands have a massive opportunity to attract new demographics, on top of the ones they already appeal to. With no clear end in sight of the pandemic, D2C brands will continue their growth as consumers rely heavily on smartphones.
5. Growth strategies become more complex
Brands are constantly eyeing their next move, especially once growth is in place.
Some brands are pursuing acquisitions by much larger retailers whereas others have made IPOs.
Going public by way of special purpose acquisition companies, SPACs, is growing in popularity. IPO fundraising by way of SPAC deals has exceeded $83 billion in 2021 which is a significant increase from $3.9 billion in 2015 and $503 million in 2010. This number is up from just $59 billion the year prior, 2020, according to SPACInsider.
6. DTC brands will continue to be challenged with profitability
As more D2C retailers and online companies are going public, it's providing a glimpse into their financials. As a result, questions and trends around profitability are emerging.
For example, until midway through 2020, Wayfair posted net losses since its IPO in 2014. Throughout this time, they were also reporting mounting advertising costs. In 2019 they posted a staggering $1 billion net loss, with their advertising costs hitting $1.1 billion, further exposing the issue with profitability.
Media costs decreased during the pandemic which provided some relief to D2C brands, but it was obvious the solution was only temporary. Brands need to continue to explore ways to control the high costs of acquiring customers. If brands want to turn a profit, they will need to find unique solutions to attract new consumers, and bring their marketing costs down.
Many brands are trying a 'bundling' or subscription model, especially those in health and beauty and food categories.
In the bundling model, multiple products from the same general category are sold together for a single price. Subscription models attract people who want to buy a certain product or products on a regular basis.
Groceries, for example, are something people continually need and purchase on a monthly or even weekly basis. The same applies to pet food, or diapers and baby products for parents with infants. Companies like Hello Bello and pet plate sell 'packages' of multiple products that raises the value of the sale – and reduces the cost-to-deliver per product.
7. Partnering with technology to enable D2C sales
Direct-to-Consumer sales can be a powerful distribution channel with the added benefit of full control over the supply chain, and therefore also in full control of the overall brand experience. However, it requires D2C brands to wade into last mile fulfillment, something which was often controlled by the retailer, ecommerce platform or other party.
The evolution of digital technologies, and in particular the boom of e-commerce means that brands can relatively easily set up an online store and work with delivery partners if they don't have their own delivery fleet, or if they need to supplement it.
3pl logistics providers can work with brands to enable local, fast last mile delivery of products.
The future of DTC: Personalization, simplicity and choice
Cutting out the middleman is as much a measure to improve efficiency as it is a strategic move which enables new and legacy brands to get closer to customers. They can build a direct communication channel, gather invaluable feedback and collect customer data which is otherwise left in the hands of partners who can leverage this knowledge to their advantage.
This shift doesn't happen overnight – and by no means does it undermine the necessity of using retailers, distributors and other partners to reach all potential customers. However, it does provide new opportunities, more customer data and the ability for companies to gain unprecedented visibility and control over their relationship with customers.
Advances in ecommerce and delivery logistics software are giving companies the opportunity to explore new distribution channels, gain a better understanding of their customers and ultimately create better brand experiences that are seamlessly personalized.
---
Direct to consumer: the basics
What is considered direct to consumer?
Direct to consumer or D2C is when brands sell directly to the end consumer. This is in contrast to the business model of selling products to consumers via a wholesaler or third party retailers.
To understand the benefits of direct to consumer, it's important to understand the alternative, B2C model.
The difference between D2C and B2C
Business to consumer, or B2C, is a business model where a manufacturer, or brand, sells a product to customers through a retailer. Unlike brands selling directly to consumers the B2C model relies on physical retail stores.
For instance, when a shampoo brand is sold at Wal-Mart, or a set of earbuds are sold at Target – these are examples of BTC selling.