Grocery is going through a game-changing era. The pace of eCommerce, click & collect, and delivery growth has accelerated. Retailers are being forced to adopt new fulfillment models and expand existing ones at a pace never before experienced in their business. This is all in an effort to keep up with the current demand and scale for the future "new normal". Their success depends in part on how quickly and effectively their teams can adapt to these new models – and whether or not they are provided with the right tools to do so.
Keep in mind that to operate delivery and curbside pickup at scale, you will need to:
– Onboard new drivers, or retrain existing staff to take on new roles;
– Utilize drivers, and even multiple fleets, efficiently and cost-effectively at scale
We've worked with some of the world's largest grocers to identify and address these challenges with technology and processes that will help grocers position themselves in the post-Coronavirus era.
Automating driver actions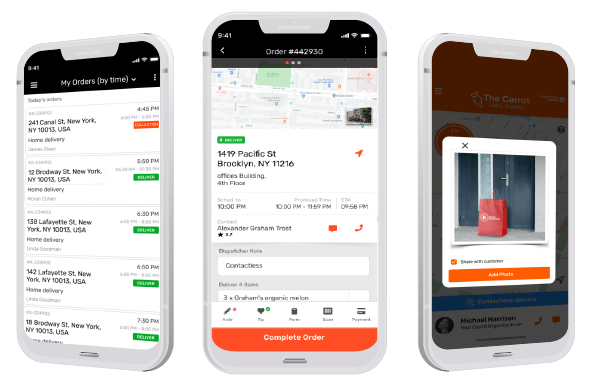 You don't need Amazon-like resources to nail convenient delivery and fulfillment, but you do need flexibility and automation at every step in the delivery flow, down to the level of driver tasks.
This includes:
– In-app communication between dispatchers and drivers; when dispatchers make manual changes, the app notifies the driver immediately.
– Contactless delivery tasks, including photo proof of delivery and automated chain of custody
– Age verification – brand can leverage our Driver App to deliver alcohol, with their own fleet, using Automated Age Verification.
– Automating task enforcement/compliance – You can set any action in the delivery flow to be mandatory and require drivers to complete that task before they can move to the next step in the delivery flow, or to the next order. This is critical for accurately tracking chain of custody and regulatory compliance, such as completing required safety training, or obtaining a customer's signature.
Automatically update the Driver App with same day changes to orders
While most grocery delivery operations have ordering cut-offs for next-day delivery, it's common for customers to make last-minute changes to their orders – including the delivery location, or even the time of delivery – up until a few hours before the actual delivery.
Bringg's AutoDispatch accommodates last-minute changes by automatically assigning orders to the optimal driver in minutes, based on the business's preset criteria. These changes are then automatically updated in the Bringg Driver App (or in the brand's driver app via Bringg's SDK).
In the app, drivers always see the most up-to-date orders and locations across every route. This flexibility means that businesses can offer both same day and next day delivery, and accommodate changes on the fly.
Flexibility: Drivers can serve multiple locations and delivery models
Dynamic delivery flows and driver actions mean that drivers can perform deliveries and pickups in the same run, and for multiple inventory origins points. For example, a driver could pick up orders from a distribution center, deliver them, then take a return order back to an MFC in the immediate vicinity of the customers' home.
This level of flexibility lets businesses manage their drivers and delivery operations in the way that is most efficient and cost-effective for them.
Managing rejection and returns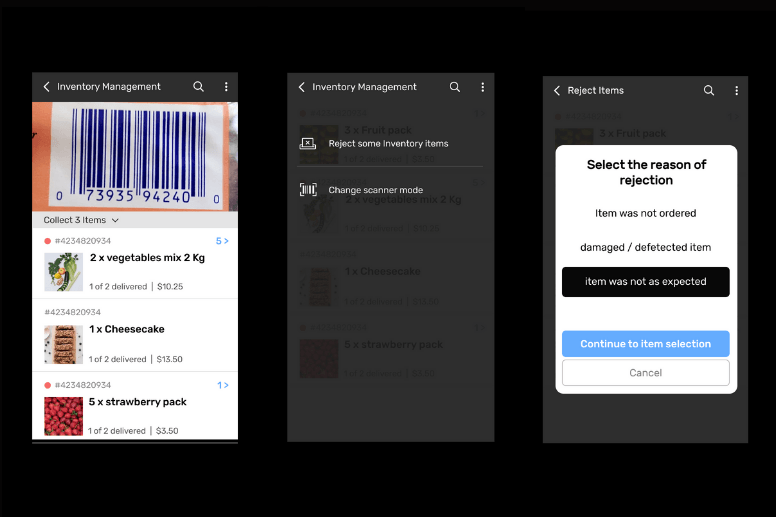 Bringg's Driver App allows drivers to directly manage their order inventory on an item-by-item level. A driver can reject an item within the order, or reject multiple items with a single click. Businesses can also require drivers to list a reason for order rejection. All of these driver tasks can be set up per business as a customized delivery flow.
These are just some of the ways that we help businesses optimize their delivery and fulfillment flows. To learn more about Bringg for Grocery, click here.