Staying on top of logistics and supply chain news and trends will be critical for all retailers and logistics companies who want to remain leaders in 2022.
COVID-19 created an imbalance between supply and demand of goods, greatly affecting supply chains globally.
During 2020, with the pandemic and the lockdown, global production slowed down. At the same time, the US government started to stimulate the economy and money flowed in the hands of consumers and businesses that spent it. This caused the US to go through trillions of dollars of inventory while domestic and global production was shut down. As demand grew faster than supply, retailers went through their inventory in an attempt to keep up. 
Now, U.S. eCommerce growth, at least, has returned to pre-pandemic levels – but delivery volumes are high as ever. To boost efficiency across supply chain operations, reduce logistics costs, and keep customers satisfied with on time delivery,  businesses must reevaluate their operations and embrace growing trends in supply chain and logistics. 
Top 8 Supply Chain Trends for 2022:
Focusing on driver retention
Localizing the supply chain
Using advanced supply chain technology for agile supply chains
Forecasting for inventory and delivery
Using crowdsourced delivery and multiple logistics partners
Move to last mile delivery solutions
Returns supply chain management (scm)
Reducing the carbon footprint for sustainability
Focusing on driver retention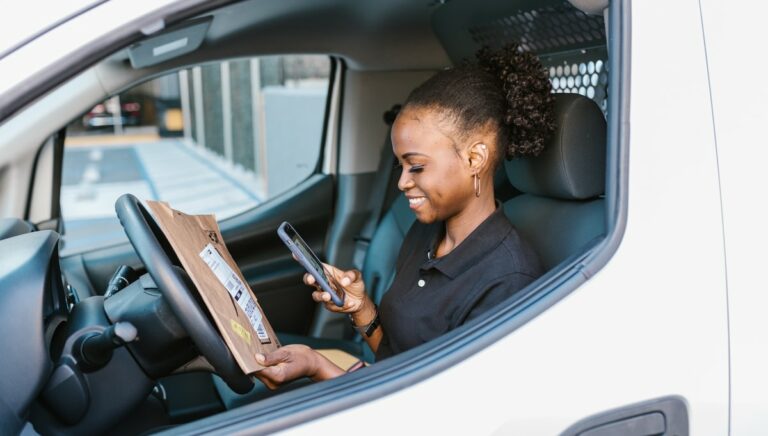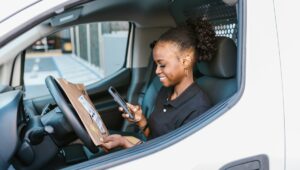 Without drivers, goods simply cannot get from one place to another and supply chains break down.
Trucking is the primary source of container transport once the cargo is unloaded at a port. A shortage of trucking capacity means much of the container volume sits idle at capacity-constrained facilities. When goods and raw materials don't move, business operations suffer: goods can't enter inventory processes and be sold/sent to customers.
The problem is that there aren't enough trucks or drivers. According to Forbes, there is one qualified driver for every 9 job postings. Not only that, the small trucking companies have little to no incentives to increase capacity due to rising prices, stopping them from investing in new trucks.
In order to remain ahead of the curve and keep their supply chain running, companies must adopt the supply chain trend of tackling the driver shortage and investing in driver retention. This includes driver incentives to remain at companies (including but not limited to pay and safety matters).
Another trend is offering a driver app to increase efficiency, thereby unlocking the supply chain bottleneck that is present in the last mile. One option is to pay drivers per drop or delivery in the last mile as opposed to a salary or hourly rate. This business model, coupled with tools to make the drivers' lives easier, incentivizes them to make more deliveries each day and can increase driver retention.
Localizing the supply chain
Fulfillment will become even more localized as organizations will continue to leverage multiple locations to fulfill orders and reduce time to delivery.
Consumer behavior today now requires that everything be available for ultra-rapid fulfillment at a reasonable price.
Due to the highly competitive market, on demand delivery is quickly turning into a differentiator. Same-day delivery was once something that was unheard of. Today, it is becoming more than just an "add-on," it's now expected by many consumers.
However, most supply chains struggle with providing even next day delivery. This is why localizing the supply chain has become so common in the quick commerce market.
To speed up fulfillment options, supply chains must be shifted to the local level. If in the past inventory and shipping were managed on a regional level, today, supply chain leaders are fulfilling orders from local stores. This method has a wide variety of benefits including the ability to use up local inventory when desired.
On a local level, supply chain management, or SCM, will mean fulfilling orders from stores or urban fulfillment centers. This way, delivery can be done quickly and efficiently, boosting the customer experience and keeping up with the supply chain trends.
Opening additional locations to hold inventory, and ensuring there is an order management system in place to direct orders to those inventory locations to be filled, is a major priority for 2022.
Creating agile supply chains through advanced supply chain technology
There is a movement to unify supply chain tech from eCommerce to post-purchase experience, and from first mile to last mile.
The supply chain management technology landscape is changing rapidly. In order to keep up, processes require automation, systems and data need to be integrated, workers need to have new resources, and managers need to have better supply chain visibility. All of this requires investment into a supply chain optimization platform that can do all of the above.
When researching such a system, focus on the needs of each key decision maker in the company, as well as what can provide the end-customer with the best possible experience.
It is important that whatever SCM technology businesses use will integrate with the business's existing supply chain systems, from the TMS and WMS all the way down to inventory management and CRM systems. A robust, two-way data synchronization ensures that every supply chain and business platform, as well as all team members, are aligned at all times.
Forecasting inventory and delivery needs
Last mile delivery volumes are rising, which is no surprise. But how can retailers and logistics providers prepare for peak season? How can they know what to expect in terms of order demand, delivery processing and how and where to deal with inventory?
There's no reason for us to run the supply chain in the dark anymore. Supply chain managers must use the available SCM technology to forecast inventory and delivery to know what to expect and how to deal with it before the rush begins. Supply chain tech today gives us the opportunity for increasing visibility into supply chain data to never-before-seen levels.
Big data and predictive analytics are still an untapped resource that can potentially provide insights which help anticipate or respond to events or disruptions. But before insights and analytics can be leveraged for a better supply chain, there's a huge task at hand for the many organizations that need to first collate data points from all sources and align them to their business operations.
Machine learning and artificial intelligence (AI) can turn supply chain data into assets for informing and improving business operations. Using logistics management software, logistics companies can both plan in advance and forecast inventory and delivery issues as well as keep on top of real-time issues that come up along the way.
Using crowdsourced delivery and multiple logistics partners
Efficient multi fleet management is another key step towards introducing cost savings, meeting customer expectations, and keeping the digital supply chain working well. 
Delivering planned or same-day orders at scale often entails working with multiple fleets, in various combinations of in-house drivers and third party providers. 
Some of these fleets may be dedicated per location, but often the optimal way to lower cost while increasing speed is to automate which order goes out to which fleet. For example, during peak hours, a restaurant may outsource its deliveries to a crowdsourced delivery fleet, but use its own employees to deliver once peak hours are over. 
Another example is utilizing a pool of drivers to deliver from multiple stores or fulfillment centers within the same geographical area. However, this, too, necessitates technology to identify which drivers in the nearby vicinity are available to deliver the relevant order to the specified location, within the offered delivery window, on-time. 
In addition, we're seeing a trend of retailers looking to find alternatives to relying on UPS and FedEx are turning to regional shipping carriers and the gig economy. However, since the increase in transportation prices is drastic across the supply chain, the minimum for free shipping will likely increase to transfer some of the cost to the consumer. 
Many retailers also expressed the idea of not cutting down prices for the peak season, since product margins are being eroded by the supply chain crisis. 
When optimizing delivery management, companies should focus on how they manage both fleets as a whole and the drivers individually. Using multiple fleets is an important supply chain trend, as it allows for flexibility in the delivery process, gives companies a backup solution if something goes wrong (risk management), and creates supply chain partners that rely on one another for help along the process. 
____________________________________
Looking for better third party delivery management?
_____________________________________
Moving to last mile delivery solutions
While the global supply chain issues run rampant pretty much everywhere, retailers who want to get serious about retail delivery in 2022 must place focus on last mile delivery solutions. 
Customers want their orders quickly, and with transparency. They want to know exactly where their order is, when it's arriving and everything in between. The technology available today along the last mile gives logistics companies the ability and the opportunity to make this part of the supply chain visible to all parties involved no matter if they are delivering small packages, furniture, medical equipment or even solar powered vehicles. The process must be clear to all involved and issues must be addressed on the spot. 
When retailers and logistics companies come together as supply chain partners, focusing on creating the best last mile delivery possible, the technology involved allows them to adapt to the market and deal with unexpected events. These may include traffic, routing issues, inability to deliver packages for a variety of reasons and more. Using AI and machine learning is a benefit in this case and will define who will be seen as supply chain leaders in 2022.
Focusing on return supply chain management
With the number of online orders increasing, it's only natural that returns will increase as well. Companies that want to stay on top of supply chain trends must make sure that they focus on returns management.
In order to provide the ultimate customer experience, customers want a simple and reliable return process. The issue is that the supply chain must be specifically designed to handle returns in large numbers, dealing with the inventory management and restocking matters and logistics costs behind each return.
 Luckily, the supply chain tech available today allows for returns management to be automated and highly transparent. This is part of the digitization and automation of the supply chain, one that allows all of the processes (including returns) to be digital. To keep up on this supply chain trend, retailers must study their current return strategy and reverse logistics operations, and find areas for improvement. This includes evaluating the technology used in each step and finding new solutions that can help automate and make the return part of the supply chain management run as smoothly and efficiently as possible.
Sustainability: reducing the carbon footprint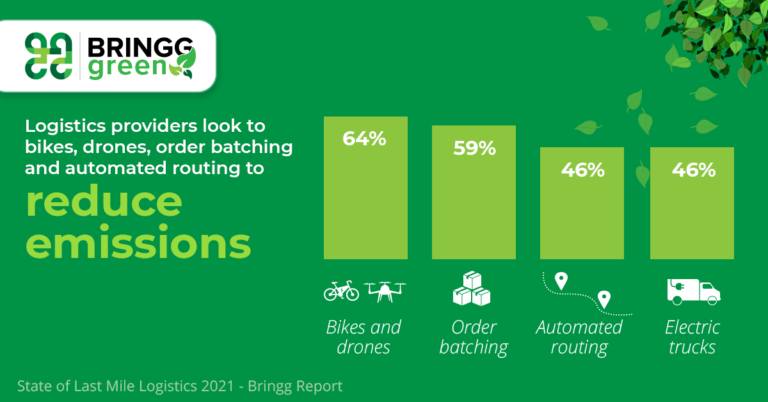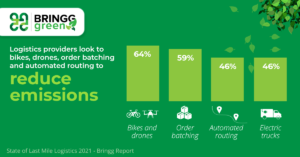 Retail supply chains are the biggest producers of carbon emissions, responsible for over 50% of industry carbon emissions. 
Transportation is the major culprit, in tandem with demand surges in eCommerce. Recent research shows that by 2030, eCommerce growth will lead to over a 30% increase in delivery-related carbon emissions.   
Pressured by consumer expectations for sustainable delivery and logistics, and regulatory requirements, retailers are starting to lean on their last mile logistics providers to help them not only reduce carbon emissions, but also track, measure, and report on emissions reduction – and even help them convey their reduction in emissions to consumers. 
Embedding green logistics practices across the supply chain – particularly through sustainable eCommerce fulfillment options and delivery operations – will help supply chains stay competitive and even increase market share in 2022 and beyond.
The future of the supply chain: looking to 2022 and beyond
The main goal for supply chains in the near future is to increase supply chain resilience in the face of the unexpected. While the global and local supply chains are still going through some challenges in the aftermath of the pandemic, Brexit, and more, the trends show that many organizations have pivoted to a digital supply chain that will keep their supply chain operations running smoothly.
The industry is changing and will continue to change in 2022 and beyond. As eCommerce continues to explode in popularity and the number of deliveries increases, brands need to stay on top of the global supply chain trends to stay relevant.
---