Staying on top of delivery and supply chain trends will be critical for all retailers who want to remain leaders in 2023.
If there's anything this year has taught us, it's the challenge of making any supply chain and delivery predictions in such a dynamic economic and political environment.
Increases in fuel, disruptions in supply chain, and increased labor costs have severely impacted retailers' margins. It has also contributed to a cycle of inflation over the last few years that includes a jump from 1.2% in 2020 to 4.7% in 2021. It's getting even worse with the International Monetary Fund predicting a worldwide inflation rate of 8.8% in 2022.
These factors are influencing both businesses and consumer behavior. On the consumer side, higher prices and erosion of real wages by an average of 8.5%, have led to less overall spending and an increase in online shoppers looking only for deep discounts and special offers.
The flip side for retailers is learning how to cope with increased competition, supply chain uncertainty, higher delivery costs and shrinking margins – all while still trying to satisfy consumers' desire for low prices, omnichannel delivery options and a smooth customer experience.
Larger retailers such as Macy's and Walmart are better equipped to weather the storm caused by lower sales growth and lower prices. For other retailers, however, it's significantly more challenging.
According to a report from Alignable, due to a significant decrease in orders, labor shortages and supply chain uncertainty, 59% of small retailers could be shutting down over the next year.
With that background in mind, here are the top 8 delivery and supply chain trends that retailers should prepare for in 2023.
Top 8 Supply Chain Trends for 2023:
Rising supply chain and delivery costs
Difficulty in maintaining customer loyalty
Acceptance of managing complex operations
Collaboration between online retailers
Diversification of delivery partners
Digital transformation
Reducing environmental impact
Adoption of holistic technology platforms
Now that we've covered the list of delivery and supply chain challenges, let's take a look at each one and see how supply chain leaders in retail can best prepare themselves for the coming year and beyond.
Supply chain disruptions: rising supply chain and delivery costs
Inflationary trends are influencing the world economy and directly impacting supply chain and delivery operations. Rising fuel prices is a good example of direct supply chain disruption, as well as manpower shortages which have led to higher labor costs with lower productivity.
This combination of less consumer spending, inflation and higher delivery costs are hitting retailers where it hurts most – in the bottom line.
When considering that the last mile represents 53% of total shipping costs, it means that retailers who want to increase efficiencies and cut costs should be focusing on their last mile delivery operations.
A recent report from Gartner suggests that more companies need to make sure their fulfillment offerings are as cost-effective as possible by leveraging the latest technologies available in leading delivery management solutions.
Difficulty in retaining customer loyalty
Retailers are now looking for tech solutions that can save on delivery costs, while finding the best way to serve customers on a limited budget.
While the old adage that the "customer is king" may still be true, retailers cannot ignore that the pandemic induced hyper growth phase of eCommerce has passed.
Now that growth has slowed and margins are tight, many retailers find themselves guided by keeping a lid on costs rather than pleasing customers no matter the cost.
Today, retailers must take a good look at providing the best possible service while increasing operational efficiency. This has resulted in a shift of priorities when selecting delivery management platforms: from consumer experience and customer service, to cost optimization.
Customer expectations increased significantly over the past few years, meaning retailers need to offer multiple delivery options including next day or even same day delivery, in-store pickup, remote and curb-side collection, and free parcel shipping to satisfy their customers.
These options are part of the fulfillment strategies that retailers are using to maintain customer loyalty and cut last mile delivery costs.
In the past, retailers presented these choices as a response to the sharp increase in eCommerce volume and rising consumer expectations. This resulted in building their fulfillment options portfolio and enhancing the customer experience.
The same options are being offered today with the primary goal of cost savings, while trying to balance customer expectations with cost cutting measures.
However, these different delivery options require more flexible fulfillment operations and inventory management – for example, ship from store (to get inventory closer to the customer) and supplier drop-ship fulfillment.
Acceptance of managing complex operations
5 challenges to managing supply chain and delivery operations:
Inflation
Unpredictable supply chain
Margin pressure
Changes and Reductions in consumer spending
Labor shortage
Meeting the challenges mentioned above requires more than simple solutions. They require agility, and creating more agile supply chains and operations often starts with new technology.
One example is to automate procedures like routing, something which most companies have already done to some degree.
However, effective route optimization software needs to factor in many variables such as vehicle type, driver availability, traffic, weather, parcel size and the list goes on and on. No one would think about taking out a map, listening to the traffic report, watching the weather forecast and coming up with the best route.
New technology can handle the complexity of taking so many variables into consideration to come up with the most efficient route that keeps customers happy at the lowest possible cost.
But routing is one small drop in a much wider pool of technology that can solve operational challenges – from using crowdsourced delivery drivers to match capacity with demand, to expanding shipping carriers and selecting them based on the cost to deliver.
Another example is finding creative solutions to the growing issue of returns. Retailers might not be able to fight the growth of returns, but they can manage returns better by pooling last mile delivery and returns management functions such as last mile delivery tracking, or using a delivery driver app to allow drivers to manage both deliveries and returns on the same route.
With today's trends of omnichannel delivery, collaboration with other retailers and diversification of delivery partners, complexity is growing every day. Forward thinking retailers should accept that we live in a complex world and concentrate on how to manage today's complex systems rather than yearn for simple solutions that are not capable of doing the job.
Collaboration between retailers
As retailers try to mitigate supply chain disruption and last mile challenges, there is a growing trend of collaboration – even between online competitors.
The large retailers are looking to increase growth by trying a new strategic approach to online business through collaboration in both fulfillment and last mile delivery, as well as supplementing inventory and product offerings.
There are a number of ways in which retailers can collaborate including
In-store pickup

Shared carts

Cross-channel loyalty points

Cross-channel returns
We can already see this collaboration in practice with Amazon's Local selling program, where you can pick up your Amazon purchases at Sears, Best Buy, Focus Camera and others. Cross channel returns can be found in cellular communications, where T-Mobile accepts returns at any of its locations, regardless of where it was purchased online.
As new omnichannel fulfillment practices and collaboration become mainstream, the need for technology that enables retailers to manage all these options becomes critical.
Diversification of delivery partners
Despite the economic situation and supply chain problems, eCommerce continues to grow at an impressive rate. The overall forecast is positive with eCommerce predicted to make up over 40% of all retail chain sales by 2026.
As the volume of shipments continues to grow, the ongoing demand for delivery carriers is exceeding supply. That's why retailers need to diversify their carriers to ensure that their products are delivered on time, regardless of the geographic location.
With the current shortage of qualified drivers, it's important to work with multiple carriers and have a backup plan in place just in case they can't deliver.
When optimizing delivery management, companies should focus on how they manage both fleets as a whole and the drivers individually.
Using multiple fleets allows companies greater flexibility in the delivery process, provides a backup solution for spillover or peak times and seasons, and creates supply chain partners that rely on one another for help along the way.
While this may add complexity to delivery operations, for retailers who are deploying a delivery management platform, this is just one of many must-have features that can help their supply chains meet the challenges of the coming year.
Digital transformation
There is a movement to deploy advanced technologies that can unify supply chain technology from eCommerce to post-purchase experience, including the first, middle and last mile.  
Supply chain management trends are changing rapidly. In order to keep up, processes require automation, systems and data need to be integrated, workers need to have new resources, and managers need to have better supply chain visibility. All of this requires investment into a supply chain optimization platform that can do all of the above.
When researching such a system, retailers should focus on the needs of each key stakeholder in the company, as well as what can provide the consumer with the best possible online shopping experience.
It is important that whatever SCM technology businesses use, they need to make sure that it integrates with existing supply chain systems, from the TMS and WMS all the way down to inventory management and CRM systems. Robust, two-way data synchronization ensures that supply chain professionals keep all their technology solutions and physical resources aligned at all times.
Forecasting inventory and delivery needs
Last mile delivery volumes are rising, which is no surprise. But how can retailers and delivery services providers prepare for next year's challenges? How can they know what to expect in terms of order demand, delivery processing and how and where to deal with inventory?
There's no reason to run the supply chain in the dark anymore. Supply chain managers should be using the latest available SCM technology to forecast inventory and delivery.
Knowing what to expect and how to deal with it before the rush begins, is the best way to ensure profits despite shrinking margins.
Leveraging today's supply chain technology provides the opportunity for increasing visibility into supply chain data at resolution that has never been achievable before.
Big data and predictive analytics are finally being used to provide insights which help anticipate, respond to and manage unexpected events or disruptions.
Machine learning and artificial intelligence (AI) can turn supply chain data into assets for informing and improving business operations. Using logistics management software, companies can both plan in advance and forecast inventory and delivery issues as well as keep on top of real-time issues that come up along the way.
Focusing on returns in supply chain management
With the number of online orders increasing, it's only natural that returns will increase as well. eCommerce companies that want to stay on top of the latest supply chain trends must make sure that their supply chains can support returns management.
Customers want a simple and reliable return process. The issue is that the supply chain must be specifically designed to handle returns in large numbers, dealing with the inventory management and restocking matters and logistics costs behind each return.
Luckily, the supply chain tech available today allows for returns management to be automated and highly transparent for a better customer experience. This is part of the digitization and automation of the supply chain, one that allows all of the processes (including returns) to be digital.
To maintain supply chain resilience in the face of unforeseen last mile and supply chain trends, retailers and other businesses must perform a supply chain management review, with a focus on their current return strategy and reverse logistics operations, and find areas for improvement.
This includes evaluating the technology used in each step and finding new solutions that can help automate and make the return part of the supply chain management run as smoothly and efficiently as possible.
Reducing environmental impact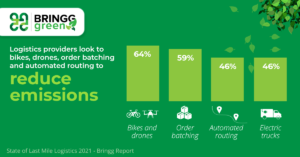 Supply chains too often deal with a catch-22: the larger and more complex the supply chain, the worse its carbon footprint.
Retail supply chains are the biggest producers of carbon emissions, responsible for over 50% of greenhouse gasses.
Transportation is the major culprit, in tandem with demand surges in eCommerce. Recent research shows that by 2030, eCommerce growth will lead to over a 30% increase in delivery-related carbon emissions.
Pressured by consumer expectations for sustainable delivery and regulatory requirements, many businesses are starting to lean on their last mile logistics providers to help them not only reduce carbon emissions, but also track, measure, and report on emissions reduction – and even help them convey their reduction in emissions to consumers.
Embedding green logistics practices across the supply chain – particularly through sustainable eCommerce fulfillment options and delivery operations – will help supply chains reduce their carbon footprint, maintain a competitive advantage and even increase market share in 2023 going forwards.
Adoption of holistic delivery management platforms
Retailers must ensure that their fulfillment operations are run in the most cost-effective way possible, which can only be done using an advanced delivery management platform. More importantly, retailers need to take a holistic and portfolio view in evaluating profitability through a set of metrics that includes data on shopper frequency, cost of fulfillment, basket value and cost to serve.
In order to create such a holistic view of fulfillment, and to optimize operations based on these parameters, integration between the various software related to supply chain management are required.
While the global supply chains seem to be getting out of control, retailers need to focus on last mile delivery and the technology platforms that provide a holistic solution covering both suppliers and consumers.
Customers want their orders quickly and transparently, knowing exactly where their order is, when it's arriving and at any given time. The technology available today gives logistics companies the ability and opportunity to provide more visibility to all parties, no matter if they are delivering small packages, furniture, medical equipment.
Retailers and delivery services companies come together as supply chain partners, focusing on creating the best last mile delivery experience possible.
Technology today is allowing companies to adapt to the market and deal with unexpected events. These may include traffic, routing issues, inability to deliver packages for a variety of reasons and more.
Artificial intelligence, including machine learning are the underlying technologies that make this happen and will define the supply chain leaders in 2023.
Key Takeaways
For those retailers who can meet today's challenges, there is positive news on the horizon and reasons to be optimistic about the future. According to the IMF, inflation is expected to fall to 4.1% by 2024. By all indications, eCommerce will continue to grow at a healthy pace for many years to come.
In addition all those new technologies and multiple fulfillment methods that were implemented to get through the tough times, translate into increased efficiency, more satisfied customers and increased profits once the economy gets rolling again.
Looking ahead
While global and local supply chains are still going through some upheavals, supply chain trends show that many business leaders are investing in delivery management platforms that can support new business models, and are capable of  keeping their supply chain operations and logistics operations running smoothly now and into the future.
The industry is changing and will continue to change in 2023 and beyond. As eCommerce continues to explode in popularity and the number of deliveries increases, brands that want to remain competitive will need to stay on top of global supply chain & delivery trends and adopt the technologies that can help them secure success now and in the years ahead.
---