In the post-pandemic era, more people than ever prefer to buy online, and as a result, curbside pickup operations enjoy tremendous popularity. But while any form of curbside pickup is better than offering a delivery option alone, many retailers established this model as a stop-gap to keep their business afloat during the pandemic, and are now struggling to take it to scale. To maximize this fulfillment model's potential as a relatively low-cost, convenient service that customers love, retailers have to understand a few fundamental things about how curbside pickup works. 
This article looks at the main challenges around curbside delivery and click and collect operations, and offers best practices for creating seamless, digitized pickup experiences that increase eCommerce fulfillment capacity and business profitability.
What is curbside pickup?
Curbside pickup is a service that lets customers place an order online, then pick it up from a physical store. Upon arrival, customers wait in a specified area while a store employee brings out the order and hands it over to the consumer.
How does curbside pickup work?
What all curbside pickup operations have in common is a customer who makes a purchase online (usually from the retailer's website). They are presented with the pickup location, or a list of which stores offer curbside pickup, either at checkout or after checkout via digital communication. When the order is ready, the customer goes to pick it up.  
The handoff looks like this: 
An online shopper makes a purchase and marks it as a curbside pickup order

the online order reaches a store's POS 

the inventory's location is identified

Inventory is picked or prepared for staging 

Inventory is staged in a dedicated pickup area 

Store staff identify the correct order (ideally when the customer has almost arrived) and take it from staging → staff transfer the order to the customer
This process leaves a tremendous room for flexibility around where customers order (on a branded site or marketplace, or in a retail location) and where they pick the order up from (in a dedicated curbside lane, or regular parking spot). What's more, given that it is often possible to use existing resources – allocating curbside lanes in your parking lots; using existing store staff, etc. – curbside operations can be launched relatively quickly with out-of-the-box solutions. This is one reason why we're seeing such a rapid adoption of curbside across verticals, in particular within grocery and big and bulky retail.
What does curbside pickup mean for retail stores?
Curbside pickup was one of the fastest growing fulfillment models last year. Due in part to the continuing success of curbside and click and collect fulfillment models, companies are changing their store format, reducing the customer space to add more fulfillment space within the store. Today, 77% of retailers plan to section off in-store space dedicated to curbside pick-up and click-and-collect services. (Symphony RetailAI).
Within the next 5 years, the last mile will become more local, with retailers offering more localized delivery options.
Curbside is not only for street-side stores; it is especially useful for retailers and restaurants with empty stores in shopping centers. These locations can become dark stores and restaurants which strictly fulfill orders via pickup alone.
In the spectrum of fulfillment options, curbside pickup – as well as click and collect, and other similar fulfillment models – are the happy medium. They allow customers the convenience of purchasing online, while maintaining the retail interaction they are familiar with, and without the additional cost and complexity of adding delivery capacity.
Like every other fulfillment model, running curbside pickup is not without its challenges.
The Challenges of Curbside
Many of these companies rolling out curbside are not taking into consideration the necessary tech capabilities to guarantee seamless operations and great pickup experiences.
Lack of unified customer experiences
It may be difficult to launch curbside across all retail locations; however, creating spotty availability will lead to confused customers who don't understand where this service is available. They may order online assuming they can pick up orders, only to find at checkout that this option is not available in their location.
Since it's not a good idea to launch a new solution at scale without testing it first, this mixed availability is inevitable. You will need a way to make it clear where and when curbside pickup is available before customers start the checkout process.
Limited resources
Pickup is typically limited to a handful of parking spaces. At peak times of day or year, You may find yourself limited by the amount of parking spaces available.
For example, consumers today often choose to shop at the closest local store. These local chains, often small convenience stores for staple groceries, frequently lack the infrastructure and resources to run curbside pickup.
Staff availability is another challenge. How do grocers and retailers manage staff so that they have sufficient coverage for staging and loading orders into customers' cars to meet demand, but can scale back as demands shift – often on a daily basis?
For example, during the beginning of Covid-19, government rulings forced many brands to close a significant number of retail locations. Stores hastily shifted staff from assisting customers inside, to managing scantily-prepared curbside pickup operations. The moment regulations were lifted, these stores were once more flooded with customers – but curbside's popularity was still evident. These stores suddenly needed to add on additional staff, without knowing how long the situation would remain stable.
This scenario applies equally to pandemics and holiday seasons; to retail and restaurant locations. Flexibly allocating and managing curbside staff is a serious challenge that must be addressed before this fulfillment model can be run efficiently.
Limited visibility
Pulling existing employees away from their regular duties to act as loaders can cause a tremendous amount of disruption and inefficiency. If they get ready to load before the customer arrives, they waste their time and clog up the operational delivery areas. Get ready too late, and they keep customers waiting and waste valuable, limited parking spaces. This also puts a strain on staff who are scrambling to fulfill both delivery and pickup orders.
Moreover, not knowing when to expect customers to arrive can lead to curbside congestion. The last thing you want is for customers to block pickup or parking spaces, or call the store because the store team did not know when they would arrive, or how to find them outside.
High customer expectations
When customers have high expectations, one bad or faulty pickup experience is more than you can afford. Waiting in line for 30 minutes to get your order loaded will frustrate even the most loyal of customers. In the example above, even a single customer kept waiting too long for their order can cause congestion and bad experiences for a dozen other customers waiting in line for pickup.
Customer and employee safety
Curbside pickup can be dangerous if the proper precautions are not in place. Do pickup staff have to weave through cars to reach the curbside customer?
The rise of contactless delivery brings additional concerns. Ask yourself, are your pickup operations truly contactless? Have you put regulations in place for how the pickup should be performed? Do you have contactless delivery technology like no-contact proof of delivery? If not, then you may be inadvertently making curbside pickup no safer than an in store pickup.
Restaurant off-premise challenges: high expectations, low visibility

Restaurants have a head-start in off-premise fulfillment, having offered some form of click and collect or 'order ahead' pickup for years. However, lack of visibility into the customer's location – knowing exactly when the customer plans on arriving, or where they are in the parking lot – causes restaurant employees to waste valuable time fulfilling these orders. And even one bad experience will send a customer to competitors with shorter wait times, or more streamlined operations.

The same applies for on-demand drive thru orders, where congestion can cause customers to turn around and drive to a less crowded drive thru.

Food quality is another major concern. Without knowing exactly when the customer plans on arriving, food may sit out too long, or – worse – not be ready on time, forcing the customer to wait and take up curbside space in the parking lot. Restaurants need a way to coordinate customer arrival with food preparation.

These are just a few of the challenges surrounding curbside pickup. The right technology can not only address these challenges, but effectively turn curbside into an efficient and profitable fulfillment model.
6 Steps to Seamless Curbside Fulfillment:
1. Provide online shoppers with reliable pickup options by syncing inventory in physical stores with the online store
2. Sync picking/prepping, staging, and loading with customer arrival
3. Automatically allocate parking spots for the expected number of pickup orders
4. Direct the car to the optimal parking spot via a mobile app
5. Streamline the curbside handoff process through automation
6. Track, measure and analyze to improve service performance and efficiency
Curbside involves many players, with different roles, all of which must be seamlessly coordinated from one centralized platform. When done right, it can provide the fastest time to market for retailers looking to merge online buying with the convenience of flexible fulfillment methods.
Optimizing curbside and in store pickup operations: How to get it right
In order for this fulfillment model to generate brand loyalty and more sales, every step in the process must be seamlessly orchestrated and every resource – the online store, the actual store associate, order details, and inventory in the local retail store – connected through a dedicated curbside pickup app or retail fulfillment platform.
Here's an example of what seamless curbside pickup looks like:
1. Scheduling a pickup order – At checkout, the retailer provides online shoppers with reliable pickup options, based on actual store capacity. This includes listing the available pickup locations and time slots per day, based on both inventory location, and retail store hours and capacity.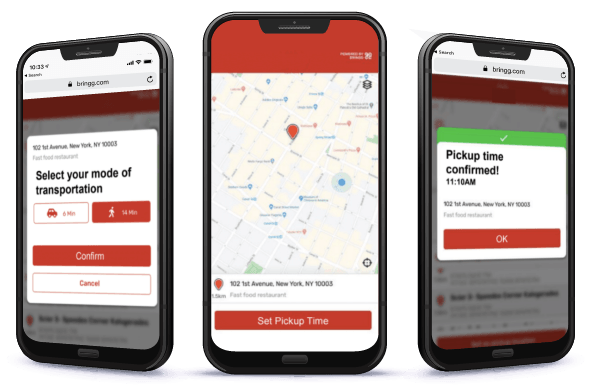 In order for the information to be accurate online, inventory must be tracked in real time. 
When someone is ready to buy online, chooses a pickup option, and completes online checkout, they should receive a digital order confirmation containing their order details.
2. Sync picking and prepping, staging, and loading of online orders with customer arrival – to ensure efficient, just-in-time order preparation and handoff, orders should be ready to go just as customers arrive. This prevents curbside congestion and ensures the optimal efficiency for staging and pickup staff. An app with real-time tracking (which customers can opt into) can help the retailer coordinate timing between the incoming vehicle and the available parking spaces and store associate.
3. Allocate parking spots to match the expected number of arrivals at any given time. A new designated parking spot can be added with something as simple as a sign, and a tap in the curbside app. This reduces potential congestion in the pickup area.
4. Use an app that provides both customer and store interfaces (i.e. a staff app and a mobile app for customers), which lets the store associate direct each car to the optimal pickup bay, in real-time.
5. Automate, automate, automate. Streamline the curbside handoff process through automated customer check-in, and applications which help store staff and customers easily identify the relevant order.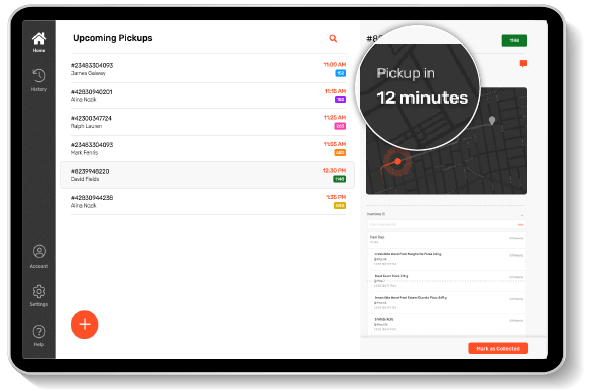 This is where contactless delivery and pickup solutions come into play. Make sure that your curbside service is completely contactless; customers should be directed to exactly where they need to park their car, and be told how to pay – and store teams should know exactly which vehicle they need to find, and load the order into – with no contact between them. In order for this to be done through a contactless curbside pickup flow, all communications should be digitized and automated. 
Curbside staff can confirm proof of delivery via photos, which they can send directly to the customer, as well as to operational managers.Track, Measure, and Analyze performance from each physical store and store team to to maintain a full chain of custody and improve curbside performance​.
6. Track, measure, and analyze performance from each physical store and store team to to maintain a full chain of custody and improve curbside performance​.
Each of these steps are essential to scalable, efficient pickup operations that are as efficient for your business as they are convenient for your customers.
We've helped some of the world's largest retailers improve their efficiency, capacity and customer experience by optimizing every element of their curbside fulfillment, from the digital ordering, and all the way through pickup. Learn more about our curbside and click & collect software.
---
Frequently asked questions:
What is curbside pickup?
Curbside pickup is when a customer picks up an online order from a store without having to go inside. The customer picks up from a dedicated area or sometimes a regular parking spot and typically receives the order from a store staff member. 
How does curbside pickup work?
1. A customer places an order on an eCommerce website.
2. The customer is given a pick up location (or chooses from a list of stores) at checkout or after checkout.
3. The store identifies the inventory's location and gets the order ready for staging.
4. The order is staged and moved to the pick up area. 
5. The customer receives a notification that the order is ready to be picked up.
6. The customer arrives at the pick up location and receives the order. 
What's the difference between curbside and pick up?
Curbside pick up is when a customer remains outside of the store for the entire duration of the pick up process. This is different from regular in-store pick up when the customer must go inside and interact with the staff to receive the order.