While demand for deliveries surged through lockdown measures, there are numerous indications that the consumer behaviors fueling online shoppers are firmly here to stay. 2021's peak season saw in a 7.5% increase in ship from store, and a 17% leap in the usage of on demand delivery retail compared to 2020 peak season.
With demand for these new fulfillment modes high, retailers can't continue to rely on manual, hastily designed, and reactive retail fulfillment models. To scale alongside the industry's growth, companies must weave automated, data-led and consumer-focused retail fulfillment services into their core competencies. 
These forecasts are why so many retail CEOs are prioritizing eCommerce growth over other sales channels in the year ahead. By recognizing today's emerging trends that are shaping the last mile, retailers can capitalize on today's eCommerce business growth — while overcoming hurdles in the retail order fulfillment process in order to reduce costs and improve the customer experience.  
What is retail fulfillment?
Retail fulfillment, often known simply as "fulfillment," is the process of sending orders to customers. This involves the management of shipments, including tracking and enablement of visibility for both the retailer and the customer, all the way until receipt of delivery is confirmed and the order is listed as fulfilled.
Retail fulfillment challenges
Consumers want more convenience and control over their order fulfillment. That preference has become more ingrained during the pandemic.
Services like Uber have transformed consumer expectations over the last decade. People now expect this same level of real time transparency, speed and convenience that they have from ordering a taxi, from every digital transaction.
Many retailers were already working to meet this new status quo through approaches like next-day shipping and real-time tracking. But the eCommerce spike of the last year accelerated this need for reliable, cost-effective and consumer-focused fulfillment strategies. 
Yet, as order volumes soared, so did consumers' expectations. This pressure revealed cracks in companies' capacity to adapt — while magnifying roadblocks to satisfying today's retail customers. 
Working with one retail fulfillment provider, or many?
Escalating eCommerce business often requires partnering with a third party fulfillment provider, also known as a 3pl logistics provider, or multiple delivery providers. But according to one 2022 Bringg survey, managing multiple delivery fleets is a scalability challenge for more than 2 in 5 retailers.
Working with third party providers offers less control over the fulfillment process. Without seamless coordination, there's far more potential for delivery delays and failures. This leads not only to costly inefficiencies but gaps in customer satisfaction.
Scheduling with customers
Accurate scheduling is critical to a good fulfillment experience; 57 percent of consumers would not use a retailer again after three late orders. Yet almost one in three retailers say that scheduling retail delivery times with customers is a major issue to scaling operations — and it intensifies as fleet partnerships grow more complex.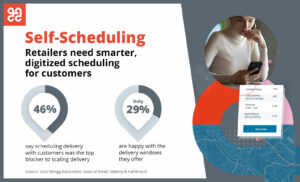 Lack of visibility over orders en route
More than 20 percent of retailers say that lack of operational visibility from the fulfillment center to the customer is their biggest pain point. That figure nearly doubles for those working with third-party fulfillment providers.
This disconnect frustrates retailers' efforts to add value for their customer base, limiting their ability to ship orders in a timely manner, expand retail fulfillment operations and promote effective inventory management.
Inefficient manual processes
Increasing consumer demand can quickly outpace manual retail fulfillment processes, especially as retailers launch omnichannel retail experiences.
Whether fielding inventory, managing retail fulfillment centers, assigning drivers or navigating any other step in the retail fulfillment process, as logistics complicate, the risk of errors swells. This reduces efficiency, hindering growth—and all while the customer experience suffers.
Then there's the impact on your bottom line. When relying on manual processes, retail order fulfillment process costs can rise by up to 5 percent of gross sales. That's a major reason why more than half of U.S. retailers are ramping up their investments in automation solutions to improve areas like:
last mile carrier management, dispatching and routing

Real-time visibility for both customers and internal teams

Planning warehouse and fulfillment center logistics

Driver communication, progress and oversight

Smooth omnichannel expansion, including offering customer

buy online, pick up in-store (BOPIS,)

and curbside pickup options
The retail fulfillment trends that are redefining the last mile
About 75 percent of U.S. companies reported disruptions in their supply chains while adapting to the pandemic's heightened demands. Yet as this eCommerce growth shows no signs of slowing down, retailers that can overcome order fulfillment challenges have the opportunity to create additional customer value.
By optimizing operations in line with consumer behavior — and the eCommerce trends it supports — these retailers can capitalize on this growth at scale, improving efficiency, cost savings and customer satisfaction alike.
Sustainable fulfillment services
In today's retail environment, leaders recognize the industry's responsibility to provide customers with sustainable shipping services – and this awareness offers a significant competitive advantage.

Guy Bloch, CEO, Bringg
Consumers are willing to pay a premium to make sure they get eco-friendly shipping. But a sustainable fulfillment process won't just satisfy customers – it also helps to reduce retail fulfillment provider costs.
That's why retailers are working to incentivize green logistics and fulfillment options like:
Free pickup at the retail store versus ship at cost

Five-day shipping versus same day

Zero-emission delivery vehicles like bikes, autonomous cars and drones

Eco-friendly, recycled, or re-used packaging materials
The local fulfillment center and the push to localize fulfillment
Many shoppers today define "fast" shipping as same-day. To reliably offer customers on demand models, companies are prioritizing hyperlocal fulfillment strategies that save costs, reduce their carbon footprint and ensure the turnaround time shoppers now expect. And one of the first elements of this is localizing fulfillment centers.
What is a fulfillment center?
A fulfillment center is the place where a fulfillment provider fulfills orders for ecommerce retailers and brands. As most fulfillment centers are located too far to fulfill customer orders on the same day, fulfillment providers are pushing to buy up warehouses and other spaces to support local fulfillment.
Storefronts, too, are becoming another fulfillment location. Where brick and mortar locations were once retailers' main shopping arenas, they now serve an important role in the shipping process.
There's also an uptick in large retailers opening micro-fulfillment centers (MFC) and dark stores to localize their inventory closer to their customers.
Without a local fulfillment center in urban areas, companies will find their retail distribution and inventory management process unequipped to cater to the large sector of local shoppers interested in same day fulfillment.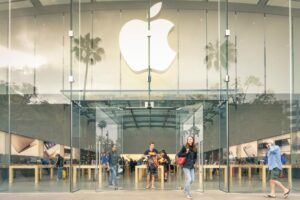 Omnichannel retail fulfillment
Whether picking up items curbside or opting for fast shipping, retail customers want to direct their buying and fulfillment experience.
But an effective omnichannel model isn't just about providing more order fulfillment services. Sales channels and fulfillment retail models need to intersect seamlessly so that, for example, a customer can return an item to any brick-and-mortar location, no matter where it was purchased.
This expectation puts pressure on retailers to accommodate a range of eCommerce scenarios by managing inventory, picking and packing orders , order visibility and speed — and then adjust systems accordingly based on customer activity.
Direct to Consumer
In 2022, brands will increasingly explore ways to bypass marketplaces and sell direct to consumer.
According to Salesforce, 68% of consumers said they'll continue to buy essential goods online after the pandemic ends, creating both an opportunity and a challenge for brands without last mile resources in place.
Working with multiple carriers
Sound fleet management is essential for retailers to scale capacity in line with rising consumer demand. By accounting for variables like driver availability, the shipping time and routing efficiency improves — enabling companies to optimize prices and ensure high shipping volumes. 
The quality of these partner relationships can also help retailers overcome obstacles like surges in consumer demand or sequencing items based on size and unloading considerations. 
Better Retail Store logistics
To support retailers' evolving omnichannel fulfillment models, in store operations are evolving as well. 
This starts with the retail footprint itself. Brick-and-mortar locations can now serve as both a showroom and a place to accommodate flexible same-day fulfillment options — like BOPIS and curbside pickup. In Q3 of 2020, U.S. retailers that had a BOPIS option experienced 76% growth compared to the prior year, far higher than the 47% growth for U.S. retailers not offering BOPIS. This requires retailers to restructure locations for fulfillment speed and convenience through:
Staff training to optimize how they pack orders 

Creating the physical space and infrastructure to manage curbside pickup and reverse logistics services

Ensuring real-time visibility after a customer places an ecommerce order for pickup 

Low-contact and contactless options, including maintaining pick-up lockers and curbside pick-up
Tracking and visibility
When it comes to today's on-demand culture, consumers expect both speed and real-time communication. 
According to a DigitalCommerce360 study, 93 percent of shoppers want to know where their item is throughout the shipping process — and almost half won't order again from a brand with poor real time visibility.  
Customer experience
Ultimately, retailers sell products to people, not places. That's why the trends that are shaping retail fulfillment success each hinge on one overarching theme: improving the customer experience.
Providing seamless omnichannel fulfillment, simplified returns, real time tracking while items are shipped and sustainable shipping options all cater to customer expectations. But these approaches need to integrate with all logistical systems to overcome challenges that threaten customer satisfaction, like missed or failed deliveries, poor communication and rising last mile shipping costs. 
How can I improve my retail fulfillment process?
The eCommerce landscape fundamentally changed in the wake of the global pandemic. While the industry rushed to adapt to this "new normal," pressure isn't letting up — and for many, frays in operations are beginning to unravel. 
To stay competitive and see their business grow in the current retail environment, companies need to reshape the fulfillment process for retail orders to be in line with these emerging trends, leveraging assets like automation, data and visibility. These approaches help companies keep their focus on the customer experience, while ensuring profitable, sustainable operations that can seamlessly grow at scale.
Working with a network of fleets
Whether facing seasonal spikes or ongoing surges, third-party drivers are essential when sales from your online store outpace shipping resources. However, the rising cost to ship via multi-carrier delivery makes it difficult or altogether unfeasible for a fulfillment company (or retail business with its own fleet) to scale operations. 
The key is to make deliveries via your third party fulfillment company more efficient.
Delivery management software can help optimize this process even more, ensuring that retailers can flexibly select, integrate and manage fulfillment providers whenever consumer demand requires. The right fulfillment software or route planner app can create more multi-stop delivery routes, improve drop density and track driver activity.
This technology also enables better, scalable management and control all along the last mile, regardless of volatility around demand. 
Better retail store logistics
Habits particular to online shoppers like impulse buying and batching — selecting items from an online store in different versions or sizes — are driving up the rate of in-store returns for retailers. Meanwhile, data shows that nearly 70 percent of shoppers have recently made multiple BOPIS purchases. 
That's why it is essential for large retailers with brick-and-mortar locations to support a seamless omnichannel experience. This ensures efforts locations are efficient points of fulfillment for multiple channels and requires: 
Managing new inventory

Managing outbound logistics and fielding orders for drivers picking up orders 

Accommodating existing fulfillment models at retail store locations 

Having dedicated pickup areas in-store for BOPIS and in the parking area for curbside pickup
Retailers can leverage today's retail logistics technology to introduce these options and help their business grow. 
Supply chain management
Creating efficient operations is critical for success at scale. Today, high efficiency relies on how well retailers can collect and connect pieces of data to direct ever-smoother supply chains. 
That's because gaining a deeper understanding of order fulfillment metrics and key performance indicators helps retailers meet customer demand and overcome challenges as they evolve and change. This ongoing analysis can also reveal both gaps in operations and optimization opportunities:
Fulfillment center – How you monitor stock levels, process orders, locate the correct products and source them from a centrally located fulfillment center to reach customers faster, and pack orders efficiently.

Fulfillment provider performance data –  analyzing performance of providers to ensure a seamless process for customers 
For example, data analytics help identify bottlenecks in efficiency, optimize the flow of inventory levels and provide end-to-end visibility.  It can also reveal better and faster routing solutions, saving costs while shortening fulfillment times. 
Customer experience
The customer's experience starts when they place an order and continues through every step of the retail order fulfillment process — regardless of what channel they use to order. 
Because there are so many supply chain aspects that can influence this experience, retailers need to optimize operations to keep the end customers in focus. That means providing transparency and reliability at every turn — from the fulfillment center, to the customer's door – and leveraging technology to bridge these gaps. 
For example, the point of sale (POS) system must be synced with all fulfillment providers to ensure the accuracy of quotes offered at checkout. If you offer same day shipping options, it's essential that your systems track inventory effectively, so there are no lapses in what's available to local shoppers. 
Other retail fulfillment process tools can cater to an improved fulfillment experience as well, like communication tools that allow customers order changes, expanded fulfillment services like click-and-collect or BOPIS and real-time, automated order notifications.  
Real time visibility
Last mile tracking gives customers that sense of control they're after in the buying experience and is a vital component of the fulfillment experience.
But it's not just customers that benefit from greater transparency. Businesses need to leverage real time visibility to monitor inventory levels, track shipped customer orders while en route, effectively manage their retail fulfillment provider or providers, and optimize performance across the entire retail supply chain. 
Stay ahead of the omnichannel curve
In a digital-first world, the eCommerce business landscape — and the consumer demand that drives it — is showing no signs of letting up. For retailers, this means that the retail fulfillment process will continue to grow more complex in response to greater expectations. 
In order to tap into the opportunities offered by these trends and revolve alongside this unprecedented growth, retailers need to create greater connectivity across their retail fulfillment processes and stakeholders. By connecting everything across the fulfillment process, retailers will enable greater visibility and greater operational efficiency, creating a seamless omnichannel experience to take them ahead of the curve.
Bringg's delivery and fulfillment cloud platform simplifies retail fulfillment operations, from managing consistent omnichannel experiences to designing data-led retail fulfillment systems. Get in touch with the Bringg team to learn more. 
---
Frequently asked questions
What is fulfillment in retail?
Retail fulfillment is the process behind preparing, organizing and shipping an order to arrive at its end destination,which is usually the person who placed the order. Some or all of this process can be outsourced to a fulfillment provider. 
What is the fulfillment process?
The fulfillment process navigates each step of an item's delivery lifecycle. This starts with warehousing — like picking and packing a product — before the routing, shipping, and tracking stage. Throughout the process, details get communicated back to the customer to set accurate fulfillment expectations.
What is fulfillment in eCommerce?
eCommerce fulfillment refers to the supply chain processes that launch after an online order is placed. This includes order processing, packing and transporting to a product's end destination.