We're living in a new reality. People are social by nature, but now we're isolating ourselves to protect the vulnerable among us. This atmosphere of uncertainty, coupled with our change in lifestyle is accelerating a process that was already on the rise: contactless delivery. People want orders delivered fast, to their doorstep, with no physical contact. Delivery drivers too, want to reduce the risk of infection by limiting contact with customers and people they meet throughout the delivery process.
This post looks at the current demand for contactless delivery, the challenges behind setting it up, and how businesses can use existing technologies to offer fast, safe, contactless delivery.
Contactless Delivery in 2021: Providers scramble to meet skyrocketing demand
In the span of a few days, delivery went from being a convenience to a necessity – especially for food and medical supplies. Consumers are avoiding going outside; according to a Technomic survey, 32% of consumers are leaving their houses less often, and the same number are eating out less frequently.
However, 13% of consumers are ordering restaurant delivery more often – and given the growing global adoption of social distancing, we can expect that percentage to skyrocket.
Delivery sales for restaurants, already increasing year over year, grew by 8.7% in February alone. Grocery delivery is also booming: 30% of surveyed consumers used online grocery pickup or delivery services in the second week of march, according to Gordon Haskett – significantly higher than the online grocery adoption rate before now. Retail giant Amazon announced it was hiring 100,000 new delivery and fulfillment workers to keep up with this rising demand.
Given that customers are ordering deliveries online in order to avoid crowded restaurants and retail locations, it would be counterproductive for them to be in close contact with their delivery driver. This might be why restaurants and corporate brands like McDonalds and Starbucks extended their contactless delivery operations in China last month. In the U.S., grocery and food delivery providers like Postmates and DoorDash have joined restaurant aggregators like Grubhub and Uber Eats in offering contactless delivery options such as leaving groceries at the door, and curbside pickup.
While dropping off orders at the door is a good safety measure, and a widely recognized one, it's only one of many initiatives that must be taken if businesses want to quickly stand up a reliably contactless delivery process.
What is no contact delivery?
Contactless delivery (or no-contact delivery) refers to a movement of goods from distribution location to the end customer, without any physical contact between the different people involved. This includes the driver and end customer, but also includes store or warehouse employees, and the handoff between them.
As a service, contactless delivery highlights your consideration towards your customers. And that consideration will drive up brand loyalty.
Contactless delivery is still relatively new, and industry standards for safety requirements are still being formulated.
How does contactless delivery work?
Contact is a concern for everyone working in the supply chain. Ensuring a safe, contactless delivery starts with the basic safety protocols – wearing gloves and masks to reduce contact when handling orders – but must go much further than that.
So how does contactless delivery work? In order to build truly contactless delivery, here are some processes you will need to think about:
7 ways to implement contactless delivery:
Order preparation –

including distancing practices and digitizing the paper trail

Delivery

messages during shopping and checkout online

Notifying customers of arrival
Number masking
Handling tips, rejections and returns with no contact
Offer alternative fulfillment methods like curbside pickup and smart locker delivery
Managing proof of delivery digitally
Order preparation
No contact delivery starts with order preparation. This could take place in a store, warehouse, or fulfillment center. Orders must be prepared in a contact-free environment. One danger point is during handover between employees at the preparation site. In grocery fulfillment, pickers move full bags to a staging area; in warehouses, employees sort packages by loading bays; in restaurants without separate counters for diners and drivers, a staff member may grab bags of food from the kitchen and move them to a staging area. Many of these processes involve manual handovers between employees that must be coordinated digitally to ensure a contactless delivery. All paper must be digitized as well to prevent unnecessary physical contact.
Ensuring that these health and safety measures are met for people working in picking, staging and prepping delivery orders is the first step in a contactless delivery flow.
Related: Mastering Restaurant Delivery Operations with Data
Safe, contactless delivery messages during online shopping and at checkout
The greatest concern for customers (and by proxy, for businesses) is what happens when the delivery reaches the customer. Businesses can calm these concerns by communicating the health and safety measures they have in place throughout the shopping experience.
For most customers, contactless delivery means that the driver drops delivery orders on the doorstep. This should be specified as a delivery option at checkout. Otherwise, customers may abandon their orders, or strain your call centers with concerns about delivery safety.
In contactless delivery, face-to-face communication between customers and delivery drivers should be replaced with digital communications. These can include: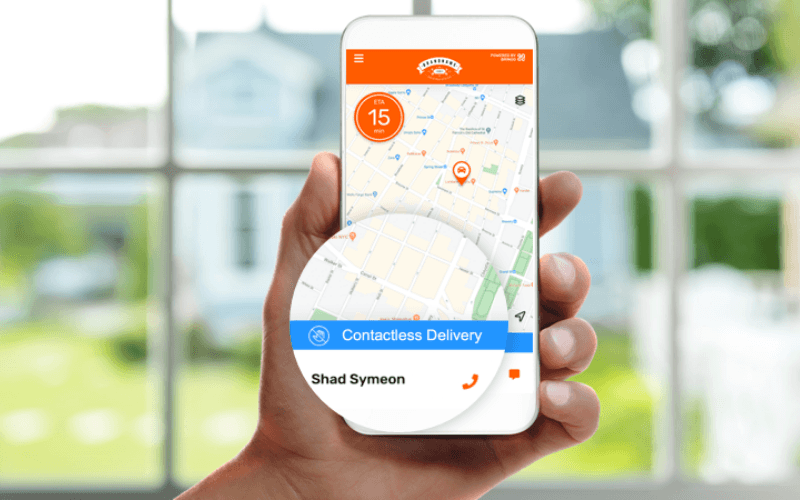 Notifying customers of arrival – The usual ring or knock on the door must be replaced by other forms of communication. And since no one wants drivers calling or texting customers while driving, that notification should be triggered automatically throughout the delivery process.
While over-the-threshold deliveries have been gaining popularity, many companies and customers prefer curbside delivery as a contactless safety measure. Customers will need to be notified that their order has arrived in order to go outside and pick it up.
Number masking – Direct calling, sms and other forms of digital communication will replace face-to-face talking between delivery drivers and customers. However, not everyone wants to give their number to strange people, and not every driver wants the customer to have their number. That's why whichever application or method you use to manage driver and customer conversations, should mask phone numbers.
Handling rejections, returns and tips – How will you manage processes that usually happen once the driver is standing in front of the customer? For example, when a supermarket runs out of inventory, the driver will usually bring replacement items that the customer has to approve; however, they can only approve or reject replacements once they have the inventory in front of them.
Tipping is another issue. Drivers already risk their health to perform deliveries today; losing their tip could lead to drivers quitting just when delivery is critical for keeping businesses – and their customers – afloat.
SEE: The Profitable Digital Grocer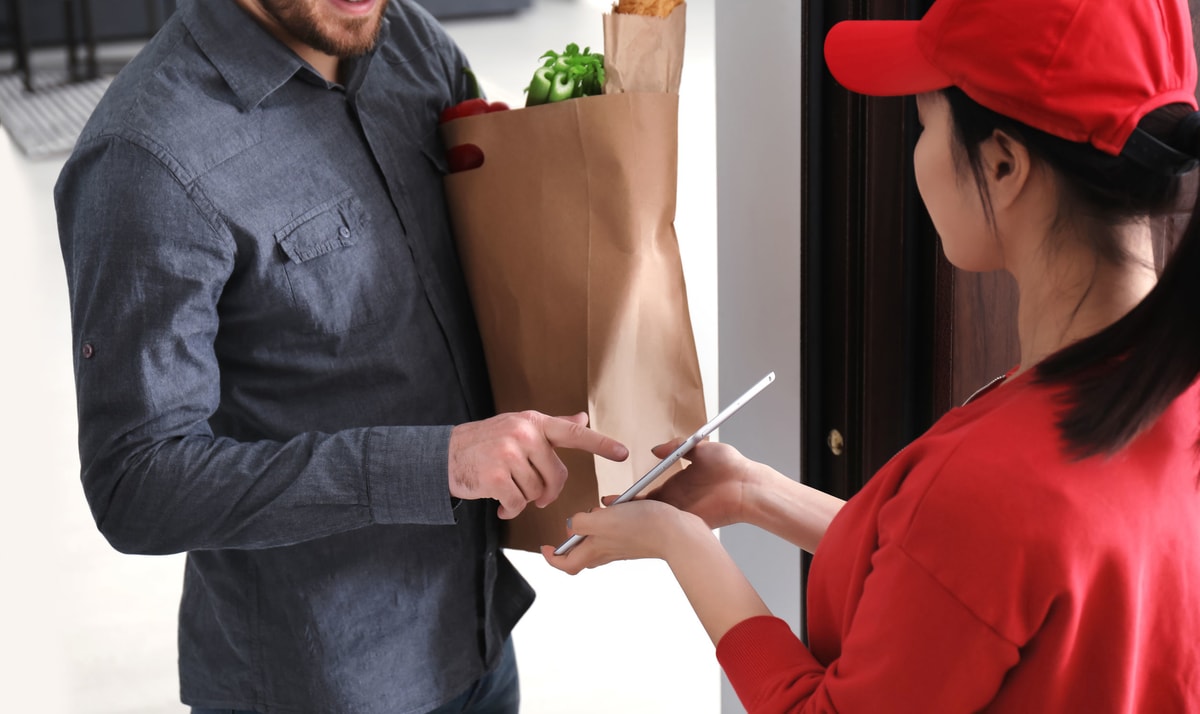 Delivery of Restricted Items – Some prescription drugs, alcoholic drinks, and expensive or sensitive packages usually require that drivers confirm the recipient's identity or age. This often requires that customers hand over their drivers license, or another valid ID. As part of a contactless delivery, this process should be digitized to maintain regulatory compliance, without requiring any physical exchange between the driver and recipient.
Proof of Delivery – Many businesses require a signature as proof of delivery. When a driver needs to collect proof of delivery, they usually hand over their phone or tablet to the customer – a complete breach of contactless delivery.
These are just a few examples of what truly contactless delivery means. Fortunately, businesses can turn to technology to address all of these issues and enable contactless delivery without limiting their delivery options or services.
Contactless food delivery in restaurants
Since restaurants are used to having food safety regulations in place, contactless delivery is an evolution of these same health practices. Whether it's employees preparing and handling food with gloves and masks, or strict rules about food handling, restaurants in great measure set the standard for contactless delivery
Automating complex delivery flows: What fully contactless delivery looks like
In order to orchestrate true contactless deliveries, businesses must first ensure that they have full visibility and control over their delivery logistics. Automation can then help businesses replace manual processes with digital ones and reduce the need for contact between people along the entire delivery flow.
What an Automated, Contactless Delivery Flow Looks Like:
Actively communicate contactless delivery in marketing, during the shopping and at checkout
Automate your driver and vehicle management to reduce contact between dispatchers, drivers, and other employees
Integrate external fleets with your other systems, so that contracted and crowdsourced drivers can use the same no contact delivery protocols and solutions as your internal team.
Use your driver applications to automate processes like rejections, tips, and alternative proofs of delivery – such as a photo in place of a signature.
Use your automated delivery updates to notify the customer when they can expect a delivery, to enable them to remotely communicate with the driver.
Communicate distance protocols to customers early, through every available communication channel, in order to build trust in the contactless delivery.
When a customer reaches online checkout, the only delivery option they should have is contactless delivery. For parcel and food delivery, this means delivery to the front door. But for any service that requires staff to enter people's homes, you must make sure to communicate to drivers and customers the no-contact measures you have in place.
Examples of ensuring distancing practices and health requirements are met:
making it mandatory for drivers to upload photos of them wearing gloves and masks

asking drivers to confirm that they have used hand sanitizer.
These safety protocols must be communicated early on to customers through every available communication channel, to calm customers and build trust.
The delivery option, additional health and safety requirements and all other information related to contactless delivery must be integrated with the driver's communication tools, whether the delivery orders are placed on your website or an aggregator's site, and whether you use internal or external fleets for delivery.
Automating customer and driver communications enables customers to track their order when it's out for delivery and communicate any changes in the delivery or the order with the driver. With the right technology, people can remotely approve a digital tip to drivers without any physical interaction. Similarly, when using an integrated application, drivers can call customers in advance to confirm they are home, and take photos of the order on the customer's porch or at their door as proof of delivery.
How to engage with customers during contactless delivery
Performing contactless delivery doesn't mean forgoing a personal delivery experience. In fact, it's the opposite: as a service, contactless delivery highlights your consideration towards your customers. And that consideration will drive up brand loyalty. Include photos of drivers so customers can see who they are communicating with. Drivers can take pictures of themselves with the order. These little steps will add a human touch back into the delivery process, which will also improve customer satisfaction and raise your delivery ratings.
Are there alternatives to contactless delivery?
If businesses want alternatives to contactless delivery, they can look no further than the other popular order fulfillment methods. Curbside pickup, if digitized, can be performed without any contact at handoff. Pickup from lockers automatically separates the dropoff and pickup processes, so that drivers and customers can stay safe while offering people another convenient fulfillment option. The same is true of delivery drones.
It's important to note that convenience and consideration will separate good contactless experiences from bad ones. You could use a phone call to update customers when their orders arrive, but it may come at an inconvenient time – which is why digitizing communications is so critical to a great contactless delivery or contactless fulfillment experience.
3 Alternatives to contactless delivery:
Curbside pickup

Smart lockers

Delivery Drones
Contactless delivery is here to stay
Contactless delivery isn't going anywhere. As a safety measure, and as a convenient way to receive orders without being present, the demand for contactless delivery is clear. Luckily, the technology to enable it is readily accessible today to all businesses and industries.
The solutions mentioned above worked best when they are part of a centralized delivery management system, with full integration between internal and external teams and systems, and technologies that improve every step in your delivery flows. Businesses which want to offer contactless delivery must begin implementing these technologies and processes as soon as possible.
At Bringg, we've worked with global leaders in retail and logistics to create contactless delivery flows that enforce health and safety measures will providing an exceptional customer experience.
Interested in solutions for safe, contactless delivery experiences? Learn more here.