Cutting shipping costs are a priority for every ecommerce retailer right now. And since last mile delivery costs account for roughly half of total shipping costs, that is where retailers need to concentrate their efforts. Analyzing what makes last mile delivery so expensive, and understanding the cost breakdown, is the first step in streamlining last mile delivery operations.
Here are 3 strategies for e-commerce companies that can cut last mile delivery costs today and tomorrow.
How much of the total shipping costs go to the last mile?
When considering that the last mile represents 53% of total shipping costs, it means that cost-cutting measures must be concentrated on last mile delivery.
It's interesting to consider that getting parcels from a distribution center to the customer's home in Topeka, Kansas, may be a small part of the physical journey from a factory in Shanghai, but still represents half of the last mile logistic costs and ultimately determines customer satisfaction.
The pressure to reduce costs is further aggravated by consumer expectations for free shipping which must be absorbed by retailers. Passing on the cost of delivery to customers directly is simply not an option: when delivery costs are too high for consumers, they simply look for another place to shop. If you end up charging more for deliveries, many of your customers will leave.
With customers already expecting free next day and cheap same day delivery, businesses simply can't afford to push the last mile delivery costs on them. For this reason, deliveries are often an economic balancing act and frequently the largest last mile delivery challenge a company will face.
What is the last mile delivery problem?
For traditional delivery through large carriers, last mile delivery was based on large drop density with multiple stops, idle time and handling. Last mile delivery often has the exact opposite characteristics: smaller drop density and fewer stops. This increases the average cost per truck run.
What makes last mile delivery so costly?
As mentioned, the last mile must accommodate multiple delivery models and processes, each one with its own particular challenges. Even small delays in the delivery process can add up to big headaches with missed delivery windows, increased fuel costs and low delivery driver productivity, all of which affect the overall cost to deliver.
To be more specific, it's important to identify some of the main costs associated with last mile delivery such as:
Labor and operational costs
While expenses differ between industries and delivery models, there are universal costs that impact delivery costs across all verticals and channels, including managing inventory, internal and external fleets, and operational processes. Whether retailers have their own dispatchers, drivers and vehicles, or rely on external carriers and fleets, the manpower adds to delivery costs. The same goes for delivery management systems, especially if retailers are using multiple systems.
Failed deliveries
Late deliveries, and any kind of failed first delivery attempt, lead to repeated delivery attempts. That's more time on the road that incur additional costs – not to mention a risk to customer retention.
Fuel Cost
Whether it is stop-and-start driving in urban centers or long distances in rural areas, the cost of fuel has always played a major role in delivery costs. And as fuel costs increase, last mile delivery costs rise significantly.
The popularity of next day and same day delivery means that retailers frequently try to opt in to these delivery models without properly planning their last mile operations to support them. As a result, drivers go out on delivery runs with only one or two parcels or packages at a time. This is much more fuel-inefficient than traditional scheduled delivery, with higher drop density and multiple drop-off points on the delivery routes (not to mention how much more carbon emissions it produces)
Delivery Efficiency
Productivity doesn't solely depend on the amount of deliveries per tank of gas, but also on the total number of deliveries per driver. Every effort must be made to maximize the number of deliveries each driver makes per shift.
Inefficient Route Planning
Left to their own devices, delivery drivers will prefer to handle their own route planning or stick to routes they know well and perceive to be best. Unfortunately, many times this does not result in the most efficient route possible resulting in high fuel and labor costs.
Now that we have understood some of the main reasons for the high cost of last mile delivery, let's take these same parameters to understand how to increase efficiencies and reduce costs.
3 Strategies for Cutting Last Mile Delivery Costs:
Explore new logistics models

Reduce fuel costs

Avoid failed deliveries
In order to create more cost effective last mile logistics , it's important to think about improving efficiency from the moment the order is placed, as well as reducing expenses.
1. Explore new delivery models
The current instability of the supply chain – together with shrinking margins and pressure to cut delivery costs – means it's time to explore relationships with new logistics partners.
Surging demand and limited capacity have caused the leading last mile delivery service providers, FedEx and UPS to raise rates and limit capacity.
This has resulted in increased demand for regional delivery service providers who can provide last mile delivery operations at prices 10-40% less with more flexible terms than the national carriers.
Along with more cost effective rates, retailers must also increase drop density where possible to improve fuel and driver efficiency. The only efficient way to determine the best available carrier along with the most efficient way to bundle deliveries to increase drop density, is by using software that can make these calculations as part of a delivery services management solution.
2. Reduce Fuel Cost
Especially during times of rising oil prices, it's important to do everything possible to reduce fuel consumption. The best way to do this is to optimize delivery routes so the maximum number of deliveries are made for every tank of gas.
This requires route optimization software that is capable of considering all relevant variables when planning efficient routes, including:
Traffic conditions

different types of delivery vehicles

drop density

vehicle efficiency.
Another tactic is to ensure greater drop density by extending delivery windows and batching orders going to the same geographic area together.
These types of complex calculations can only be done with advanced delivery management software that uses AI analytics, together with historical and real time data, to suggest the most optimal route in dynamic conditions.
3. Prevent failed deliveries
With failed deliveries costing retailers an average of $17.20 per order, every effort must be made to avoid this pitfall. Many times, this loss can be avoided by offering more flexibility, managing expectations and increasing customer communications.
Flexibility starts with the shopping journey. If retailers present consumers with multiple delivery options prior to checkout, many shoppers will prioritize price over speed – slower, less expensive delivery methods that enable retailers to increase drop density.
From the time of dispatch until the package is in the customer's hands, it is essential to have real-time tracking and communications. Not only does this help retailers know the exact location of the delivery at any given time, but more importantly enables sharing of that information with consumers and last mile delivery partners.
Above all, proper management of customer expectations is key to reducing failed delivery.
Communication with customers is key
Deliveries can be delayed for a variety of reasons; preventing these delays from turning into costly failed delivery attempts depends on prompt communication with the customers. Furthermore, if multiple alternative delivery options are provided to customers whenever there's a delay, then it reduces the risk of a failed delivery attempt.
If customers know exactly when their package leaves the warehouse or store, and get an accurate, narrow delivery window, chances are that they'll make the effort to be at their door to pick it up. If for some reason the customer cannot make the pickup, or if the driver will miss the delivery window, a customer experience app can prevent missed deliveries. 
These options can be enabled by real-time communications via mobile or web apps where the customer can check the status of their package at any time and coordinate with the retailer and delivery driver to avoid delivery failure. 
An app with a good user interface will include automated options that remind the driver to send a preset message in case a late delivery is predicted. The same app can suggest multiple options to the customer, such as accepting a later delivery time slot, or picking up the package at a local locker.
Key Takeaways
E-commerce and customer expectations for last mile delivery continue to grow at a breakneck pace. This places pressure on retailers to cut delivery prices during times when the demand for last mile delivery services is on the rise, while delivery capacity is very limited.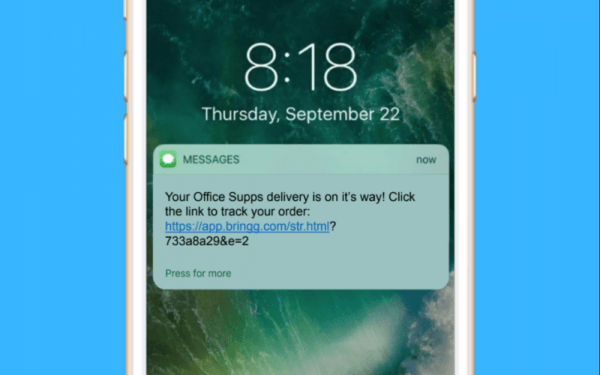 Ensuring timely delivery and satisfied customers despite supply chain uncertainty and shrinking margins is a real challenge. Add to that the desire to cut last mile delivery costs, and it almost seems out of reach.
Fortunately, implementation of AI analytics and historical data into delivery management platforms can result in the types of efficiencies that can help retailers reduce delivery costs for both the short and longer term. Now is a good time to contact Bringg and find out how your e-commerce operations can cut last mile delivery costs without compromising on customer experience.
---