Delivery and fulfillment logistics are now more important than ever. Meeting demand for rapidly growing delivery volumes and curbside pickup is now mission-critical. Legacy technology solutions are struggling to meet new requirements, such as contactless delivery and multi-fleet dispatch. Over the last weeks, the Bringg team has been working around the clock to ensure that every business has the technology solutions they critically need.
Bringg's Enterprise Solutions For COVID-19 Fulfillment
Now more than ever, enterprise logistics and fulfillment technologies are mission-critical. Here are a few of the many technologies we have upgraded or deployed over the last few weeks to help our enterprise clients.
Orchestrating Click & Collect, Curbside Pickup and Drive-Thru Operations
With retail foot traffic in dramatic decline, we are seeing unprecedented growth in digital order demand. Enterprise retailers, restaurants, grocers and pharmacies are turning to customer pickup models like click & collect to supplement their limited delivery capacity. However, inefficient customer pickup can slow down operations, substantially reducing your capacity to serve customers as scale.
According to Gartner:
Routing technology used to rethink routing for drive-thrus and restaurants. This technology is adapting routing to send customers to a drive-thru location that may be a little further away but isn't as busy, so food will be ready faster.
Source: How to Use Technology to Improve Safety in Transportation During Disruption Like COVID-19 and Beyond, Bart De Muynck and Carly West, Gartner, Inc.
I would like to demonstrate how this works in practice. When the customer arrives at a checkout page, they are asked to select a pickup location. Bringg determines the timing required for each order, collects the delivery capacity of each available retail location, and determines the next available pickup time. This information is then synced with the eCommerce platform, to present customers with their pickup options. This is one of the features of our Quotes technology.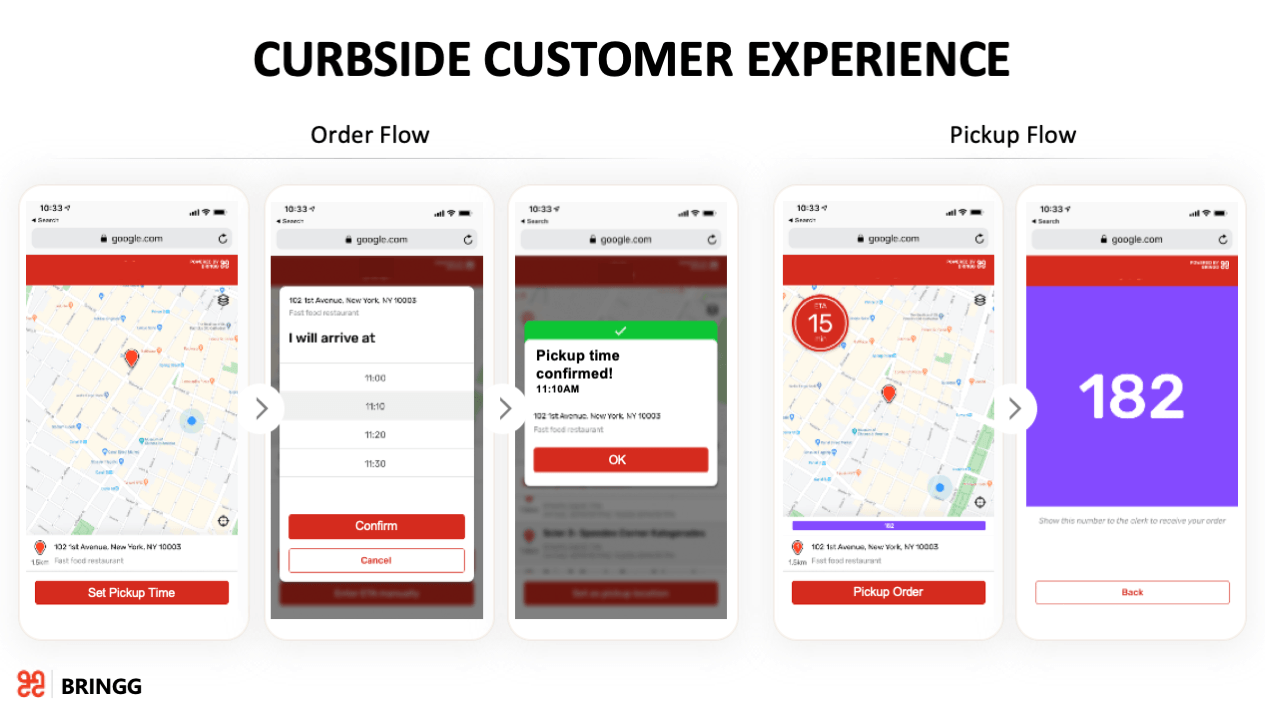 After placing an order, the customer is sent a pickup confirmation message. When enabled, Bringg's SDK tracks inbound customers and dynamically syncs their ETA with retail prep teams. Our dedicated Prep and Store applications ensure that orders are ready for pickup right as customers arrive. We will also route customers to the optimal pickup location and even the optimal pickup lane to help expedite the process. In parallel, staff are notified as customers arrive. When they arrive, customers are presented with a pickup screen on their mobile phone, featuring a color and a number. This makes it easy for customers and staff to identify where they need to go, what order should be delivered. Staff simply check the color and order number to validate the customer's information and complete the delivery.
Customers who enjoy a seamless pickup experience will be likely to return again and to tell their friends who endured long lines at your competitors. From an efficiency standpoint, cutting pickup turnaround times from 5-10 minutes to 2 minutes substantially improves fulfillment capacity and efficiency. Similarly, Furthermore, as a digital, web-based solution, Bringg allows store managers to easily add additional pickup lanes with just one tap, and a few road cones.
Contactless Delivery
Last week, we added a contactless delivery mode to our platform. This new delivery mode provides enterprises with easy access to the contactless delivery features we have long supported, such as proactive alerts and photographic proof of delivery.
For example, Gartner recently reported the following:
Proactive alerts in the last-mile delivery space: Customers or end consumers can turn on proactive alerts to driver location and approach to the home. Consumers can turn on text messages when drivers are, for example, two blocks away or approaching their home via use of tracking and location update technology. Then, they don't have to open doors and interact with drivers in order to maintain social distancing. The technology can also enable electronic POD via text. The driver can send a picture of the package on the doorstep, and the customer can respond acknowledging via text to confirm receipt.
Source: How to Use Technology to Improve Safety in Transportation During Disruption Like COVID-19 and Beyond, Bart De Muynck and Carly West, Gartner, Inc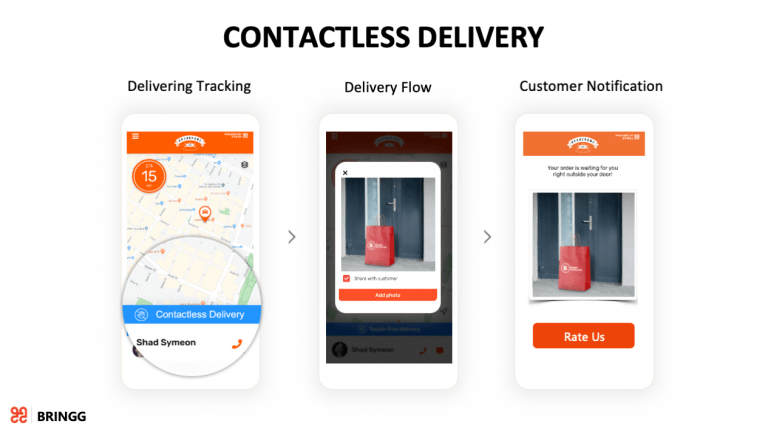 When contactless delivery mode is enabled in Bringg, everything from delivery updates to customers, our real-time delivery tracker for customers, driver app flows and arrival notifications are updated to improve safety, and minimize any disruption. All of our other safety features, such as secure driver and customer communications (through masked phone numbers) and hands-free safety mode remain available to further improve the safety and efficiency of every delivery. Furthermore, we have updated our delivery notification SMS to now support MMS, which allows businesses to send images of deliveries alongside their text.
Expedite Driver Onboarding and Driver Retraining
The labor market is changing. Many newly unemployed are finding employment as delivery drivers. Similarly, restaurants and retailers are keeping their retail staff employed while improving their productivity by reassigning retail staff to curbside, drive thru and delivery roles. Technology, particularly mobile apps, can expedite new driver training and process compliance.
As Gartner recently explained:
Using technology tools to quickly onboard/train staff to help with local deliveries when understaffed or during driver shortages. In the fluid and changing market, people's roles and jobs are changing. In one example, restaurant staff roles may change from serving in the dining room to being delivery drivers. The use of technology can help with quick training and tracking the shifting workforce by putting training videos and requirements at the fingertips of the employees, allowing companies to quickly assign and dispense training.
Source: How to Use Technology to Improve Safety in Transportation During Disruption Like COVID-19 and Beyond, Bart De Muynck and Carly West, Gartner, Inc
Our mobile driver application's integrated driver onboarding capabilities, dynamic delivery flows and delivery block scheduling help new delivery staff easily onboard, manage their availability and rapidly integrate into your delivery teams. Over the 2019 holiday season, one customer onboarded 200 new drivers in just one week – entirely through our driver app. They effectively increased their delivery capacity during this peak season by 40%, with rapid, integrated onboarding.
Similarly, logistics providers and retailers who previously focussed on oversized deliveries are now using the Bringg Driver App to retrain or expand their driver capabilities to service the parcel delivery and grocery delivery market.
Intelligent Multi-Fleet Delivery Management
Many delivery fleets are operating at or near full capacity. As a result, delivery times for high-demand orders (e.g. groceries) must now be booked days or even weeks in advance. Automated multi-fleet dispatch and routing technology allows businesses to elastically expand their delivery capacity when demand is high, and contract their capacity as needed. These technologies offer configurable logic which automatically selects the optimal fleet for every order, based on the business's requirements.
Furthermore, we also help enterprises connect to our integrated delivery provider network. This feature allows leaders to rapidly add new delivery fleets, without needing to handle new integrations.
Customer Prioritization
When delivery demand is high, businesses must sometimes prioritize some orders over others. Technologies allow businesses to automatically prioritize specific orders based on a number of customizable criteria. This capability can be used to help and protect customers, and business performance.
For example, Amazon made the decision to prioritize orders for necessities like grocery and healthcare. In the UK, some grocers are prioritizing orders for the elderly or immunocompromised. Logistics providers and B2B distributors are prioritizing orders based on each customer's service plan, or lifetime value. Technology allows these leaders to automate these decisions, prioritizing their orders in real-time.
Middle to Last Mile Orchestration
Often, last mile delivery is dependent on middle mile fulfillment. As supply chains become increasingly critical, connected, real-time coordination of these flows from the middle mile through to the last mile has become essential. Our technology not only provides visibility into middle mile replenishment but also coordinates the entire replenishment process to improve efficiency and timely turnaround.
Similarly, some national fleets now prefer not to deliver to certain hot zones. Middle to last-mile delivery management technology allows these fleets to coordinate last-mile deliveries through contract local providers. In these flows, national and regional carriers hand-off middle mile deliveries to local carriers who can locally warehouse and deliver orders as required. Technology makes this entire flow seamless both operationally, and for the end customer.
Accelerating D2C Logistics During COVID-19
For the last few years, a number of consumer brands have initiated efforts to sell directly to end-consumers. The rise of COVID-19 accelerated this movement. Many consumer brands are now using technology to extend their geographic reach and capacity, seizing this opportunity to build direct customer relationships. These direct to consumer or DTC leaders are now improving their internal fleet efficiency through intelligent dispatch, routing and driver apps, and are increasingly engaging multi-fleet dispatch to extend their capacity and geographic reach.
Faster Deployment In The Field
In today's market, businesses cannot afford to wait months or years for new logistics technology solutions. While our standard, agile deployment model previously offered enterprises the ability to go live in just a few weeks, we are now offering an alternative approach that enables full technology deployments in just days.
By design, our modular architecture allows us to deploy off-the-shelf solutions with no additional development. In our new model, once the initial technology is deployed, we continue to work closely with each customer to further integrate, customize and adapt their technology to further improve their performance.
The Bottom Line
The team at Bringg is here to help delivery and technology solutions to help you rapidly improve your delivery and logistics. This is not just a short term investment, it is an opportunity to win in the turns. The changes we are seeing in the market today will not disappear when this crisis passes. Customer behavior is changing. Leaders that can meet their customer's needs when they need it most, will be those most ready to take charge the morning after this crisis passes.
---