Coronavirus is accelerating the adoption of online delivery and pickup, and businesses are urgently trying to scale to keep up. In one survey from early March, 19% of surveyed U.S. consumers said they are ordering groceries for in-store pickup (click and collect) more than before, and 18% said they are ordering for curbside pickup more often than they did prior to the Coronavirus.
But whether you're an established restaurant chain expanding delivery and drive-thru, or a retail brand launching curbside pickup, deploying eCommerce fulfillment is not simple. Not all retail locations have the parking space or staff to cope with the surge in demand. Customers too, have high expectations for timely, convenient pickup.
Here are a few ways enterprise retailers, grocery and restaurateurs are using our technology to improve their eCommerce fulfillment.
Automated, intelligent flows for pickup operations
Automated pickup scheduling and quotes:
Allow customers to pick their preferred pickup location and time during checkout, based on the business's real-time availability. If there are no available slots at the location or it's currently fulfilling to capacity, you can even suggest nearby alternative locations. (This is a very common approach when scheduling grocery pickup.)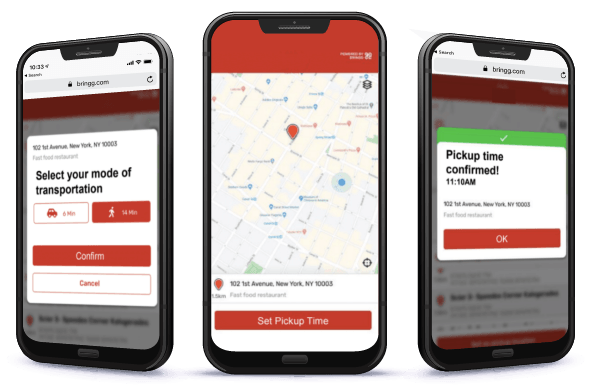 For restaurants, where order lead times are shorter than grocery, we use intelligent scheduling to estimate how long it will take customers to arrive, based on their mode of transportation and start location.
For example, if someone orders online and sets a pickup time, they can either select an exact time of arrival, or say they are coming by car (for example). Bringg uses data modelling to project that it'll take them 18 minutes to arrive by foot and 5 by car. That information will be used to time the order preparation with their arrival (keep reading to find out more).
eCommerce, Marketplace and POS integrations
We integrate directly into eCommerce providers and major marketplaces. This means that your customers can order anywhere, and the order is synced directly to your retail POS or picking software for full visibility and seamless fulfillment.
Just-in-Time Prep App for Kitchens
Restaurants have a unique challenge when it comes to Drive Thru and click & collect.
If the food is prepared too early, it won't be fresh when the customer arrives. Prepare it too late, and the customer will be forced to wait, possibly holding up other customers as well.
In either case, these inefficiencies limit your productive capacity, taking up valuable kitchen time, parking space and cluttering prep and staging areas.
Bringg's Delivery Prep App tracks customer arrival progress in real time and uses Machine Learning to optimize the predicted pickup time. Orders are automatically fired so that they will be ready seconds before the customer arrives, ensuring the highest food quality, efficiency in the kitchen, and customer experience.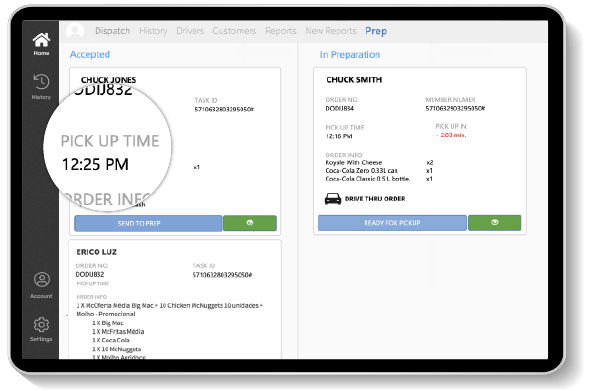 Meanwhile, customers can use Bringg's Customer Experience App to check their route to the restaurant, and get live updates on when their order will be ready.
Bringg's Store App: Easy order assignment, pickup and collection for customers and delivery staff.
Your customers can choose where and when they want to pick up orders during checkout. The Bringg Store App makes sure your retail is ready to deliver every order to every inbound customer or driver.
This way, you can reduce your customer's waiting time by coordinating fulfillment and pickup flows in real-time.
On the retail side, staff use Bringg's Store app to monitor and prepare upcoming orders, tracking customers and delivery drivers as they approach the store.
When customers place their order, Bringg sends them an order confirmation messaging, including a link to a Customer Experience app. This app allows customers to track their order status and provides a Pickup ID which they will use to collect their order.
The Store App notifies staff as customers arrive, so their orders are ready to be handed over – either in the store, or as a curbside pickup. Orders are clearly marked with a unique color as well as the Pickup ID, making it easy for staff to identify the correct order and validate its contents before handing it over to the customer.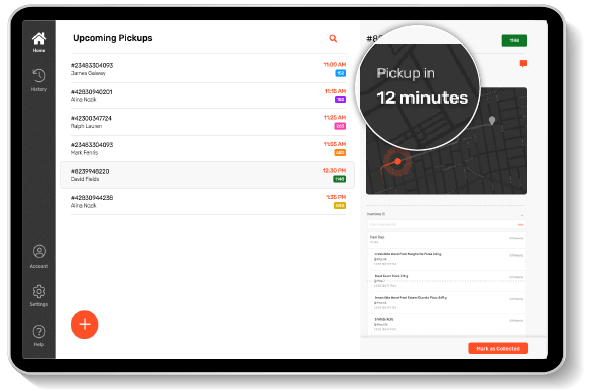 Logistics BI
Every business is different. That's why tracking and measuring every step of your performance is so critical: It helps you understand what works or doesn't work for your eCommerce fulfillment operations, and how to improve results by acting on that information.
Bringg's Logistics BI dashboards and reports help operational teams track results on the individual store and inventory level, while helping executives see the big picture trends and better align resources.
Want to learn more? Join our webinar, Practical Strategies for Scaling Online Pickup and Delivery