In 1940, Dick McDonald's Speedee Service System improved kitchen speed, efficiency, consistency and quality. Eighty years later, growing demands for off-premise dining are once again changing the way restaurants manage their kitchens.
Kitchens that are purpose-built for on-premise dining are not optimized for off-premise orders. On-premise diners are present and ready to pick up their food the moment it is ready. As a result, they enjoy their food the way it was intended. In contrast, off-premise orders are prepared before the customer or delivery driver even arrives. When orders are prepared too early, the food degrades in quality while orders clog retail staging areas. On the other hand, when orders are prepared too late, delivery drivers or pickup customers arrive before the food is ready and clog the retail, curbside and drive thu spaces. This results in a poor guest experience.
This insight led to the creation of the Bringg Prep App. This intuitive web application synchronizes with Bringg's backend systems to ensure that orders are ready for pickup just moments before the customer or delivery driver arrives. How does this work? Let's take a peek under the hood.
Tracking Inbound Drivers and Customers
The first step is to determine each driver and customer's real-time ETA. This requires determining each driver's location and calculating their projected arrival time.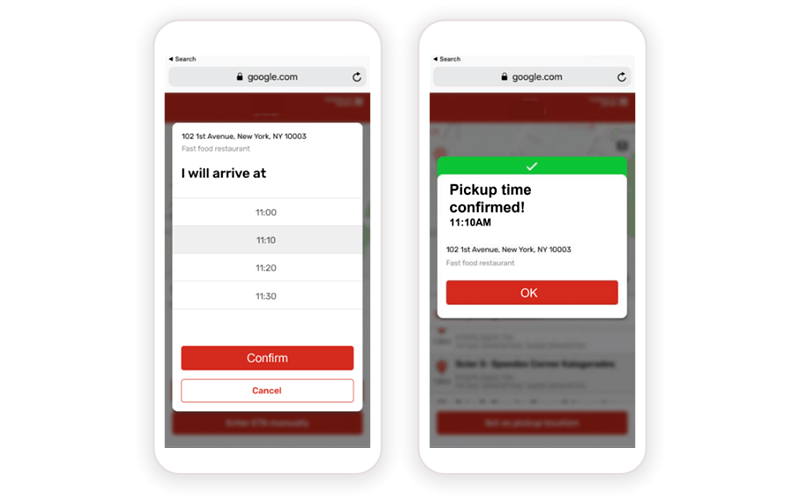 For delivery drivers on the Bringg platform, Bringg's Driver App or SDK report their location and progress so Bringg can calculate their real-time ETA. Similarly, Bringg's customer tracking SDK reports each inbound customer's real-time progress and ETA. For delivery drivers using other technology platforms, Bringg syncs with their backend technology to determine their location and ETA, as available. When real-time ETA data is not available, such as when customers elect not to share their location information, the system defaults to the planned pickup time.
Determining Order Prep Time
The next step is to determine how long each order will take to prepare. This can be pre-set as a universal rule (5 minutes per order), configured based on the order inventory, or automatically determined using machine learning.
Sending Orders for Prep Right On-Time
The Prep App monitors the inbound pickup timing, and combines this with the order prep timing to determine when preparation for each order should begin. This real-time visibility and operational coordination ensures that orders are ready for pickup just moments before they are needed, improving operational efficiency and food quality.

Managing and Measuring Kitchen Activity
In addition to providing retail and kitchen teams with visibility into customer and driver arrival times, the Prep App provides kitchen teams with an intuitive interface for managing order preparation. This customizable interface allows kitchen staff to easily navigate order information, moving each order to the next stage in the process when prep begins and as it is completed.
In the backend, the Prep App monitors order progress, providing both management and customers with insight into order progress. For example, customers can be notified when their order prep begins. BI dashboards provide management with insights into their kitchen efficiency and off-premise operational timing, so they can identify and address issues. Similarly, leaders can compare dwell time with customer loyalty and ratings to determine the impact of order timing on customer satisfaction.
See: 10 Ways Tech Improves Off-Premise Customer Experiences
The rise of off-premise dining presents restaurant leaders with a number of opportunities and challenges. One of the most fundamental and sometimes overlooked operational and logistical imperatives is to integrate kitchen operations into off-premise logistical flows. Providing kitchen staff with the right tools and visibility improves kitchen efficiency, internal fleet performance, food quality and the guest experience.
Learn more about Bringg's technology for off-premise delivery, drive thru and curbside pickup.
---