It's never been easier for food companies to reach their customers. Restaurant delivery has grown 20% in the last five years; while estimates differ, online food delivery sales are estimated to grow as high as $220 billion by 2023 – 40% of total restaurant sales. As for 0nline grocery, Deutsche Bank estimates that the $24 billion online grocery market will surge to 120$ billion by 2025.
This hypergrowth may have been accelerated by the global impact of the Covid-19 pandemic, but what enabled its success is the (relatively) recent proliferation of delivery models and fleet types: same hour, same day and next day delivery; single fleet, multi-fleet, crowdsourced fleets and in-house fleets; deliver from store, curbside pickup, delivery from robotic warehouses, and so many others.
With all this opportunity comes no small amount of competition, and restaurants, grocers and other food providers must stay abreast of where the market is going.
Based on data from the field and forecasts by industry experts, here are six major trends that are shaping food delivery and will continue to do so for the next couple of years:
Top food delivery trends to expect in 2022:
Increased third party delivery
In-house restaurant delivery fleets
Prioritizing delivery data tracking
Tech giants moving in on food delivery
Rapid online grocery growth
A rise in food delivery subscriptions
Third-Party Delivery
Third-party delivery continues to grow as its usage increases across the restaurant and grocery industries.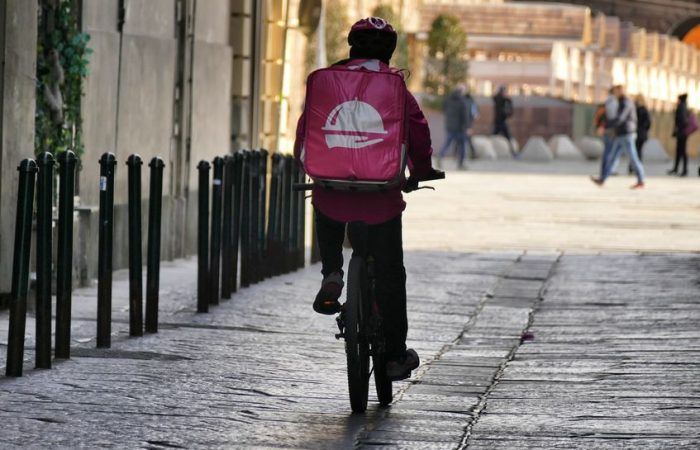 Restaurant chains are increasingly partnering with multiple third party fleets in order to expand their delivery footprint across all their stores and at all times of day.
While this tactic expands the chains's geographic reach and pool of potential customers, it also means that a significant chunk of their delivery operations are not under their control anymore. Some food companies are mitigating this by using owned online sites for ordering, but then using delivery as a service (DaaS) providers to perform the actual delivery.
Food delivery management software provides them with much-needed visibility and control over their delivery operations and KPIs, even for data that originated with third parties.
In the U.S. grocery market, Instacart still has a fairly strong hold on delivery services, although competing providers are slowly encroaching on Instacart's, well, cart.
With grocers increasingly aware of the risks of single-provider deliveries, expect to see more grocers move to using multiple DaaS fleets, and managing their delivery operations in-house with the use of food delivery management software.
In-House Restaurant Delivery Fleets
Some companies are taking a completely different approach to the one described above by doing something fairly radical: building in-house delivery fleets.
Panera launched its in-house delivery operation back in 2016, bucking the trend at the time. Today, it's one of the few restaurant chains that doesn't hand over a large chunk of its delivery revenue to third party providers.
Today companies like Chick-fil-A are exploring in-house delivery and the great benefits it offers such as full visibility and control over customer data and branding. To smoothly manage these operations in-house, restaurants need delivery dispatch software, which uses automation to assign drivers to each order.
When delivery happens at scale, with tens of thousands of orders each day (or more), the logistics behind it become increasingly complex, which is why chains managing delivery across multiple restaurants get the most value out of using delivery management software systems.
Tracking Delivery Data
With such a large part of the delivery flow in the hands of third parties, it's not surprising food providers are turning to data collection and analysis to better understand their delivery operations.
In April 2019, McDonalds spent $300 million to acquire a big data startup. The multi-billion-dollar conglomerate understood that the best way to stay ahead of the competition is to measure, analyze, and improve your performance.
Having these insights into your own delivery operations is invaluable and the benefits stretch across everything from relations with external fleets and aggregators, to providing flawless deliveries, to enabling other arms of your business, like customer care, marketing and branding.
Trend: Tech Giants Moving in on Food Delivery
Back in 2017, Amazon made waves when it acquired Whole Foods in an attempt to take on the grocery market. Then Uber Eats came in with a platform for grocery and restaurant delivery.
Google began to enable food ordering and delivery directly from Search and Maps. Partner restaurants will have orders integrated into the search and map functions, enabling people to order directly from the search results page. Deliveries will be fulfilled by the same fleets currently used by the restaurants.
Now that a great percent of revenue for food businesses is invested in online sales and off-premise fulfillment like delivery, curbside pickup and drive-thru, we expect this trend will only grow as tech giants step in with investments, marketplaces, and new services.
Online Grocery Delivery is Growing Rapidly
Online grocery sales – and subsequently grocery delivery – skyrocketed thanks to the global pandemic.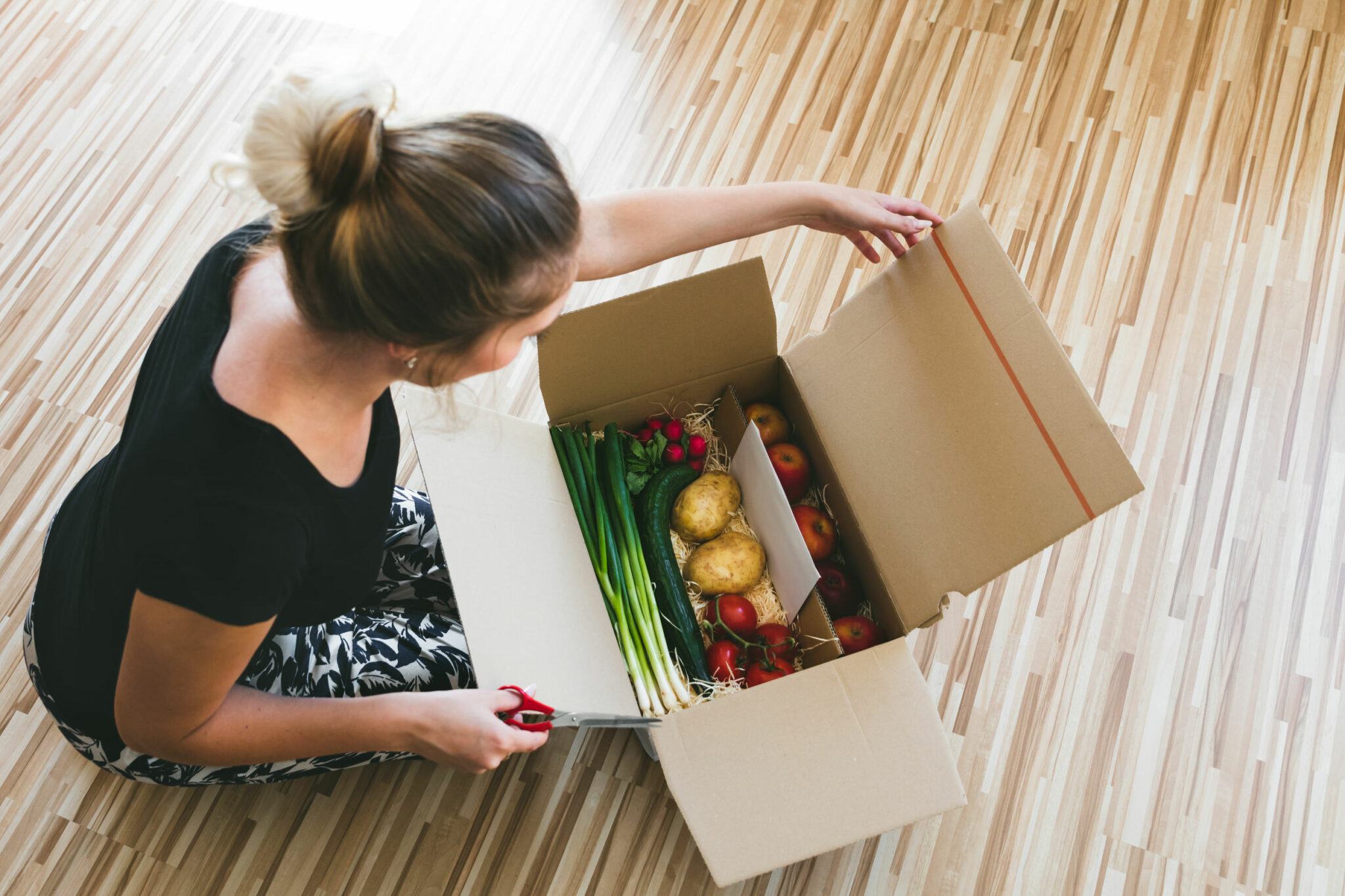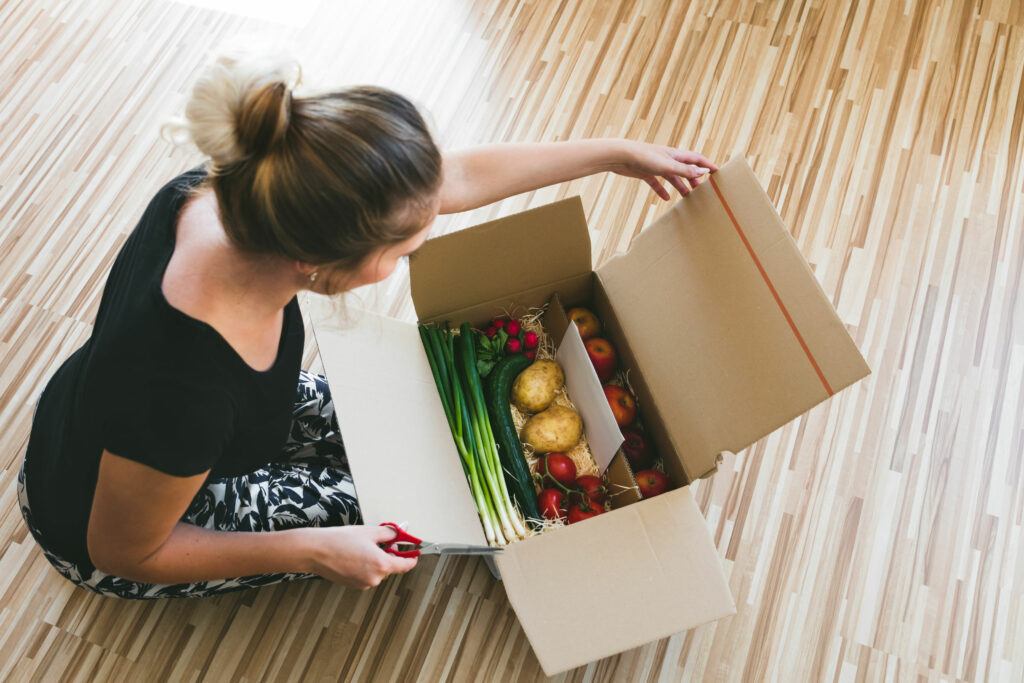 For grocers looking to scale up their delivery operations and maintain customer loyalty with new fulfillment experiences, the biggest challenge will be overcoming the strongest players in online grocery. It won't be easy, as most businesses in this traditional market have zero delivery automation, and often rely on a single delivery provider to reach their customers.
However, there's good news: besides their existing customer relationship, brick-and-mortar grocers can offer competitive SLAs by using their neighborhood stores as fulfillment centers.
Larger chains can also open dark supermarkets in urban locations to reach customers more quickly, and create convenient fulfillment options like Buy Online, Pickup In Store.
However it happens, online grocery delivery is inevitable: customers are demanding more convenience and control over how and when they order groceries, and grocers are bound to want the business growth that on-demand grocery delivery can provide
Download Now: Building Successful Grocery Delivery Operations in an Omnichannel World
It will be interesting to see which grocers emerge as strong players in the delivery market this year.
Trends in Food Delivery Subscription
The trend of delivery subscriptions has found a perfect match in both specialized online food delivery and the millennial generation. Roughly speaking, people born between the early 1980's and mid-2000's are the largest age demographic in the U.S. and are driving massive changes in the food delivery industry.
Millenials are the first generation that would rather stay in than go out, and that often translates to dining in with a customized meal kit delivered to their door. Pre-prepared fresh meals, menu kits with raw ingredients, and other home food kits that save customers time are top draws for the 55% of millenials that prioritize convenience over even taste, according to the Food Information Council.
These subscription boxes also cater to consumers interested in trying new or different cuisines, something that the booming food market has enabled. Add to this the rising number of consumers looking for vegan, organic, no-gluten, paleo or ethically-sourced food, and you'll understand the continued growth of specialized food subscriptions.
With online orders growing at a faster pace than ever, food operators have an unprecedented opportunity to increase profit margins and customer reach. The challenge will be to balance the customer demand for fast, convenient and transparent delivery with the logistical complexity and expenses required to meet these demands.
People also asked:
Is food delivery an industry?
Yes. Food delivery is a fast-growing industry. The advent of food delivery apps has increased the speed and accessibility of obtaining your favorite foods. Now you can order your favorite food from the restaurant downtown and have it delivered to your front door.

In addition, online delivery platforms are also increasing customers' convenience and choice by offering tempting discounts and deals. With a mere tap on the app, customers may order from any restaurant.
According to a global market report on online food delivery services, this market is set to expand to 154.34 billion USD by 2023. In the United States, the food delivery industry is driven by high-income earners who don't get time to cook meals at home and hectic work schedules. 
How big is the food delivery industry?
In the United States, the food delivery industry reached 18.5 billion USD in 2020. By the year 2026, this figure is expected to hit 33.7 billion USD, at a continued annual growth rate (CAGR) of 10.5%. This growth is bolstered by user-friendly apps, growth in urban areas, and innovations in food delivery services, i.e. use of drones, robots, and self-driving cars. 
Will food delivery grow?
It has become a lot simpler to order your favorite dishes from restaurants. In the past five years, restaurant deliveries have bloomed by 20%. In addition, sales of online food delivery will grow to $220 billion by the year 2023. This will account for nearly 40% of restaurant sales. Yes. Food deliveries will continue to grow.