How does shipping large packages work – and can it be profitable for retailers and logistics companies?
In the past, oversized package shipping was rare and limited to a few retailers or products. Today, purchasing large items online has become commonplace, making the demand for shipping large items spike. This includes items such as mattresses in a box, furniture, even cars!
The problem? Shipping large and oversized packages isn't cheap, and it isn't easy. However, with consumers purchasing more large or heavy products online, being able to ship heavy items is becoming necessary for many shippers' ecommerce fulfillment strategy.
We've listed some of the ways to make it easier for businesses to manage large packaging shipping efficiently and cost-effectively.
Read on for our top tips.
Note: Shipping large items entails multiple stages across first, middle and last miles. This article focuses on best practices for shipping large or oversized items over last mile delivery.
Oversized package shipping, explained
Large package shipping is the process of shipping an exceptionally large package that contains something big and often heavy. This could be an appliance, furniture, or another item whose length and girth exceed standard dimensions.
Each carrier defines large packages in their own way.
DHL groups packages into standard, large and extra large shipments. Large is defined as 35-44lbs. with maximum dimensions of 25in*25in*25in. Extra large is defined as 46-55 lbs.with dimensions of 27.5in*27.5in*27.5in. There are ways to bring down payment for these packages such as pre-paying, sending multiple at once and even dropping off parcels when possible. Domestic and international freight shipping is also available for oversize and overweight cargo.
Fedex groups shipments into oversized vs. freight shipping. Oversized packages are those that have a girth of more than 165 inches or are heavier than 150 lbs.
Sending oversized packages can get complicated and requires a level of expertise. Many companies that ship large packages today include oversized shipping fees in their prices, which can quickly add up.
With the rise in online shipping for these types of items, companies now need to figure out the cheapest way to ship large items, how to provide the best shipping experience for their customers, and how to make sure each oversized box or package is delivered on time – and undamaged – to its final destination.
Challenges
Shipping items of large dimensional weight and height requires a large amount of coordination, and special considerations.
Here are some of the top challenges in shipping oversized packages:
Expensive resources lead to high shipping costs
When you ship large boxes or packages, specialized drivers, vehicles, and more are required. This is different than when small packages are involved because you can stuff a large number of them in any truck, no matter its shape or capacity. When dealing with large packages, there's often a need to involve more specialized delivery vehicles, both in terms of their size as well as more specialized vehicles (such as temperature-controlled).
Not only do the vehicles have to match the large package, but so do the drivers and service techs that are delivering the items. In many cases, shipping large boxes and packages will include "white-glove" services including special handling, assembly, installation, over-the-threshold delivery, and more. Depending on the item, this may require special licensing or training for the service tech, driving the price up.
Large packages lead to longer time on site
There's no getting around it, delivering an oversized package takes time (and often a lot of energy!). That means that the delivery person will be on-site for longer than your simple drop-off of a small item.
White glove delivery services are often needed when delivering an oversized package or box. This VIP shipping service means that the delivery technicians may need to handle the package with additional care. This, combined with common premium services like over-the-threshhold delivery, assembly and installation, naturally lead to a longer time on site – even if they do present opportunities for greater customer experiences and a more valuable delivery.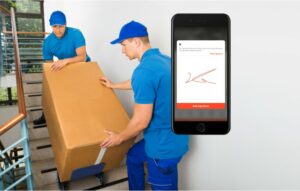 The need for technology
In order to ship large boxes, logistics companies need high levels of coordination with the customer. The delivery window must be accurate and they must guarantee that the customer is home in order to receive their oversized package, appliance, furniture, or whatever they've ordered from the shipping carrier.
Accurately scheduling a shipment for delivery, too, is critical, as the item typically needs to be brought inside the home or office and therefore the customer must be there.
For these reasons and more, shipping oversized packages efficiently may require integrating new logistics software solutions into the delivery process.
Failed deliveries are common with oversized packages
Large packages can create…large problems. Oversized packages require a high level of coordination between the seller, shipper, and end customer. Given the longer loading time and larger vehicles required for shipping, these items may require longer transit times as well. Also, unlike small parcel shipping, large packages almost always require scheduling with fixed windows. These factors can lead to a high number of failed delivery attempts in oversized shipping.
Customer demands
Large packages are often expensive and important items for the recipient. If you ship items that are valuable, you're going to be particularly anxious about the shipping process and want as much visibility into the order's location as possible, from the moment the order is out for delivery until it reaches you.
These high customer demands mean that you'll have to ship oversize items with extreme attention to detail, making sure that the customer has a great experience from the moment of purchase until the item is placed safely in his/her home.
To ship large packages requires coordinated delivery efforts, white-glove services, as well as customization in many cases. Shippers and logistics companies must keep the customer in mind throughout the entire shipping process.
Getting the market used to buying oversized items online
Once, buying a mattress or even a car online was essentially unheard of. The trend of buying bigger and higher-ticket items has picked up pace in recent years, with the COVID pandemic boosting it forward substantially, as people spend discretionary income on home improvement in place of vacations and other travel costs.
In order for people to feel comfortable buying these products online, businesses have to assure the market that they can ship any package well, on time, and in an efficient manner – regardless of size.
How to ship large packages better, cheaper, and faster
The best way to ship large items is to focus on ensuring quality and reducing costs, without compromising on efficiency.
5 tips to ship large items cost effectively:
Shop for the best providers
Use LTL freight shipping
Use a 3pl or fleets with digitized services
Incentivize shoppers to choose cost-effective shipping
Evaluate packaging requirements
1. Shop around for the best providers
Not all delivery providers are created equal. When you're looking for a delivery provider, it's critical to compare shipping costs in order to find the cheapest way to ship. But don't forget, this isn't only about the shipping costs. The best delivery provider could be the postal service, UPS ground, or another carrier, based on who provides the best pricing, speed, freight shipping options, over-the-threshold delivery, and much more.
This means that one service provider might be best for freight shipping, others may be better within certain weight limits, and others might give the most accurate estimated shipping costs. Depending on what is most critical for your company, you can decide which provider will ship to which markets and which customers.
In the end, only you know what is truly important for your company and therefore you should choose a delivery provider accordingly.
TIP: Using multiple delivery providers
Compare the shipping costs between last mile carriers and fleets, the speed and accuracy that they deliver with, and other parts of your agreement. Integrate tools to measure and track performance so you can objectively understand who works best including when and where
2. Use an LTL freight carrier
If you don't have enough packages to take up an entire truckload, consider using an LTL freight carrier for your freight shipping.
An LTL (less than truckload) carrier is meant for shippers that can't fill up an entire truck with their packages. While often used for a small package delivery network, this can also be relevant for shipping large goods and boxes. This shipping method can save money, increase security, and give you a different way to ship oversized items.
With an LTL you can ship multiple packages or potentially even just one. Most LTLs do have weight limits and therefore it's important to check that your package weighs accordingly.
3. Work with fleets or 3pls with digitized operations and services
We've already discussed how technology is critical when it comes to oversized shipments. When you choose the 3pl logistics provider or carrier that you'll be working with, this is something important to keep in mind.
Shipping heavy items is tricky, and doing things manually simply doesn't work.
This is important for any shipper, no matter the actual weight or size of the package. Technology such as 3d loading and real-time visibility on all inbound and outbound logistics operations allows 3pls and logistics providers to dispatch intelligently while using route optimization software to ensure fast, on-time delivery no matter the package sizes.
In the long run, investing in reputable delivery and fulfillment providers that use the best technology, will save you money, allowing you to provide discounted rates and shorter delivery times, leading to happy, committed customers!
4. Incentivize shoppers to choose the most cost-effective shipping methods
Not all consumers need their package to arrive immediately. In fact, many will choose savings over receiving a more costly express package. This means that they may choose shipping via a standard courier service – such as the postal service or UPS ground shipping – as opposed to express delivery within 3 hours.
When it comes to shipping large items, it's a good idea to give your customers a reason to choose cost-effective shipping methods, especially during peak annual shipping times. This will save you, and them, on the shipping cost.
The best way to incentivize customers to choose low-cost shipping for a large box or package:
Make sure these options are free. Customers often prefer the cheapest way to ship, especially when it comes to large or heavy packages as they can often be particularly expensive.
Make low-cost shipping the convenient delivery option. Provide customer-centric services such as self-scheduling. This will allow customers to choose the most convenient time to receive the large package. This is important as these items often require assembly or installation
5. Evaluate your packaging
Large items can be difficult to package. This is especially true if you ship fragile items or items that can be easily scratched or dented.
When looking for the cheapest way to ship large items, make sure to evaluate your packaging and understand if there is anything you can cut out of the process to make your package smaller and weigh less. At the same time, it's important not to remove necessary packaging, as a damaged box can cost you even more in the long run.
The best way to ship large packages with ease
Shipping large items and packages may seem daunting at first. But today, it's possible with just a couple of adjustments to your shipping process and working with the right last mile carriers.
Bringg's last mile solutions help create efficient and cost-effective processes for shipping oversized items at scale. Explore our fleet and driver management applications, a hub of third party delivery providers, and a suite of solutions covering small and big box shipment to bring down your shipping costs and provide the ultimate experience for your customers.