PUDO might not mean much to most people, but it could be the answer to some of the most common problems bothering consumers.
Even with advanced route optimization software helping businesses substantially reduce delivery drop windows, recipients can't always be present for deliveries and service appointments. Roughly 5% of all deliveries don't arrive on the first attempt, with each missed delivery costing retailers on average nearly $18.
Factor in how failed service appointments take an average of 4.5 days to reschedule, as well, and these failed attempts substantially increase costs. This is exactly where alternative collection and drop off options can step in and make a critical difference to your ecommerce fulfillment and returns process.
What does pick up and drop off (PUDO) mean?
Alternative Pick Up and Drop Off, often shortened to PUDO, is a designated location where customers can come to collect parcels, and drop off items as part of the returns process. Typical drop off and collection sites include lockers accessible by PIN codes, as well as local stores and retailers.
Why redirect to PUDO?
By sending packages to a wide network of locations, retailers and logistics providers are able to batch numerous orders together, drop items off faster, and store them safely until collection. The meaning for consumers is lower average wait times than if orders were sent directly to the door. It also means that people can collect or drop off packages at convenient places already on their daily commute, near their home, while going to school, or even when doing their weekly grocery shopping.
Another advantage is that packages aren't left outside, where the elements may damage the contents, or other people may take them without permission. Consequently, the alternative collection and drop off model offers consumers a balance between speed and peace of mind.
Returns
When it comes to returns, the process is slightly different: Consumers are typically sent a pre-printed label to affix to the original package, and after booking a drop off return via the courier or the retailer, they can then either leave their package at a designated store counter, or can drop off in a locker for collection.
Consumers need flexibility
The upshot here is that rather than wait at home or the office for a collection to take place sometime in a designated window of time on a given day, or going to drop off their item at a specific store, consumers are given the flexibility to select the drop off point that works for them, and go there whenever suits their schedule.
Another benefit is that when the returns point is located inside a brick-and-mortar store, the customer does not need to commit to a particular time, and instead can just drop in and drop off when convenient for them. Whenever they do come in, their package's return label will be scanned and verified by a member of staff. After drop off, as far the customer is concerned, the rest will take care of itself.
Choices make the difference
Choices are key when it comes to PUDO. When consumers are given only a few collection and drop off locations, it may be that none of them are particularly convenient for them. But when they are able to select from a wider number, then the chances that one of them might fit into their schedule increase significantly.
Factoring in the decline of local post offices, it's even clearer why consumers value collection and drop off locations. With the United States postal service closing offices in fringe locations in rural settings, and an average of two post offices in Britain being closed each week, consumers increasingly seek alternative ways of receiving orders.
Benefits for retailers, couriers
Spreading resources more evenly reduces overall stress. Retail fulfillment will become even more localized as organizations and couriers will continue to leverage multiple sites to fulfill orders and reduce time to delivery.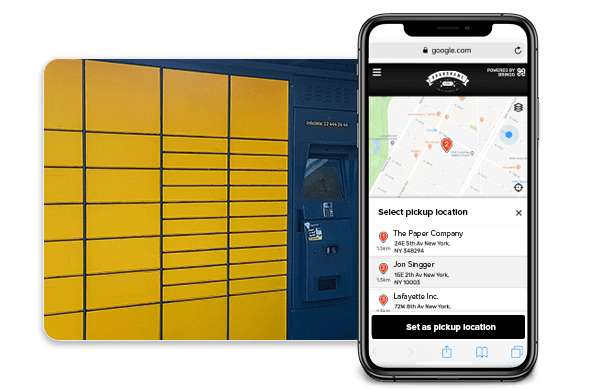 Lockers are the way ahead
With 20%+ of all ecommerce orders being returned, logistics providers are looking to include diverse options, including secure drop off and collection lockers in places such as gas stations, and face-to-face service at convenience stores, local shops, supermarkets, and nearby branches of major retailers. 
The practice has exploded in recent years. For example, one recent industry report identified more than 2.4m parcel and locker locations worldwide, including post offices. In the US alone, the smart locker market is expected to grow from $677 million in 2021 to $1,644 million by 2028.
Driving growth is the convenience of drop off and collection lockers, with over 78% of respondents in one US consumer survey finding them at least somewhat useful. And in the UK, parcel locker manufacturer InPost has forged diverse partnerships and placed lockers in transport hubs, shopping centers and supermarkets, in a bid to fit PUDO into consumers' daily routes.
8 advantages of redirecting orders to alternative pickup or dropoff points (PUDOs):
Eliminate the cost of missed pickup or failed delivery attempts

Reduce expenses by delivering orders from multiple customers to a single location

Eliminate customer frustration from missed or delayed deliveries

Provide end-customers more flexible, convenient delivery options

Streamlined, swift returns for e-commerce retail to make the customer experience stress-free

Cut out delivery exceptions

Potentially reduce the number of delivery drops per truck, thereby increasing efficiency

Reduce carbon emissions by batch delivering to hubs rather than to numerous addresses
Offering The Right Alternative PUDO Options
There are numerous variables for deciding which drop off and collection sites will be offered to each customer, including:
Distance: Display all alternative or PUDO locations within a given radius (e.g. 3 miles) of the customer's location.
Number of locations: Display the 5 sites closest to the original destination address.
Distance and number of locations: Display the 5 sites within a 3 mile radius of the original pickup location.
By redirecting potential missed deliveries, businesses can easily offer better customer experiences – and reduce the heavy cost of missed deliveries.
How PUDO can deliver better fulfillment experiences
For the consumer, drop off and collection networks offer a local, convenient and secure way to collect or drop off items without all the waiting at home, instead being able to work their collection or return into their daily schedule.
For retailers and couriers, reducing last mile delivery costs by eliminating failed attempts to deliver items, instead batch-delivering them to familiar hubs, is a real boon.
PUDO is becoming increasingly prominent in today's world, so it's important for retailers and logistics providers don't drop the ball and plan properly in order to maximize this fulfillment method to meet modern customer expectations.
Frequently asked questions
Can I track a PUDO parcel?
PUDO parcels can be tracked the same way as other parcels that are out for delivery using real time tracking software services.
What is PUDO Shipping
PUDO is a fulfillment and returns method whereby customers come to a designated site to collect items, or leave them as part of the returns process. Services are often provided by local stores, supermarkets, high street retailers, and smart lockers accessible by PIN codes.