Competition in today's grocery market is like a marathon: the strongest contenders tap into their reserved resources to get ahead, while the other runners burn out. The latest example: Amazon eliminated the $14.99 grocery fee for Prime members, three months after Walmart served up free delivery for a $98 annual subscription fee.
With the industry leaders competing for marketshare, keeping your customers happy is an imperative for all grocery retailers. And that's not going to happen unless grocers start investing in controlling their future.
And that starts with better eCommerce fulfillment.
The logic behind Amazon's bet
Amazon, Walmart and Target – the third giant in this space – are going head-to-head for top level market share nationally, and are looking to take it from large incumbent retailers like Krogers, Albertsons and Publix.
In the process of going all in, these companies are operating delivery at a loss. They're placing a bet on fast, free delivery and are willing to lose money on it in order to gain market share.
It's a strategic bid – and it works, which is why the're repeating it in Grocery.
The problem is that most retailers can't replicate this strategy. Amazon and Walmart can afford to deliver at a loss, because they have the scale and scope to do it.
Not having spent the last few years investing in their ecommerce offering, and without Amazon's level of ownership over the supply chain, everyone else is left vulnerable.
Without complete visibility and control over your delivery supply chain, it's impossible to offer the same level of convenience as the market leaders, let alone make it profitable.
So if you're a grocer, what can you do?
The good news is, it's not too late to apply the same principles as Amazon and Walmart: meet your customers where they are with good ecommerce and fast, convenient delivery services.
How to stay relevant: fast, convenient delivery
Amazon has made it clear: great delivery is a means to happy customers who are willing to pay for better services. Grocers, already working on razor-thin margins, are wary of adding on further costs, including tech solutions. But while the economics are important, making and keeping your customers happy – and developing the services to make that happen – is a time-sensitive imperative.
Changing that will not be easy – but it needs to happen, fast. Once-loyal customers are abandoning ship because traditional retailers can't keep up with the reality of ecommerce and delivery.
To offer immediate delivery at an attractive price point, grocers must embrace a new generation of enabling technology.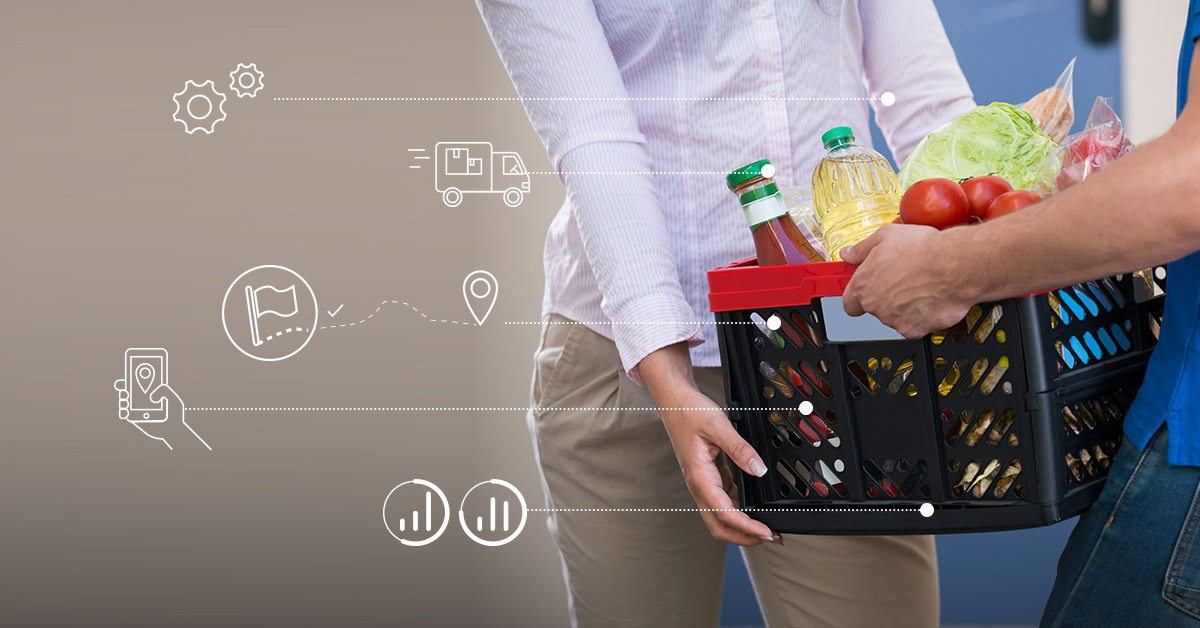 There are two ways that grocers manage fast delivery: handing it off to a third party provider like Instacart, or trying to coordinate it all yourself.
The first option – using a single provider – , while readily available, has its limitations. The second option – managing delivery in-house – is extremely complicated, demanding significant operational and strategic support at scale. That level of operational and structure change needs to be supported by technology.
Offer convenience, profitably
Convenience for grocery shoppers can take the form of time (same-day delivery) and choice (click and collect, home delivery, etc.). Those capabilities need to be supported by total visibility and control over your supply chain: knowing where inventory, drivers and other resources are at all times, and successfully orchestrate the complex logistics behind same-day grocery delivery.
Grocers need solutions both to offer convenient fulfillment options, and to run them efficiently and cost-effectively.
The first step is to implement robust solutions that sync all of your resources and help coordinate the entire delivery flow. The next is optimizing efficiency, to ensure that you can offer these services profitable, and at a reasonable price point.
Orchestration Platforms help in two ways:
Connect and Digitize – use platforms that digitize and sync all the data across your supply chain in order to give customers more choices, and offer more accurate delivery quotes and windows.
Optimize and Automate – By streamlining operations, you'll be able to offer the speed and convenience customers want, at a price point that works for both of you.
Controlling your company's future
Delivery is the strategic imperative facing grocers today. Amazon and Walmart have written it on the wall: Land grocery delivery, and you'll gain market share and customers.
You don't need to be an Amazon to pull off convenient grocery services. You do, however, need the operational insight and control to support more flexible, efficient delivery options. And you'll need the technological capabilities to make that speed and efficiency consistent when applied at scale.
Want to learn more about developing fast, profitable delivery? Download our free guide, The Secrets to Successful Grocery Delivery.
---