With efficiency a major priority for businesses and their customers in 2019, retailers and brands are continuously exploring alternative business models in search of a solution that satisfies customer demands while optimizing every stage of the order fulfilment process. As a result, dropshipping has become an increasingly popular business model, enabling ecommerce businesses to sell and ship products they don't own or stock, or hand over the logistics of delivery entirely to the manufacturer, which lowers overhead and reduces the need for warehouses.
But is this unique business model right for your business?
To accurately evaluate dropshipping logistics, retailers and other businesses should carefully weigh the pros and cons of dropshipping compared to more traditional methods.
How do the logistics of dropshipping work?
Starting a dropshipping business, or adding that as a shipping option, isn't always the right choice for everyone. There are significant tradeoffs between dropshipping and traditional wholesaling, so it's important to understand all the pros and cons.
Dropshipping relies on suppliers (wholesalers or manufacturers) that produce, store and ship goods to customers on your behalf. In principle, the dropshipper becomes the selling gateway between wholesalers and consumers. The process is simple: you receive an order and forward it to your supplier, who in turn manages the fulfillment process, up to and including the moment when the order reaches the customer.
The advantages of dropshipping for retailers
From low startup costs to low cost of inventory, there are many advantages to dropshipping that can make it an attractive business model.
Low Setup and Operating Costs
Stocking a warehouse requires a tremendous amount of capital. By using drop shipping you can eliminate the risk of going into debt due to stocking expenditures. 53% of manufacturers have seen their margins increase with drop shipping, while retailers have reported a 50% reduction in costs, due to having a large online customer base with none of the costs required to maintain goods in a warehouse or store. In addition, without the need to first purchase inventory, retailers can start selling products more quickly.
The cost of buying and storing inventory is one of the largest expenses, regardless of whether you buy or rent warehouse space. Drop shipping allows you to avoid this outlay, as well as other potential issues such as excess inventory or too little stock. In addition, while order fulfillment usually requires you to handle all aspects of storing and shipping goods, including both inbound and outbound logistics processes, drop shipping allows you to outsource the delivery fulfillment flow to a third party. This means that you can focus more on growing your customer base and brand.
No inventory storage = Greater flexibility
Since dropshipping eliminates the constraints of physical inventory and the costs associated with it, it gives retailers greater flexibility to update inventory more quickly, more easily and at a lower cost.
Furthermore, if you identify a product that is selling well for another retailer, you can immediately offer it to your customers and test new items, without the risk of carrying obsolete inventory – as you typically only pay for what you sell.
The disadvantages of dropshipping logistics
Dropshipping also has some disadvantages which everyone considering this model should be aware of from the start.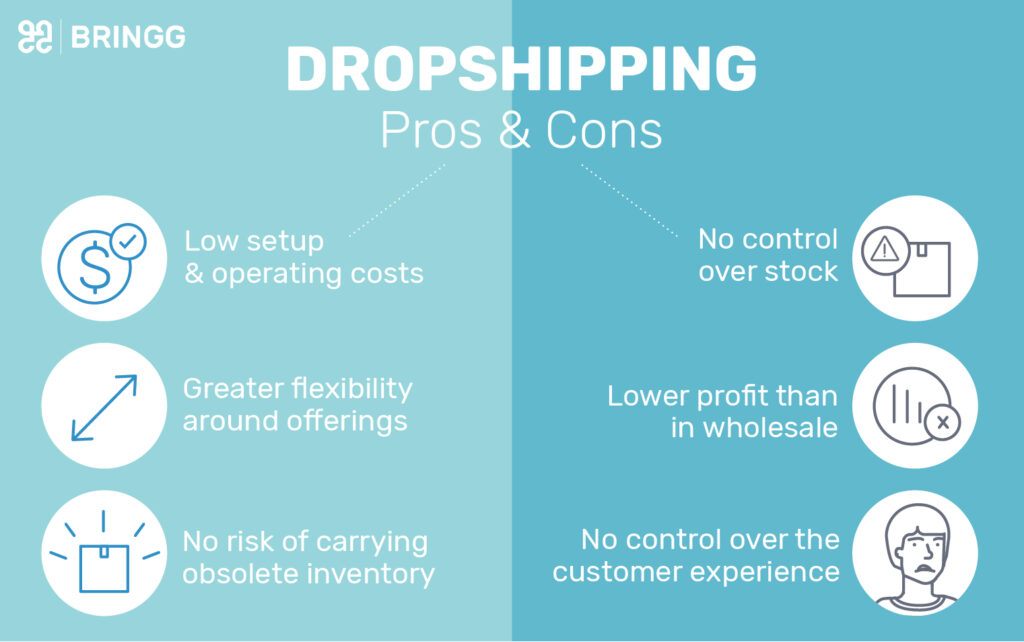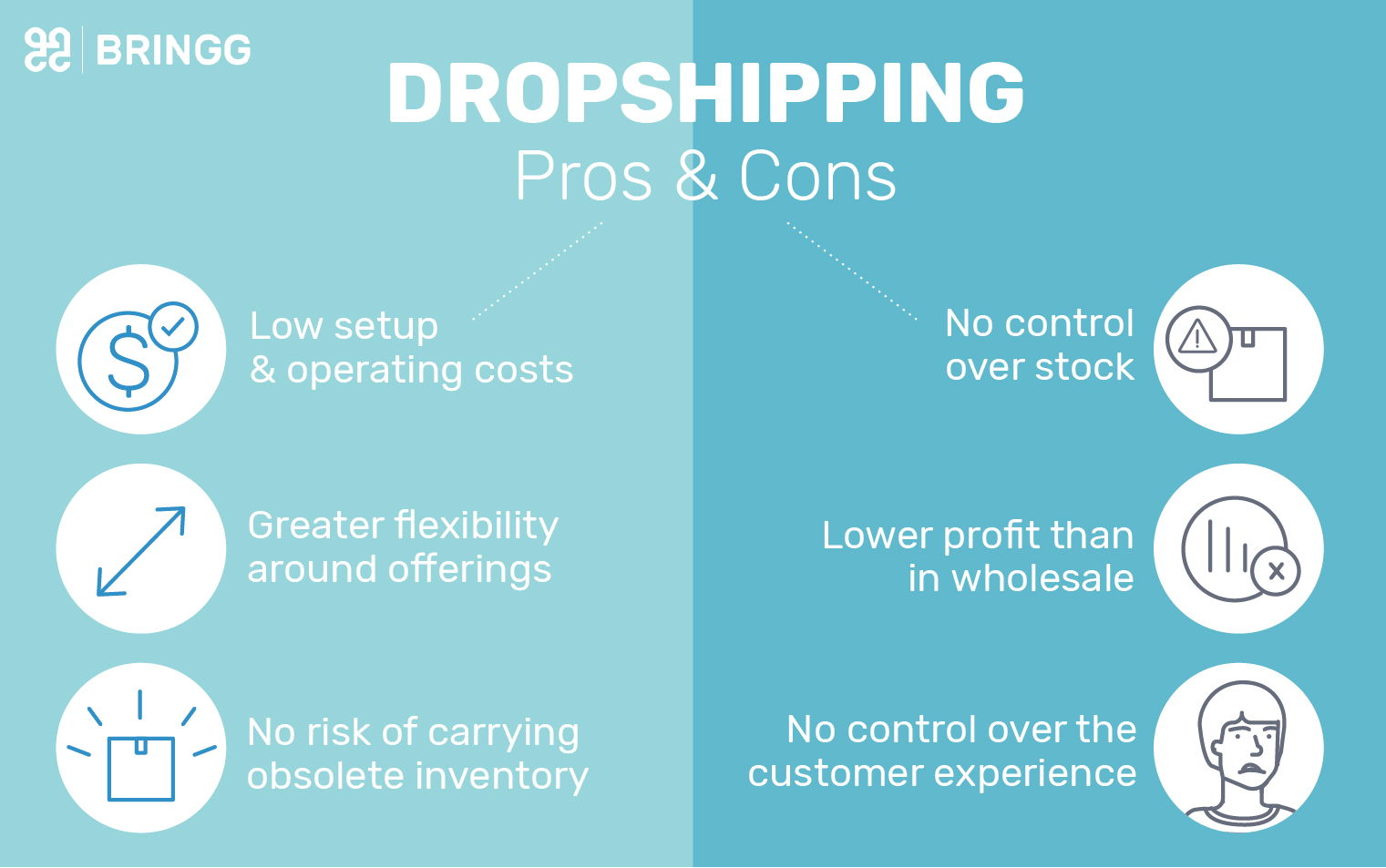 Greater reliance, less control over stock
The ability to offer new products immediately, or to stop selling slow-moving products has a major drawback: no control over your supplier's inventory.
If the supplier runs out of stock, so does the seller, which could result in longer lead times and lost customers. Since the responsibility over the inventory rests with someone else, the seller has limited visibility into their full supply chain. Without integrated inventory management and delivery logistics solutions, retailers may find they have limited control over their supply chain operations.
Lower profit margins
The inability to provide bulk pricing represents the hidden 'cost' of dropshipping. In many cases, retailers pay more for each item sold in comparison to a large number of items that can be bought at wholesale prices – leading to lower profit margins overall.
For optimal profit margins through the dropshipping model, retailers have to sell many more products than if they owned and warehoused the products themselves.
Customer satisfaction
If a supplier delivers your products late, damages the product or packaging, or makes a mistake with an order, be prepared for the customer to take it out on you – even if it was not necessarily your fault.
This issue extends further than order fulfillment and lead times as you won't be in a position to maintain the branded experience that traditional retailers have. Without complete control over inventory and customer service, issues can't always be resolved quickly. When customers have to wait a long time for delivery issues to be resolved, or for missed packages to reach them, every small glitch has the potential to negatively impact the customer experience.
Whether you're looking to explore the options of dropshipping logistics for a new startup business or augment your successful ecommerce business using a new inventory and shipping model, we hope this post helps you fully understand the logistics of dropshipping.
---
Frequently Asked Questions:
Is drop shipping worth it in 2021?
Drop shipping continues to be a profitable venture in 2021. This is because the amount of eCommerce activities are increasing around the globe. In fact, drop shipping and ecommerce profits have crossed the $4 billion mark. This is an increase of 7% compared to last year.
Can you still make money drop shipping in 2021?
Drop shipping will continue to be profitable in the current year. In 2019, drop shipping  had a market value of $162.44 billion. The drop shipping model has invaded the Ecommerce platform in the past few years. To start a drop shipping venture, you do not need large amounts of capital. The drop shipping market is currently focused on millennials who seek convenience and comfort while shopping.