Not long ago, retailers were able to get away with offering in-store purchasing only. Today, consumer demand is high and delivery has become a necessity for anyone selling products online. Providing an exceptional retail delivery service customer experiences has never been more important for retailers, brands and eCommerce companies that want to increase their market share. The process of fulfilling large volumes of online retail products can be intricate and involve a series of important decisions regarding retail delivery practices, including delivery services and apps, delivery options, inventory management, eCommerce fulfillment and more.
This guide explains the key fulfillment models, trends, and technologies that drive retail fulfillment today.
Retail Delivery Services and Fulfillment Models
BOPIS
– "Buy online, pick up in store" – Also known as "click and collect", BOPIS gives consumers the option to purchase an item online at their convenience and pick it up in store whenever they want. The advantage of BOPIS is that an item can be picked up quickly and safely without having to linger in the store, and without having to wait around at home for a delivery.
BORIS
"Buy online, return in store" is another must-have fulfillment model. Customers need to see a returns option to feel confident purchasing online. Otherwise, they will shop elsewhere. As online orders grow, businesses that sell online must be prepared for an increase in returns. The process must be easy for the customer, and a reverse logistics process must be in place to allow for returns easily on the side of the retailer. This is done most easily by a delivery app or platform.
Click and Collect
Click and collect retail is when customers purchase an item online and are given the option to pick it up in the store. For businesses, offering click and collect gives customers the ultimate control over their time and the ability to collect when they desire. Stores offering click and collect must provide full transparency during the checkout process so that customers won't arrive at the store before the products are ready to be picked up. This can often be handled by a delivery management app that can communicate between the store and customers, to let the latter know when their orders are ready.
Crowdsourced Delivery
A growing trend in recent years, crowdsourced delivery is a fulfillment channel that relies on contractors (through a particular company) picking up products from warehouses or stores and delivering them to buyers in their own vehicles.
Curbside Pickup
Curbside pickup refers to the option for consumers to make a purchase online, drive to the store and have a store representative bring the products to their car. This is a relatively new fulfillment model that became more mainstream during the pandemic. Customers enjoy the convenience of curbside pickup and the safety aspects involved in the process (after all, they don't even need to get out of the car!).
DaaS (Delivery as a Service)
Some marketplaces and providers now offer last mile delivery as a separate, stand-alone service for businesses that prefer to use their own sites for ecommerce.
Deliver From Store / Ship From Store
This is a retail store delivery service where retailers ship items straight from the store. Ship from store requires advanced logistics orchestration for tracking inventory in each store and the availability of delivery providers in that area. Integrating data from providers with their point of sale helps retailers ensure that they have the real time data on inventory and pickup availability needed to provide accurate delivery options at checkout.
Last Mile / Final Mile
The last mile, also known as the 'final mile', is the final step in the delivery process, when a driver leaves the fulfillment / distribution center / store / warehouse and makes their way to the customer's home. The last mile of delivery is the most complex part of the delivery process and therefore retailers turn to logistics companies to coordinate the entire process.
On Demand Delivery
This is the process of fulfilling orders from checkout to delivery within a matter of hours. Offering an on demand delivery option provides a competitive customer service, but like other same-day shipping options, requires streamlined and automated processes for it to be both reliable and profitable. Price, too, is an issue, as the speed required of this delivery option makes it harder to send out multiple orders at the same time. For this reason, retailers usually offer on demand delivery at a higher price than scheduled shipping.
Same Day and Next Day Delivery
Same day delivery is the delivery of an item on the same day on which it was ordered. For more information, see our post on same day delivery challenges.
Scheduled Delivery
Purchases are prepared for delivery in advance within a certain delivery time frame (2-5 business days for example). The time frame is listed in advance on the website and is often a cheaper option than on demand delivery or retail click and collect. With scheduled delivery, a business can create optimized routes that increase delivery capacity and speed, saving time and resources.
White Glove Service
Some retail delivery services offer a 'white glove' delivery option as part of a service. This can include over-the-threshold delivery, assembly and installation, unpacking goods in a customer's home, removing old appliances or furniture (reverse logistics) and more depending on the relevant product. White glove delivery is an opportunity for a business to add delivery services that will take the customer experience to the next level and increase customer loyalty.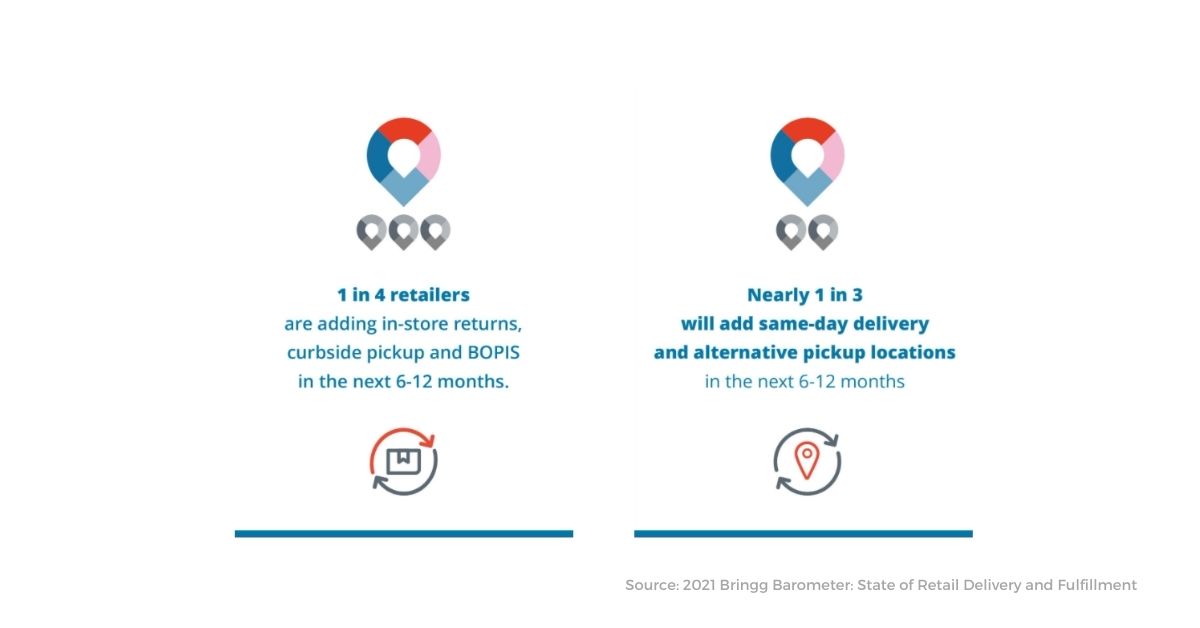 Delivery Processes
Batching – To keep fulfillment efficient, orders are often grouped together so that they can be dispatched together. Batching is usually based on zip codes and approximate delivery time to each home or office.
Contactless Delivery – The process of shipping and order and leaving it for the customer without contact between individuals. For delivery, this is usually done by leaving the package at the curb or at the door.
Dispatching (Scheduling) – Dispatchers assign fleets, vehicles and drivers to an order according to the type of delivery, location, etc. Digitizing and automating the dispatch process via smart dispatch software helps dispatchers manage dispatching – and dealing with exceptions – more efficient at scale.
What is flexible scheduling?
Many retailers want to be able to flexibly assign items on a demand-driven basis – for example, assigning to one general fleet, and then assigning spillovers to another fleet at peak times of day or season. This flexibility requires integration between the retailer's ecommerce systems and all fleets, as well as flexible scheduling software that allows for customized, rule-based scheduling.
Live Alerts – automated alerts that update customers on the status of their retail orders in real time – for example, a real time alert when the products are ready to ship, when the driver is en route, and when they have arrived at the customer's home.
Pooling Drivers – The process of covering multiple fulfillment locations or distribution centers in one area using the same team of drivers (or fleet) to cover multiple fulfillment sites or geographic areas.
Retail Delivery Management – the process of managing the systems, processes and resources involved in the delivery of goods. This usually involves dedicated delivery management solutions that digitize and automate delivery processes, track results, and help management understand and improve their delivery operations.
Retail Reverse Logistics – The opposite of a normal fulfillment flow. This reverse logistics process for returns or goods for recycling starts in the field and ends in the store or drop off point (for a return).
Route Optimization – the process of using automation technology to deliver more orders in less time, and with fewer resources. Optimizing route planning is an important goal in delivery management and an important part of improving delivery efficiency and meeting the rising demand for delivery.
Scheduling and Rescheduling – The process of choosing a specific time window for deliveries, pickups or other services, sometimes with the help of a dedicated app. If a shipment has already been scheduled, it can be rescheduled (i.e. reassigned) to a new time (based on the customer's request or retailer needs).
Staging – The part of the logistics process in which items are prepared to be loaded on to the truck for shipment. Automated staging solutions can speed up staging by allowing the store team to stage according to planned driver arrival times, or by helping the warehouse team stage orders for loading based on the sequence of stops in the planned route.
Warehouse Operations – All of the processes dealt with regarding fulfillment and logistics by warehouses (receiving, storing, picking, packing, shipping, etc.).
Resources and Participants
3PD (Third Party Delivery) – A third party company that handles the retail delivery.
3PL– 3rd party logistics companies handle certain parts of logistics for shippers. For example, a 3PL might be in charge of a fleet or a warehouse.
Courier – The actual person or company that delivers a package from a retail vendor.
Delivery Logistics Platform – A retail delivery app and/or platform that gives retailers the opportunity to streamline their delivery management. Delivery logistics platforms allow companies to scale and expand their delivery options in a way that manual operations don't allow.
Distribution Center – A place that specializes in storing and shipping goods for a retailer, brand or ecommerce company.
First Mile – The step in the supply chain when the goods are sent from the manufacturer or retailer to the warehouse/distribution center.
Fleets – Companies with trucks used for delivery services.
Fulfillment Center – A fulfillment center does everything necessary to get products to a customer through retail delivery. This includes inventory management, sorting and staging, and shipping. Most fulfillment centers use management software and technology to aid these efforts.
Lockers – Smart lockers are a popular delivery option that allow for convenient, safe, contactless pickup for customers and efficient drop off for drivers.
Logistics Service Provider (LSP) – A business providing logistics services to a shipper. LSPs may serve multiple brands and businesses that require their services.
MFC – Micro Fulfillment Center – these are local fulfillment centers, usually in urban areas in cities, that help shippers manage hyperlocal delivery and retail fulfillment. Many now turn brick-and-mortar sites with low foot traffic into 'dark stores' that focus on preparing orders for delivery.
PUDOs – A Pick up / Drop Off refers to an alternative location that gives customers another convenient pickup option, and can increase last mile efficiency for the retailer or delivery providers. This can be partner retailers, lockers, or other dedicated location.
Restaurant Delivery Service (RDS)– A service typically performed by fleets which specialize in this delivery service. Restaurant delivery is typically done on demand because of consumer demand as well as the need to keep food fresh and at the correct temperature. Restaurants typically face vastly different demand at different times of day, making flexible fleets and drivers a necessity in restaurant delivery.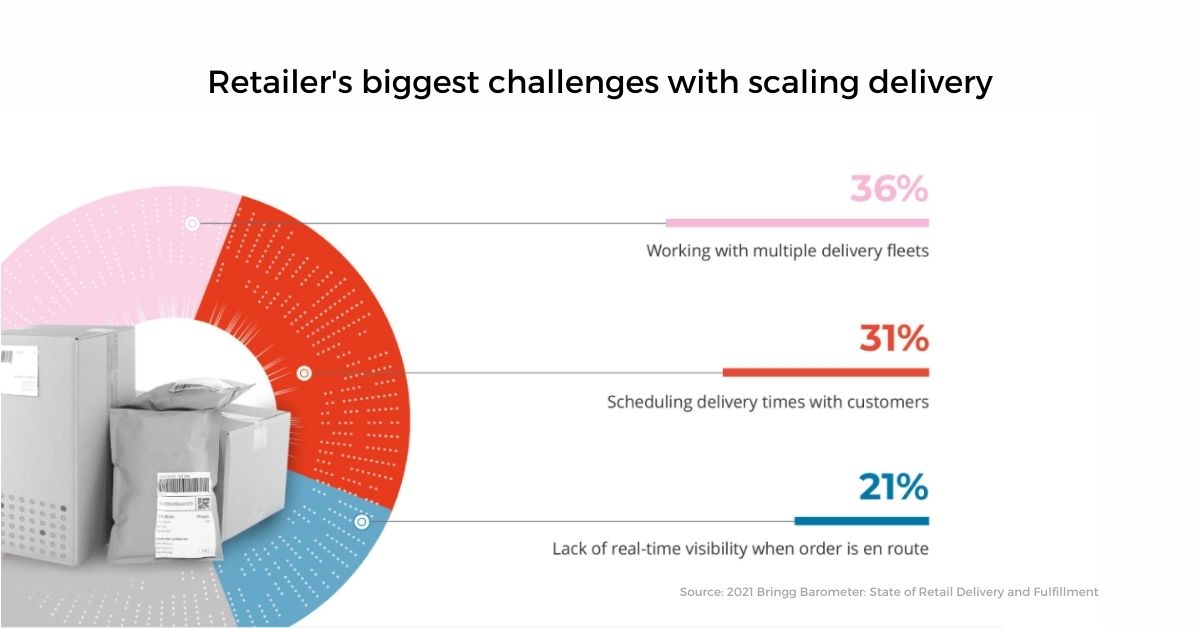 Systems and General Key Terms
Customer Experience – Market share in the retail industry today is in large part based on the customer experience. For online fulfillment, ensuring a great customer experience starts with real time transparency, tools to communicate easily with the driver, and choosing a logistics provider who can provide a great, branded experience.
Delivery Windows /Time Windows – The window of time during which a delivery will arrive (e.g. 2-4pm) or a general time span in which the items will arrive (3 hour window).
ELD and Telematics – These electronic logging devices (which are mandatory in the US) track large trucks. They log drivers safety and performance and sometimes come together with routing and telematics. The best driver app will come with telematics integrated in for better safety measuring and analysis.
Internet of Things (IoT) – The network of sensors, software and other tech that connect physical objects with the prime goal of sharing data. In retail delivery, this can be used in a wide range of applications including sensors transmitting delivery data regarding delivery times as well as driver safety.
LTL – Less than truckload – shipping small amounts or quantities of goods that do not fill up an entire truck. In some cases multiple shippers may share the same truck so it can be filled to capacity.
SLA and Service Level – Each purchase deal includes an SLA (service level agreement). This contract defines certain terms and measures such as delivery speed, on-site services, on-time rates, etc.
Visibility/ Control Tower – This tech is responsible for real-time tracking and can be used throughout the entire shipping process (first, middle and last mile). Most retailers have access to this through technology providers.
Shipping Quote – A shipping or delivery quote is information on the delivery price shown to customers during online checkout.This is derived from the shipping prices that shippers receive from their fleet or logistics provider. The total customer cost is derived from the cost to deliver, product value and more. Many companies provide incentives to receive free shipping such as minimum order value.
What is the retail delivery cost?
The cost per delivery is based on a variety of factors, including the cost of the product, and the cost to deliver. Of late, as demand for delivery has increased, delivery providers have had to raise shipping prices, forcing some businesses to increase their shipping price.
Delivery Capacity– delivery capacity refers to the number of deliveries that a company is able to handle. With demand rising, digitizing and automating last mile fulfillment has become an imperative for businesses who need to increase their fulfillment capacity.
Stops – When dealing with on-demand retail deliveries that must go out immediately, there are typically only a few stops on route. However, with scheduled deliveries, a driver typically has many more stops. This increase in drop density allows drivers to leave the distribution center with a full truck and perform more deliveries in the same run.
Time out the Door (TOD) / Time in Warehouse – The time it takes drivers to load products onto a truck or vehicle and leave the warehouse, store, fulfillment center or distribution center.
Time on Site (TOS) – The time spent on site at the delivery location, usually calculated from the time of parking until the driver leaves. This can vary significantly based on the type of service; for example, assembly and installations, as well as over-the-threshold deliveries (a form of white glove delivery) will take longer than dropping an item off at curbside or by the front door. Shipping large packages will generally result in longer time on site that small packages.
White Labeling – White labeling is the process of displaying a specific brand on an end product (instead of that of the manufacturer). Brands often use a white label customer-facing app to maintain control over the customer relationship.
Retail delivery is getting more complex with more players joining the ecosystem on a constant basis. Retailers and logistics providers need to work together to guarantee efficient, cost-effective delivery that provides a competitive customer experience.
Bringg's technology allows retailers to scale and keep up with the rapidly expanding, global eCommerce scene. Leaders in retail innovation use the unified delivery and fulfillment platform to provide flexible omnichannel experiences, including working with multiple fleets, on demand delivery, and curbside pickup. This modular approach enables a wide variety of delivery and pickup options that improve the customer experience while saving on operational costs. For more information, visit bringg.com/retail.