In today's competitive landscape, businesses face sky-high expectations for fast, inexpensive and convenient delivery. Customers can easily find fast delivery and fulfillment from competitors. However, with a variety of technology solutions available, businesses are challenged with selection the right approach. Delivery monitoring or tracking software, which reports real-time order progress, can provide valuable visibility to both customers and businesses. But is a delivery monitoring system enough to tip the scale in your brand's favor?
It's important to understand what a delivery monitoring system does, in order to understand what it doesn't do – and what you need to fill in the gaps.
Delivery monitoring solutions are not one size fits all
Different monitoring and tracking systems offer different capabilities:
Geotracking during the route
Geotracking solutions provide businesses with real-time visibility into the location of their deliveries across the first, middle and last mile of delivery. This tracking capability enables businesses to provide customer support, can even help businesses understand how long logistics typically take at different points during the day or week. Some geotracking solutions also offer recipients visibility into the location of their deliveries. In the customer-focused last mile, this can provide a valuable branded experience.
Tracking TOS (time on site), Time in Transit and Time in Warehouse
Understanding how much time each delivery provider spends at each step of the delivery is critical when optimizing delivery schedules and understanding on time delivery rates. Similarly, insight into the time an item spends in the warehouse before it is prepared for delivery, when it is picked up, and much time it spends in transit can also provide valuable insight that businesses can use to optimize driver schedules and shorten delivery times.
POD (proof of delivery)
Obtaining and tracking Proof of Delivery is crucial to many teams within the business. Tools that enable businesses to digitally collect and synchronize proof of delivery can be very useful for managing customer disputes, enabling the business to easily access documentation that clearly indicates when and where a customer received their delivery.
While there are clear advantages to tracking your delivery, a delivery monitoring system alone won't sufficiently differentiate your offering, or help you create better experiences.
The reason why has to do with how you use your data.
Taking action: moving beyond delivery monitoring systems
Data about a delivery in progress can be extremely valuable. But delivery monitoring systems focus on only one part of your logistics – where is this asset now? They don't provide the necessary context across the entire operational flow. They don't provide insights into the customer's satisfaction on a last-mile delivery. They don't provide the automation or ability to take action, to improve logistics performance by rerouting a delivery, reassign a route or reschedule a delivery. These critical gaps make it far harder for businesses to understand their performance, or take action to improve it.
You'll need more than a monitoring system to improve your logistics and delivery operations. Thankfully, there are solutions that fill in these gaps.
How to get the most out of delivery tracking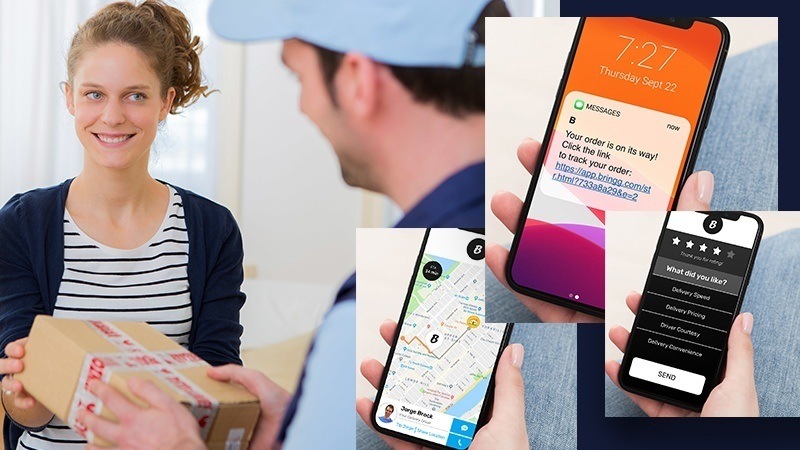 Machine Learning
One of the best ways to improve your performance with logistics data, is with Machine Learning. Delivery solutions with strong machine learning capabilities can help you understand and address inefficiencies, finding places where even small changes can boost speed, efficiency, and profitability. In the last mile, accurate delivery timing can also dramatically improve the customer experience, and improve customer loyalty.
Related: 5 Steps to Optimized Last Mile Logistics
Delivery Orchestration
Orchestrating deliveries takes businesses beyond merely monitoring their operations. It helps them collect, understand and utilize their operational and customer data. While monitoring systems will provide data on orders in progress, a delivery orchestration platform will collect and sync data across every node in the entire supply chain. They can further automate logistical operations so that orders and data flow seamlessly.
These large-scale solutions can implement a wide variety of process improvements, including:
Automated dispatch and routing that selects the best fleet, or internal delivery team for each task
Automatic alerts to dispatchers when deliveries appear to be running late
Automated communications with customers that includes delivery feedback
Delivery monitoring systems are a boon to businesses: they let you monitor on-time delivery rates, incentivize better service, and can even help increase customer satisfaction. But today's enterprise needs to look beyond visibility; they need to optimize their efficiencies and improve their customer experience.
To get the most out of your tracked data and create competitive, flawless customer experiences, look beyond monitoring systems or tracking solutions. Visibility must be part of a larger, holistic solution that connects, digitizes, and improves your entire logistics operation, from the first mile to your warehouse, retail locations, and up to your customer's door.
---