Last week, Amazon released its earnings report for Q1 2016. Let's just say that afterwards their investors were very happy – the company's sales were up 28% and showed a profit for the fourth straight quarter. Considering its reputation as a free spending, this is quite a feet. It's not that people didn't expect Amazon to have a good quarter, but no one expected it to be this good.
However, their earnings report doesn't tell the whole story; under the hood there is a lot more going on.
Amazon Web Services, Amazon's cloud server hosting company, was the greatest driver of the increased sales. That business saw a 64% spike in sales. But operating income was also up, which is significant considering how high fulfillment costs have been for Amazon year after year.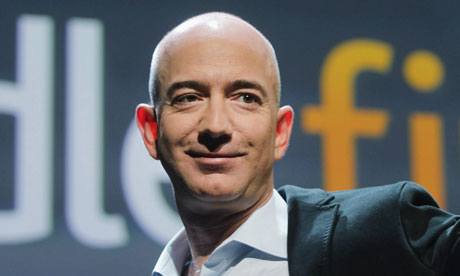 As part of Amazon's earnings call, CEO Jeff Bezos mentioned "Investment(s) in technology infrastructure, the majority of which is to support AWS, and additional capacity to support our fulfillment operations."
Recently, documents surfaced showing an internal push for Amazon to become a full fledged shipping company – they want to own their entire supply chain. This investment in infrastructure seems to support that hypothesis.
So far, Amazon is opening 2 new fulfillment centers in the United States. When looked at through the scope of "Operation Dragon Boat" – the internal name given for Amazon's plan to become a full fledged shipping company – this investment makes perfect sense. Coupled with other moves made recently, namely purchasing Colis Prive', leasing a fleet of Boeing planes, discussions about purchasing an airport in Germany as well as the continued testing of Amazon Prime Air, we are starting to see Operation Dragon Boat materialize before our very eyes.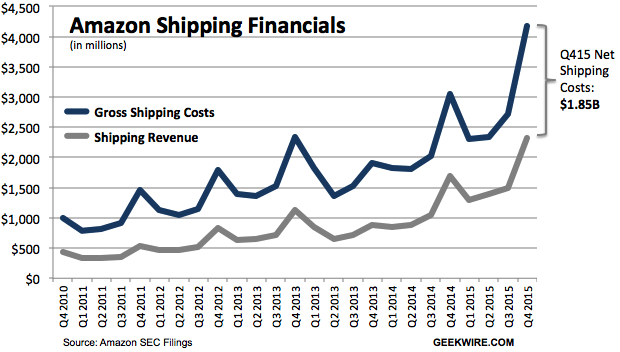 Investors remember all too well that Amazon's last earnings call was not so cheery. Though the company head a record setting quarter in terms of sales, profits were way down due to a 33% year over year increase in shipping costs in Q4 2015.
Among other things, shipping costs increased due to Amazon Prime Now and its free same-day/2 hour delivery. According to CFO Brian Olsavsky "This is the natural evolution of our delivery and we're happy to invest in that service."
Business Insider, in its analysis of the report, had some very interesting insights regarding Amazon's same-day delivery:
40% of Customers Expect Same-Day Delivery to be Offered
$100 Million of Goods Will Be Delivered Same-Day by Amazon This Year
For Retail, Millenials are The Most Likely Demographic to Request Same-Day Delivery
Will Amazon be able to ride the wild success of AWS while it continues to invest in logistics infrastructure to support its expanded shipping options, as well as its persistent drive to become a full fledged shipping company, come hell or high water? Only time will tell. What's certain is that Amazon will continue to dominate eCommerce fulfillment for the foreseeable future.