The Healthcare industry is changing at an unprecedented pace. Legacy technology and pressure to keep costs low combined with the demand for faster service are forcing healthcare providers to innovate. The question remains as to who will set the technology bar for healthcare experiences and expectations?
Once again, Amazon is in the news this month, not because of their planes or drones, but because of healthcare. It's no surprise that Amazon wanted to move into this space. In 2018, Amazon teamed up with Berkshire Hathaway and JP Morgan to create a joint venture called Haven with the objective of providing transparent and less expensive healthcare to the three companies' employees and their families.
Following this, Amazon acquired online pharmacy PillPack for $750 million sending a shockwave through the industry. And now, just months later, in September 2019, Amazon took another massive jump into healthcare by launching "Amazon Care", a virtual and in-person healthcare offering for employees. They took it a step further in November when they announced integration with Alexa, their virtual assistant into the program. Needless to say, Alexa completely changes the way patients can interact with their healthcare providers.
Most recently, in January 2020, Amazon made headlines again for trademarking "Amazon Pharmacy". This not only signals a move that Amazon is looking to take on traditional pharmacies like CVS and Walgreens but it suggests they are looking to expand into other areas of healthcare. When Amazon makes a move into a market they go big so the question to ask is will they now expand to surgical equipment, medical, dental instruments and pharmaceutical care?
What Amazon has done here is cement a shift in industry trends. Patients no longer view themselves as patients but rather consumers of healthcare. In simple terms, patients are consumers with the same demands as marketplace consumers. They want choice, convenience and a faster, cost-effective and transparent experience. Who better to fulfill this than the leader in consumer experience, one with a massive logistical network capable of shipping more than 2.5 billion packages a year.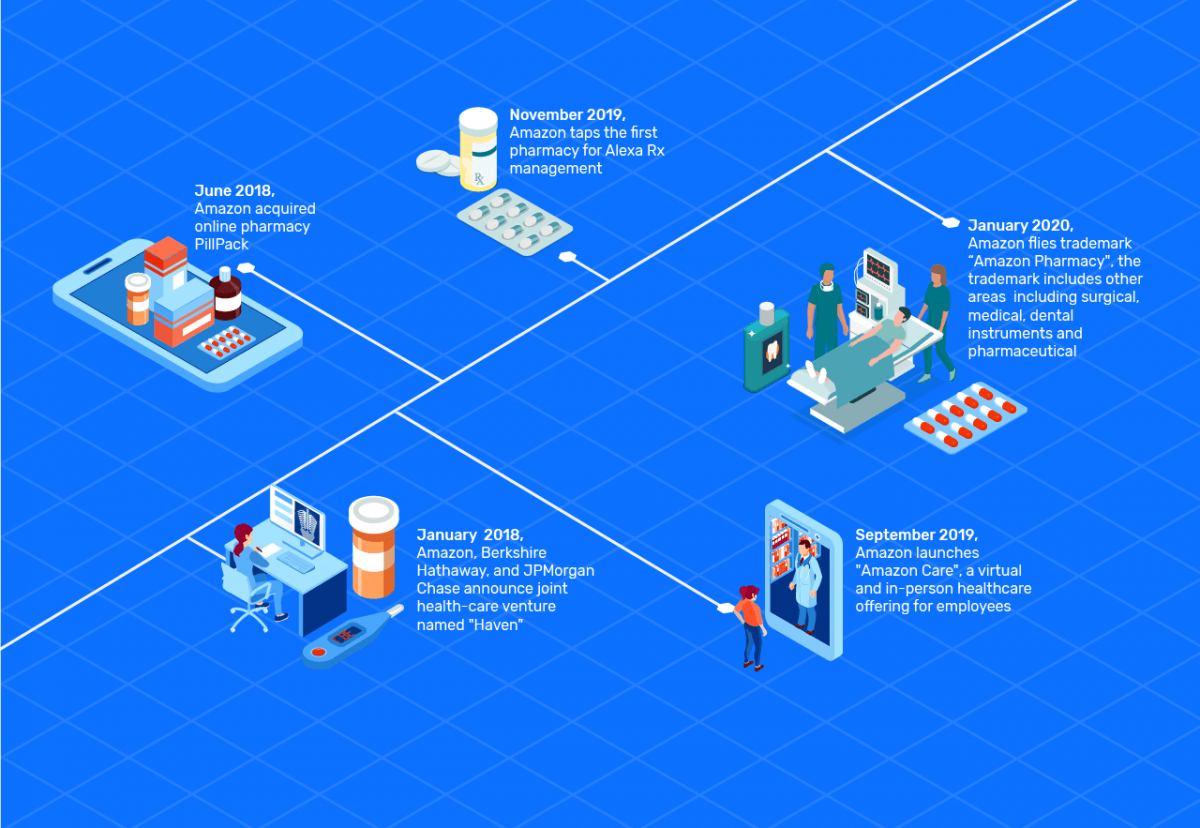 Based on a report in 2018, 50% of hospitals in the US today already use Amazon Business to procure their supplies. With that in mind, Amazon's move to pharmacy seems broader. Are they preparing a bigger play to shift towards servicing hospitals, medical devices and home health services in essence?
How do healthcare providers stay relevant in a space which is quickly being taken away from them? For starters, what worked a decade ago is no longer relevant. Healthcare providers need to adapt to new technology and logistic models to ensure they have the right solution in place to support their entire supply chain.
To learn how your healthcare organization can meet the standard, join Bringg's webinar, "How to optimize your supply chain to win in a fast-changing world" on February 4th at 11 am EST. Link to RSVP.
According to a report by Accenture, "Technology as a disruptor will shape the future healthcare market. As profitability centers more on the application of technology and less on traditional parts of the value chain, winners will leverage technology to reinvent the value they provide."
Healthcare providers looking to provide greater value will need to reinvent their traditional supply chains with innovative technology that meets today's customer demands. An area traditionally siloed and focused on operational efficiency, supply chain must adapt to help enterprises differentiate with new fulfillment and delivery models.
With an immense amount of data from patients, orders, inventory, hospitals, and fleets, Healthcare companies will need data intelligence technology to orchestrate these models. The solution is delivery orchestration.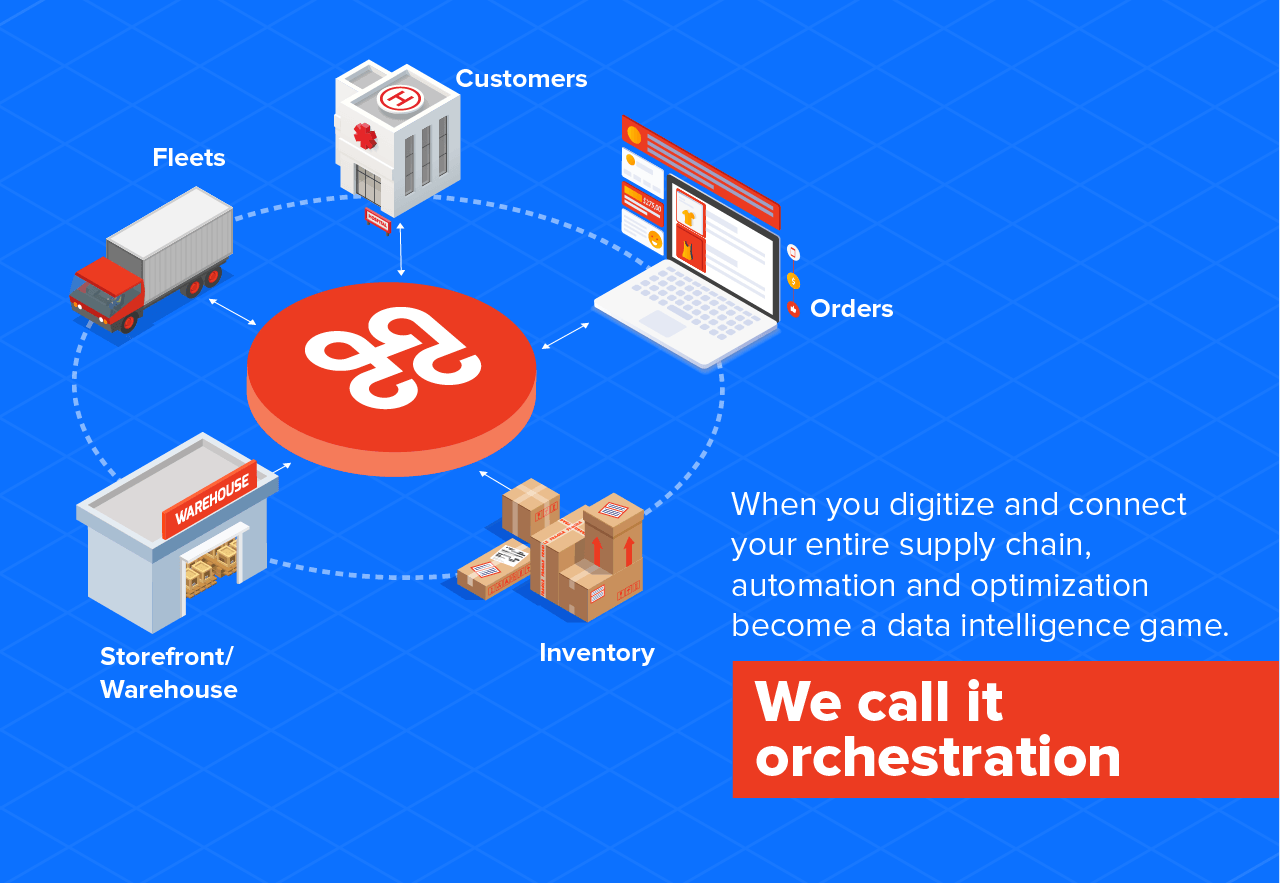 Bringg Delivery Orchestration Platform
Bringg's unified delivery and fulfillment cloud platform digitizes and connects your entire supply chain to automate and optimize fulfillment and delivery. A highly-scalable SaaS platform, our delivery orchestration solution seamlessly integrates into any existing enterprise system, including ordering, inventory, supply chain, eCommerce, billing, etc.
The Orchestration Engine draws on the data from the many technologies, processes, and people connected to your supply chain, applying your business logic to create the perfect delivery experience on the front end while improving efficiencies on the back end.​ With the platform, enterprises can go beyond visibility to automated and actionable insights for informed decision making, leaner operations, and improved customer experience.
---