Bringg's technology empowers companies in over 50 countries to process millions of deliveries. This gives us an unparalleled understanding of the logistic industry with a unique perspective at the challenges companies face in the last mile. We gathered some fascinating data that may surprise you.
In an industry in which the #1 concern among merchants and customers is punctuality, performance is key. While unexpected factors such as traffic jams and weather conditions have an impact on the variance of time, there are many ways—with the right technology—that this can be mitigated. Routing Optimization and proper allocation of tasks are proven to reduce time and overall deviation.
To take these insights one step further, we compared the ratio of late deliveries between seven top countries: US, Great Britain, Germany, Italy, Canada, Spain and Ireland. This would help us assess which nations are lagging in the on-time performance, which has a direct impact in customer satisfaction (and even other factors such as increased tips for drivers!).
To carry out this research we took a sample of 250,000 deliveries over the past quarter across retail, on-demand and parcel delivery companies. We then considered the percentage of late deliveries by country. The scale and scope of this study analyzed the behavior of more than 2000 drivers (who travelled over 2.8 million miles!) to ensure a statistically significant sample size per country.
The breakdown by country is as follows (ranked from best-performing):
Great Britain: 1.4% late deliveries
Germany: 2.8% late deliveries
Ireland: 5.1% late deliveries
Italy: 5.7% late deliveries
USA: 8.7% late deliveries
Canada: 11.4% late deliveries
Spain: 12.6% late deliveries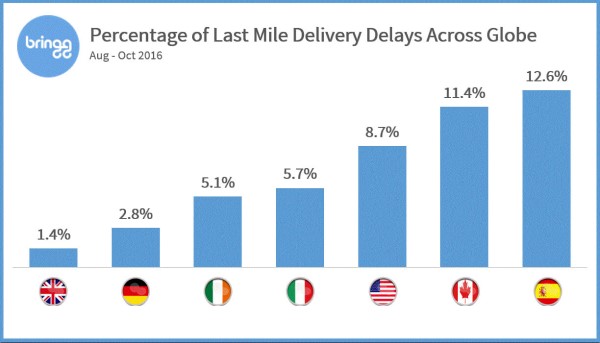 Before the research team burnished the raw numbers, we expected the results to be fairly unified globally. It was quite surprising for all of us to see such extreme discrepancies. The Brits have a well-earned reputation for punctuality, which is more than solidified by our numbers. For Uncle Sam however, there's clearly room to improve; a US customer's order is 6 times more likely to be late than someone in the UK!
As we work towards a more efficient and effective industry where transparency, optimization and punctuality are at the heart of all new products and features we develop, I look forward to seeing how this data evolves over time.
In the meantime, we'll be looking into other industry trends to help our customers around the world gain a better understanding of this ever-changing and exciting industry.