Have you ever had one of those surreal moments where work life meets real life?
It's four days out from my partner's birthday – one full week after I ordered the main present and I still don't know when the jacket will arrive. I decided to call up, only to receive a response that I'm sure we'll all quite familiar with:
"Sorry Mr Leigh, we've been having some trouble with our delivery partner. Can I go and chase this up for you and then call back later?"
Then two things happened:
1) He didn't call me back. [Massive red flag, noted for future reference.]
2) The jacket mysteriously turned up the following morning unannounced.
Don't get me wrong, I was pleased and relieved, especially as we were heading into the weekend. But now I just want to know: was the jacket sitting in the shop and they had forgotten, so they sent it express? Or was it actually stuck in the supply chain and no one knew where?
Anyway, a timely reminder that even in post-covid 2023, most online shopping is awful once you step off the well-trodden Amazon path. Let's be clear, it's not awful because of the website – most companies have that cracked – it's the not knowing once you've placed the order. It's stressful. No wonder people (including me) stick to familiar territory most of the time.
And so, this is the supply chain in microcosm; rising customer expectations generate complexity and cost. Retailers rely on their logistics partners, the logistics partners – operating on fine margins – often provide limited visibility over what's going on, customers blame the retailer. Those that break this cycle, win.
Shown the template of success by others, there has been a concerted emphasis on last mile visibility in order to try and address the need for better customer experience, but the problem remains that data across the supply chain operates according to the lowest common denominator; if any part of the chain has limited visibility, it all does. It's this exact problem that Bringg is trying to solve: how can we help to make a great delivery experience cost-effective and accessible to all? That's exactly what it means to democratize the last mile, and we're doing it with Bringg Delivery Hub and the recently unveiled Bringg ROAD.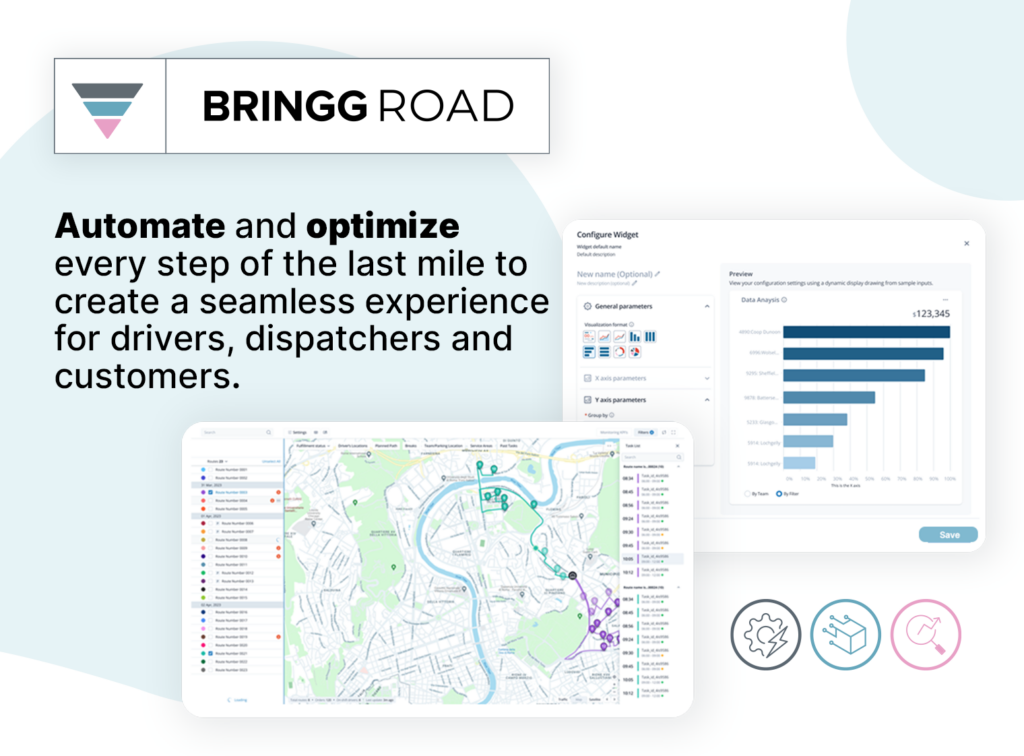 ROAD is a platform for those who manage their own fleet, designed to connect all players in the supply chain through one massive connected ecosystem. We recognise that not all players are equal, not all players are at the same level of maturity or need the same capabilities, but all players need the same level of data capture and visibility so that everyone in the chain can benefit. This is why we have revamped our product to support multiple tiers of clients, from the big retailers to the hyper-local last mile carriers.

ROAD addresses these diverging needs by supporting three tiers of maturity; Launch, Optimize and Accelerate.
ROAD Launch allows anyone with their own fleet to quickly level up their data game. It wraps around your existing planning process – whether that's on another route optimization system or on paper – to minimize change management and maximize commercial impact by handling execution of your orders. With ROAD Launch, you can start small but make a big impact on your business and those you partner with. If you rely on your drivers to plan their own routes, you can even use the driver app to optimize: one click to create a happy (and productive) driver.
ROAD Optimize is the next step on your ROAD journey. Optimize provides powerful route optimization tools for planned or ASAP deliveries, helping to lower the fleet costs and improve utilization of your assets. This type of route optimization project can be a big change for those involved in planning routes, which is why we've broken it out as a specific milestone that you can reach in your own time. When you do, you'll increase efficiency and reduce cost.
ROAD Accelerate is your competitive advantage. With Bringg you can continue to level up with an a la carte menu of accelerators designed to give your business the boost it needs, where it needs it. Here are some examples:
– Delivering big'n'bulky items? Our machine learning accelerator for time onsite (ML for ETOS) can quickly help unlock hidden capacity and improve OTIF.
– Running separate processes and assets for planned, same-day and returns? Our hybrid optimization accelerator enables you to co-mingle all SLAs on the same assets, offering continuous optimization that will further reduce the cost to serve while expanding your overall capacity.
– Considering building your own customer-facing app? ROAD's SDKs are a platform on which to build your own IP; it's not a black box, your customers will thank you for it.
Clients operating on Bringg ROAD and Bringg Delivery Hub are completely connected with one another, enabling the seamless interchange of data that helps solve the exact problem I shared with you earlier.
By democratizing the last mile, Bringg is trying to help all businesses – regardless of size and stature – to meet the evolving needs of their customers. Our strategy is to help businesses reach peak maturity for the industry they play in, all while being interconnected and enhancing their ecosystem with data visibility that helps everyone win.
Oh, and I've just had a reply from the posh mattress company we ordered from three weeks ago…
"Sorry Mr Leigh, we're having some trouble with our logistics partner".
Keeping in mind that Emplifi says a staggering 86 percent of consumers will leave a brand they trusted after only two poor customer experiences: Would I order from this mattress company again? After this one I think I'll have to sleep on it…