Accurate, Hassle-free Quotes for a Superior Customer Experience
When your customers place an order, they want to know what delivery options are available and at what price. Naturally, they also expect deliveries to occur as promised. Bringg's Intelligent Quotes module simplifies the work of providing customers with an accurate set of delivery options based on the available fulfillment resources or partner offerings. By intelligently automating the process of formulating your delivery quotes, Intelligent Quotes helps you maximize efficiency, conversion rates and customer satisfaction.
Intelligent Quotes make it easy to provide your customers with optimal delivery options during the checkout process. This includes both standard and premium delivery options, presenting everything from prices to promise times. By providing the right delivery options at the optimal price, businesses increase their customer satisfaction and improve their competitive positioning.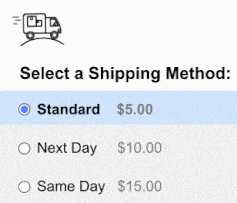 Increasing Customer Satisfaction While Managing Delivery Costs
The Intelligent Quotes module makes it simple to formulate the best delivery options for your customers, across both internal resources and third party logistics providers. The quotes are informed by the relevant data — such as the number of drivers available, the number and types of vehicles on hand, the drivers' skills, and the number of orders that need to be fulfilled during a specific delivery window—as well as by the delivery quotes provided by your delivery partners.
Intelligent Quotes removes the need for you to provide accurate, lower-cost delivery quotes, so you can focus on your business's performance. As part of the modular Bringg platform, the module allows you to improve your delivery offering and efficiency—ensuring that customers are presented with the optimal delivery options required to drive conversions, that delivery resources are optimally utilized, and that customers are delighted with your delivery experience.
Customer Satisfaction
Easily offer accurate delivery options with the fastest times and lowest costs you can provide

Increased Efficiency
Offer the most attractive delivery quotes to ensure that you're optimally leveraging your fulfillment and delivery resources
Ease of Use
Intelligent Quotes integrates with your existing platform to easily streamline the work of collecting and managing delivery quotes

Increase Revenues and Competitive Positioning
Boost conversion rates and loyalty by offering customers exceptional delivery options and convenience
Customer Satisfaction
Easily offer accurate delivery options with the fastest times and lowest costs you can provide

Increased Efficiency
Offer the most attractive delivery quotes to ensure that you're optimally leveraging your fulfillment and delivery resources
Ease of Use
Intelligent Quotes integrates with your existing platform to easily streamline the work of collecting and managing delivery quotes

Increase Revenues and Competitive Positioning
Boost conversion rates and loyalty by offering customers exceptional delivery options and convenience