Automated Dispatch & Routing
Drive Efficient Delivery with Intelligent Dispatch and Routing Technology

Demand for speed and efficiency has evolved.
It's time your dispatch and routing did, too.
Today's market demands more out of your operations. Whether your SLAs are counted in minutes or days, your delivery teams need the technology to deliver faster and manage complex delivery efficiently.
Bringg's Automated Dispatch and Routing free up your teams to focus on improving delivery performance, while helping you introduce meaningful savings to your business.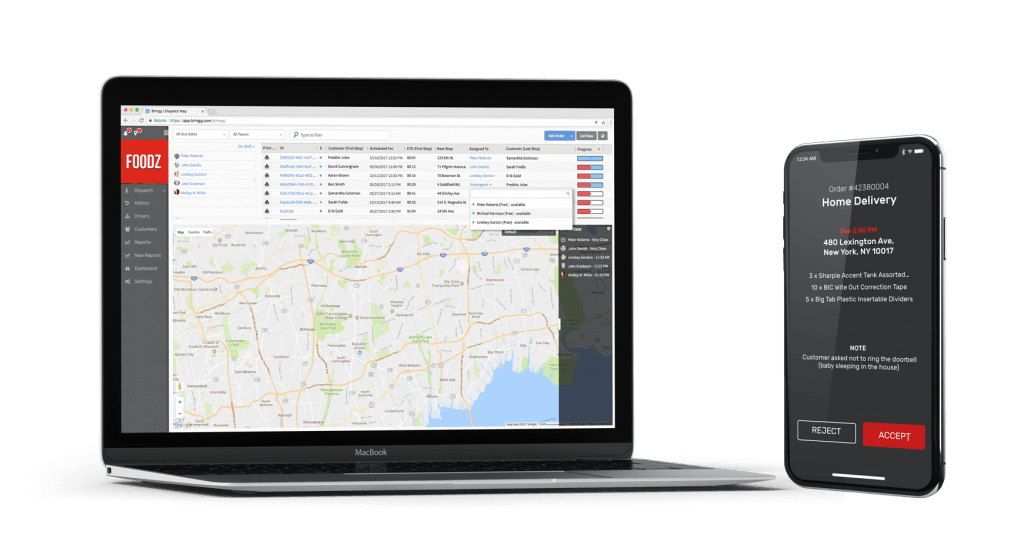 20%
additional delivery capacity
6x
smaller delivery windows
Best-In-Class Solutions
Built for Your Needs

Bringg's Delivery Orchestration Platform digitizes and automates dispatch and routing processes for on-demand and planned deliveries.
Our AutoDispatch and Route Optimization intelligently factor in your unique considerations – including vehicle capacity, driver costs and certifications, and customer locations – in order to leverage your fleets in the most efficient way possible.
Smarter, Automated Dispatch
Bringg's AutoDispatch prioritizes dispatching around your business goals, such as lowering costs, more efficient resource use, better time-to-delivery or shorter driving distances.
Our real-time multi-fleet integration provides dispatchers with visibility and control over both internal fleets and external delivery providers, improving delivery performance. Use Machine learning and Automation to improve your dispatch efficiency and reliability, from order batching to accurately calculating drivers' return ETAs.
Intelligent Route Optimization
Bringg's Route Optimization automatically distributes orders across the designated fleet or fleets and determines the best routes and vehicles, ensuring that deliveries reach customers on-time through the optimal use of resources.
Automate complex delivery flows such as returns, redirecting delivery, and alternative pickup/drop off locations
Optimize routes and resources – drivers, fleets, vehicles, and skills – while freeing up dispatchers to manage exceptions
Restrict drivers from delivering in or traveling through unsafe areas
Automatically provide the best delivery options possible across internal resources and third-party providers
Powered by Advanced Data Science
Bringg's Dispatch and Routing technology are built on data science.
Machine learning algorithms help you accurately predict and react to variables that affect route times and resource availability.
Learn More About Our Delivery Orchestration Platform
Increase Speed and Convenience
Provide shorter, more accurate delivery windows and faster SLAs
Maximize Resources
Automate manual processes and optimize your use of fleets, teams and vehicles
Improve Bottom Line
Grow your business by providing better delivery and service promise times – and meeting them
Explore our Delivery Orchestration Platform
Explore the Bringg Platform
Created better, branded delivery experiences for customers – from live tracking and dynamic ETA updates, to notifications and feedback.
Gain insights into the delivery experience by automating ratings and feedback for customers.
Provide more flexible, convenient delivery options by automating intelligent scheduling, rescheduling and delivery quotes.
Enable real-time, frictionless communication between end customers, drivers, and dispatchers through multiple channels.