The following is taken from the 2016 Delivery Management Buying Guide – Get the full buying guide here.
Did you know that 61% of consumers say they are willing to pay more to have same-day delivery?
Investing in an on-demand delivery solution will help reach customers you hope will use your delivery service and return because of the ease of use and superior experience.
To create standout, fully branded, Uber-like experiences while improving efficiencies across the organization, you need a comprehensive solution. Leverage your existing infrastructure and layer on contemporary technology to compete in the on-demand economy. In the end, you need a solution with the following components:
1. Dispatch Management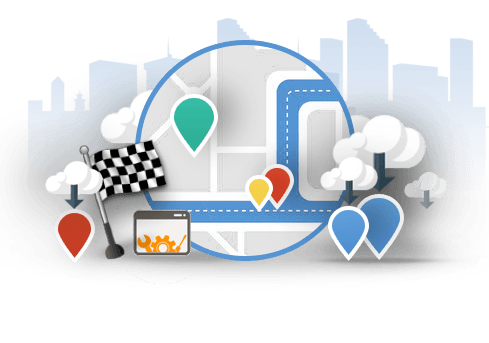 Dispatch management is the core piece of any on-demand delivery solution. This module provides operational teams with an interface for scheduling driver pick-ups and deliveries. With complete, end-to-end visibility of the delivery business as a whole (both granular and aggregated KPIs), this module saves critical time identifying who a task should be assigned to.
2. Real-Time Tracking
To provide a high quality service, companies must show customers where their delivery is at all times and enable customer notifications en route. Providing instant access to real-time mapping of driver location is critical to providing a great customer experience.
3. Driver Interface
Today's drivers need fingertip access to all of a delivery's information—customer data, order information, routing data and more. More importantly, they need mobile access to all the tools necessary to complete the transaction—payment applications, delivery verification, tipping payments, rating tools and more.
4. Integration Options
Established companies may have already implemented pieces of a complete on-demand delivery management solution. These companies can take a modular approach to augmenting existing systems with the remaining features they need. Integration options are critical to supporting both enterprise systems and essential ecosystem products.
5. Customer Notifications
The average person receives 65 push notifications per day on his phone. This instant gratification of communication and information has fed the growth of the impatient consumer. While most of these alerts are messages and social networking notifications, people are also looking for immediate notice that the goods or services they have ordered are being delivered. The nature of the push notification has altered consumer expectations.
Therefore, delivery companies can't afford to not provide customers with real-time updates throughout ordering and delivery processes. It is best to give customers the flexibility they need to get their messages via any device or communication channel, and include in-app messaging to let customers and drivers communicate directly with each other to eliminate any potential problems.
Level Up: Provide an Uber-like Delivery Experience and Solidify Customer Loyalty
The local delivery business is currently estimated at $45 billion in the United States alone. To be successful in this market, companies must provide a great customer experience while streamlining and optimizing operations on the backend. Choosing the right on-demand delivery management platform is critical to reaching both of these goals.
Learn more about what to look for in a delivery management platform by checking out our buying guide.