Each year, Inbound Logistics magazine develops a list of the Top 100 Logistics IT Providers and for the first time, Bringg has been added to this prestigious industry list. Inbound Logistics' editors place value on choosing providers whose solutions are central to solving transportation, logistics, and supply chain challenges.
In their related Logistics IT Market Survey, Inbound Logistics emphasize how the current availability of cloud-based solutions enable even small- and mid-sized enterprises to afford logistics software. This means that both SMEs and larger shippers have access to extreme visibility over their freight and the ability to identify and track key performance indicators in their operations.
WHICH TRANSPORTATION/LOGISTICS CHALLENGES
ARE MOST CRITICAL TO YOUR CUSTOMERS?
(Source:Inbound Logistics)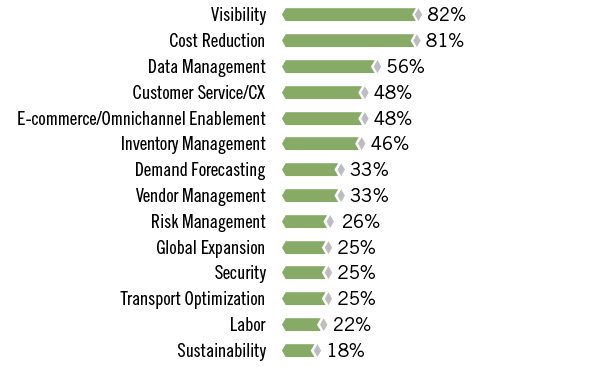 Meanwhile, this new survey points out the crucial role of visibility in the logistics landscape, something which sits at the core of Bringg's product. A whooping 82 percent of the companies surveyed see visibility as a top challenge, taking the top spot for the first time in the history of the report. Shippers must taking advantage of newly available technology to track the safety and security of their cargo at every touchpoint.
The Top 100 Logistics IT Providers report can be viewed here: www.inboundlogistics.com/cms/article/2018-top-100-logistics-it-providers/.
PDF version: resources.inboundlogistics.com/digital/TOP100_LIT_0418.pdf