Looking for Top Talent to Join Our
All-Star Team
A unique opportunity to join a highly successful startup
Our delivery logistics platform is already being used by some of the world's best-known brands in more than 50 countries. This is a unique opportunity to join a well-funded startup with great international traction in a multi-billion dollar market. Learn more about life at Bringg
Our fast-growing company is always looking for top talent to join our all-star team for our offices in Tel Aviv, New York and Chicago. Interested in joining us? Send your resume to jobs@bringg.com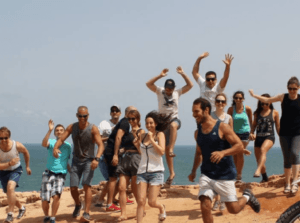 Business Operations (1)

Human Resources (1)

Marketing (1)

Operations (4)

Product (1)

R&D (5)

Sales (2)
Business Operations
2018-03-15T07:34:57-04:00
Bringg Delivery Technologies Ltd.
Junior Information Systems Engineer & Analyst
Responsibilities
Provide business insights for the different departments in the company, as well as design and build the Salesforce infrastructure of the company.

Lead projects end-to-end, including: definition and design, hands-on implementation, documentation, QA/testing and release to production.

Work closely with our teams to provide system-support, understand the different needs of each team, gather feedback, and work on system enhancements.

Deliver excellent systems and solutions to our internal teams from efficient technical flows, user experience to data integrity.

Support third party applications to drive solutions to business process issues.

Keep abreast of new Salesforce features and functionality and provide recommendations for process improvements.

Maintain, create and publish KPI dashboards and provide reporting requirements to meet business needs.

Coordinate and complete ad-hoc data requests and performs necessary validation to ensure accuracy.
Skills / Experience Requirements
Bachelor's Degree in Industrial Engineering / Information Systems / Computer Science

Outstanding technical and analytical skills

Experience with databases and SQL - must

Experience with BI tools such as Tableau or Power BI (Power BI - big advantage) - must

Ability to translate technical specifications into customer/business requirements

Experience troubleshooting and finding multiple solutions to a complex problem

Ability to work on multiple projects and deliver timely results

Ability to work in a rapidly changing environment

Excellent team player, with the ability to work independently as well

Ability to effectively communicate both written and verbally in English

Experience as a developer - advantage

Experience with cloud solutions - advantage